A gathering of like minds coming together in support of nature's power to transform. No new battles needed only new focus!
About this event
Join us for this upcoming FREE OUTDOOR Tools, insights and ideas for mind and body wellness as we enter 2022!
"From Imagination comes Reality my friend."― James Hauenstein
Come Experience: A Gong sound bath, Qigong for health, new healing technologies and ancient and practical tools that naturally alter the mind into a state of balance.
OUTDOOR ON THIS BEAUTIFUL FARM IN MALIBU!
SPEAKERS
Rebekah Ball - Holistic Nutritionist & Herbalist (Medicinal mushrooms)
Sonia Barrett, Author/Radio Host/Filmmaker
Patrick Henry Johnson - Acclaimed Artist Muralist (Mind and Imagination)
Shelton Qigong/ Chris and Parisa Shelton
Because we want you to mingle, eat and have fun, main speakers will give short talks!
RECORDING ARTIST - SONGWRITER - TOURING MUSICIAN
Eema Noomi will be performing! This will be pretty incredible! See below!
FOOD AND FUN!
Chat one on one with these experts!
EXPERIENCE IT ALL WITH THESE EXPERTS!
YUP THEY WILL ALL BE THERE!
Brain health! Body Health! Mind health!
You will be able to experience healing foods and healing cutting edge technologies!
Chagit Team – Wild Chaga mushroom superfoods! Super shroom pizzas, Vegan Chaga fudge bites, Shroom Buchas, Dairy free Sweet Shroom ice cream, Chaga cacao cookies! Chaga shots and more!
Master Gunnery Sergeant, Gregory L. Gillispie (Ret.)– Co-founder of Neurogen, Brain Balancing neurofeedback therapy
Romeo Brooks – Roots Nutrition (Power cleanse, power greens, metabolizer and purifier!
Brian David Anderson -Trivortex (inventor) experience the latest technologies in Light Particle Assimilation for health!
Dr. Sheila Morris, PsyD Clinical and Forensic Psychologist will be in consultation to share 3 tips to combat anxiety, how the photobiomodulation of redlight works to increase neurochemicals and a sense of mental wellness, and share what personality traits you may have.
Kerry Clasby- Founder of Intuitive Foreigner (The Fig Ranch) organic fruits, vegetables and more!
Ram Kirin – Gong sound bath Meditation
Shani Anne Marvelous – Chief Fun Officer-Hula Hoop therapy/fun (movement is significantly important along with fun! Hulu Hoop Expert Shani will join us for a bit of hooping therapy! Move those hips!
Our "responsibility" and "adult" programs often get stuck in our bodies, the joints and tissues! Lets loosen them up!
Organizer: Sonia Barrett, Host of The Expansion Zone on KPFK 90.7 FM
https://www.theexpansionzone.com/
THE CONVERSATION IS IN EFFECT!
We had a great time opening the conversation on October 16t! Because we all enjoyed it we thought what a great way to get the energy all pumped up to enter the new 2022 cycle in our own power! These are conversations that empower; conversations of solutions as we must rely on ourselves and other like minds in building a network of options and opportunities. It is clear that no additional battles are needed but new systems are necessary.
As we come together and share in sound/meditation and words of power, let us come away feeling revitalized. Perhaps seeing the future through new lenses. The hope is that you walk away feeling empowered having released long held stress, fear and concerns about what lies ahead. Simply connecting with other like minds has a chemical and healing effect on the body and the mind!
The current paradigm has set the stage for our survival instincts to be hyper alert driving us to think in a constant state of survival more than ever. The extreme nature of our state of survival often goes unnoticed as we naturally slide into these patterns. Our mental and physical health calls for our attention to this often undetected state of being.
This affects the immune system as there is often an increase in stress hormones, keeping us in the survival response of "fight or flight"
Let us come together again, hanging outdoor on the farm, for that great deep breath among friends old and new! Let us lift each other up!
Please RSVP the number of those in your party! We are excited to see you there. Please visit the website for additional details about our speakers ! www.awarenessgathering.com
LOCATION
The location will be in Malibu but the exact address will be made available once you RSVP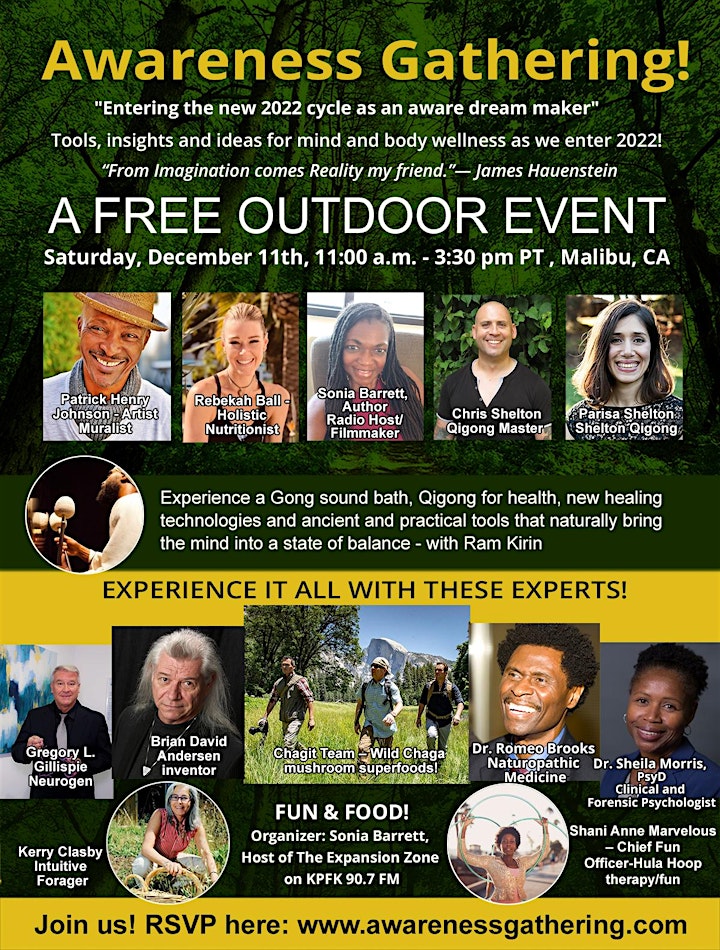 I am exited to say that we have added Eema Noomi who will be performing a few of her powerful and timely songs! This is going to be spectacular!