The Awakening: To the Possibility of Perfect Health

Monday, July 4, 2011 from 7:00 PM to 8:00 PM (PDT)
Event Details

The Awakening:
To the Possibility of Perfect health
Would you like to have more energy?
Author and founder of Total Health Mastery, Arnoux (are-know) Goran was affiliated with several "incurable" diseases and at the age of 22 was told he would die. After discovering some amazing new scientific breakthroughs he regained perfect health in less than 6 months! 
Join us at at Anna Lynn's place on Tuesday, July 4th at 7:00 pm as he shares:
Ø    How he recovered from a long list of illnesses.
Ø    The fundamental laws of the human body that if followed produce health and if ignored produce disease.
Ø    Exciting breakthrough facts that can help you to have more energy, feel better, lose weight and more!
Ø    Essential information that you need to have right now to achieve the health you deserve.
Testimonials from former course participants:
 "This course is the first that has made me feel hopeful that I can actually have a really abundant life and feel really well." 
-Joy Hansen, Mission Viejo, CA 
"I have lost over 70 lbs and feel great!"  -Michael Alpough, Huntington Beach, CA
"My cholesterol has dropped 150 points and I've lost 35lbs in 8 weeks." 
-Tom Pelton, Newport Beach, CA
"I was suffering with Acid Reflux Disease so badly that even on the strongest medication I couldn't sleep more than 3 hours in a night.  Sometimes I could only sleep for 30 minutes.  After a friend's severe migraine headaches vanished in just a month she referred me to Total Health Mastery.  During a 30 day cleanse and nutrition program my acid reflux disease completely disappeared, I am completely out of pain, off medications and able to sleep well again."  -Rich Freedman, Santa Fe, NM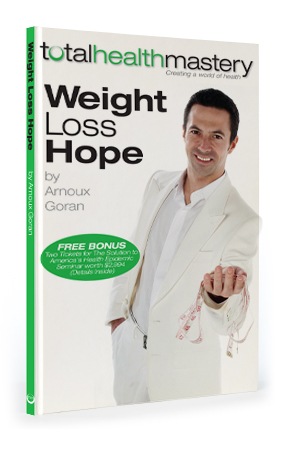 Arnoux (are-know) Goran, MNLP, MHt, MTD, has been studying health and healing for over 15 years.  He is a renowned speaker and the author of Weight Loss Hope, and the Total Health Mastery Seminar Series including The Solution Weekend.  He has been a featured speaker on Pacifica Radio, The Best From East to West as well as at major expos and corporations such as Allergan and The Health Freedom Expo.

His passion for health grew after he cured himself of several incurable diseases and his doctors telling him "you won't be around much longer".  He was afflicted with arthritis, chronic fatigue syndrome, fibromyalgia, candida, ulcers, internal bleeding, allergies, asthma, hypoglycemia, anemia, total adrenal failure and more. He has lived in better than perfect health for over a decade now and has witnessed many people recover from supposedly "incurable" diseases during the Total Health Mastery Seminar Series including cancer, diabetes, obesity, heart disease, high blood pressure, depression and more.
Learn more about Arnoux by watching a 5 minute testimonial reel and be inspired to heath by the amazing results of the clients of Total Health Mastery below. 

For more information please visit www.THMastery.com
Register for the event now!
PLEASE NOTE:  If you pre-purchased the 10-Week Seminar CD set or the Weight Loss Hope book you may pick them up and have them signed by Arnoux at this event!
When & Where

Anna Lynn's Place
5820 Oberlin Drive #108
San Diego, CA 92121


Monday, July 4, 2011 from 7:00 PM to 8:00 PM (PDT)
Add to my calendar
Organizer
Our Mission is to create Heaven on Earth, by providing the world's most advanced health education.