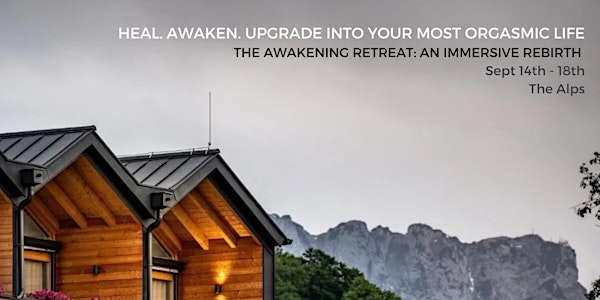 The Awakening Retreat: An Immersive Rebirth
Heal, Awaken, & Upgrade into Your Most Orgasmic Life
When and where
Location
Hotel garni kranzbichlhof 12 Hofgasse 5422 Bad Dürrnberg Austria
About this event
Why is it an IMMERSIVE REBIRTH:
Light emerges from darkness. Pain transmutes into pleasure. Your ability to descend into your shadow is your ability to ascend into your light.
This immersive rebirth retreat is a birthing portal into becoming more of you.
This is a journey of self trust to feel, hold, accept, and honors all of your emotions without becoming them. Its a journey of anchoring into safety and stability into your body. It's a journey of deeply listening and opening to your desires. It's a journey of pleasure, fertility, abundance, and self expression in the safest women space you'll ever experience.
What to expect:
Breath, Movement, Somatic Processing & Healing, Womb Work, Women Magic, Nature, Freedom, Connection, and Sisterhood.
The work I offer is a gateway towards deeper connection and energetic freedom.
Within this five day immersive retreat you will experience the transformational shifts from a variety of ancient tools and practices, from nervous system regulation, to womb work, to dance, to yoga asana, and of course breathwork.
I often tell my students to come without any expectations and to allow the medicine of the breath, body, and soul to work its magic.
Being immersed in this somatic healing for over a decade I've seen how the transformative this work truly is.
Our retreat theme this year is focused on WOMEN's work around sexuality, fertility, abundance, and creative expression.
What is Transformational Breathwork:
Transformational Breathwork is my interpretation of 3 part breathwork, international taught by my teacher David Elliott (https://www.davidelliott.com/)
I've combined what I've learned and studied with him with elements of my own teachings which include yogic philosophy, tantra (breath, body, sound), and Jungian coaching methods.
This is not your average breathwork or yoga retreat as we start in a medicine circle and open ourselves with vulnerability to pierce back the layers of the ego and begin to bring into consciousness that which is desiring to be seen, held, heard, and healed.
Our time together will be a combination of group coaching, yoga asana, journaling, cold plunge, sauna, self reflection, deep healing, and an active breathwork meditation practice daily. There will also be a special and specific heart opening music playlist to fuse the breath to the rhythm of sound.
Is this for me?
The only requirement is that you come with an openness and willingness to breath deeply. I feel so close to the students that have come and continue to join our spaces. It truly feels like the most open, heart felt space.
That being said it's also important to feel safe in your own body and in your own experience. If you are currently working through major trauma, or a serious illness, or taking antipsychotic or other strong medication I would recommend you get approval from your doctor first. This is also the same if you are currently pregnant. Pregnant women have done this and other breathwork technique or simply listen to the transmission and utilize their own sounds… however every women experience pregnancy different. Therefore please discuss with your doctor first.
It's also important to note that I am not a doctor and when you purchase a ticket you are confirming that you are mentally and physically stable and able to do so. Participation does not replace any therapeutic or conventional medical treatment and is generally at your own risk.
ENERGY EXCHANGE:
The event is 1333 euros (which includes VAT, all your meals, your 5 night stay at a 4 star resort, access to the sauna and all the amenities, and the retreat itself).
* Payment plans are available at cari@carimerriam.com
* For each event I offer 2 spaces at a discount rate for those of us that need some additional financial support during these times. If this is you, please contact me directly via email.
*limited spots available for each sessions
AGREEMENTS:
You agree to pay the entire rate of €1333. Your remaining payment is due to the hotel at the completion of your stay.
Your purchase of €683.19 + VAT is non-refundable, however you can resell your ticket to someone else if you are unable to attend.
We will of course allow exceptions for Covid or other government shut downs.
€683.19 + VAT must be paid in full prior to September 14th
When you say yes to this experience, you are saying yes to being devoted to your aliveness. There are no guarantees in the results you will have. This agreement is you 100% committing to your growth, pleasure, and aliveness over a lifetime.
xxoxo Looking forward to holding space for your heart and your healing.