About this Event
The Avian Medical Clinic - What can we learn from trends in human-related injuries to wild birds?
Join the Avian Conservation Center at Edmund's Oast Brewing Company on Wednesday, August 21st at 5:30 p.m. for a Charleston Green Drinks networking happy hour. Free admission and open to the public, this event will include an informative presentation by the Director of the Avian Medical Clinic, Bethany Spiegel, who will talk about the activities of a busy avian trauma center and some of the common human-related injuries experienced by wild birds. Accompanied by Educators with the Center for Birds of Prey, the Avian Conservation Center's public division, this presentation will include the appearance of several live birds of prey.
The Avian Conservation Center's medical facility operates 365 days a year with support from trained and dedicated Volunteer Staff members. This state-of-the-art medical facility treats more than 600 injured birds of prey and shorebirds each year. Since its founding, the Center has admitted over 10,000 birds for treatment and release.
Each week, wild avian patients with a variety of medical conditions are admitted to the Avian Medical Clinic. Etiology, or cause of medical condition, is often human-related. During the presentation, we will explore some trends in injuries to wild birds looking specifically at several human-related injuries.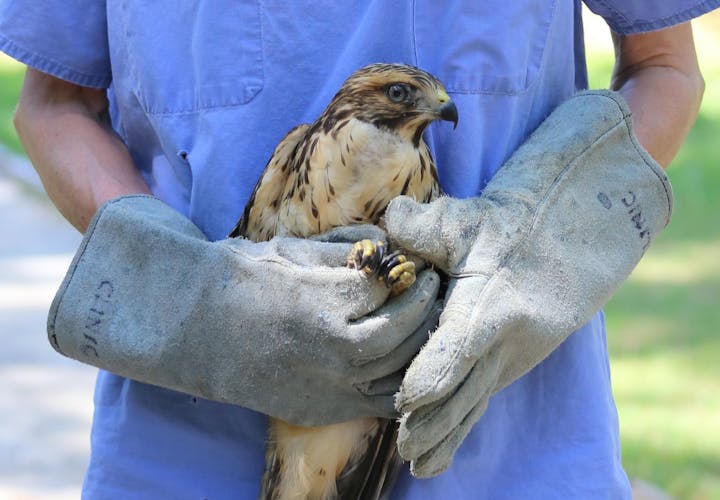 The Avian Conservation Center's mission is to identify and address vital environmental issues by providing medical care to injured birds of prey and shorebirds, and through educational, research, and conservation initiatives. The Avian Conservation Center is a 501(c)(3) nonprofit organization.
Edmund's Oast Brewing Company is a craft brewery, taproom, and restaurant located at 1505 King Street, Charleston, SC in the Pacific Box & Crate development.
Green Drinks is an international, organic, self-organizing network. Charleston Green Drinks meets the 3rd week of the month at different locations throughout Charleston. All are welcome.