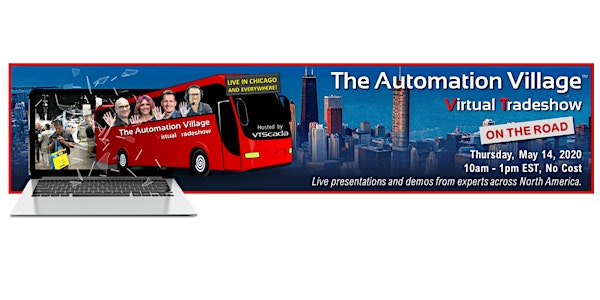 The Automation Village: Virtual Tradeshow
Live in Chicago! And Everywhere Else!
About this event
A Virtual Tradeshow for the Automation Community
Hosted by VTScada
With all the tradeshow and conference cancellations, we have created a Virtual Tradeshow, so you don't miss out on exciting new products and solutions. Following on the success of the first Virtual Tradeshow, we invite you to join 10 new Virtual Exhibitors for a fun, live-streamed event with lively discussions and Q&As from automation experts across multiple industries!
Win great prizes throughout the entire event! This is not your typical Webinar! And it is free to attend!
The Automation Village is your new way to find multiple Exhibitors under one virtual roof!
Receive a Certificate of Attendance for Professional Development Hours*
Some of the key industry partners include:
Bringing Commercial Automation and Philanthropic Experience Together
Jamie Saxe, Senior Director Xylem Watermark and Corporate Social Responsibility

EHYS-Series Electro-hydraulic Actuator and Control System
Brian Crook, Director of Sales & Operations

Modernizing the Healthcare Generator Annunciator Panel
Allan Evora, President

Kennedy Industries and VTScada Help Keep Michigan Highways Safe!
Ben Manlongat, VP, CTO

Improved Data Collection for Predictive Analytics and Reporting
Shane Gushue, Territory Account Manager

SOAR: Uplifting Security Operations
Nic Croucher, Senior Security Engineer
eRIS Dashboards and Reporting
Tim Kruse, Vice President

Industry Trends: High-Performance HMI Graphics
Nick Claudio, Senior Engineer

Securing Critical Infrastructure
Dennis Gammel, R&D Director

Excel Workbooks to Responsive Reports and Dashboards on Any Mobile Device With Minimal Effort and Budget
Peter Kaprielian, Founder and CTO

*Please note that PDH requirements vary from state to state and the state boards have final approval authority on determination of credits. Members should check with their state boards to confirm what is applicable for renewal credit; however, some typical events that earn PDHs are:
Successful completion of continuing education coursesSuccessful completion of correspondence, televised, videotaped, and other short courses taken for the purpose of maintaining, improving or expanding the skills and knowledge relevant to the PE's practice
Presenting or attending seminars, in-house courses, workshops, whether professional or technical
Presentations made at meetings, conventions, or conferences which are relevant to the PE's practice
Teaching or instructing in an area relevant to the PE's practice
Authoring published papers, articles, or books in any area relevant to the PE's practice
Active participation in professional or technical societies (some states allow 2 PDHs for this, but will vary with states)
We will email Certificates of Attendance to attendees who register via Eventbrite and complete the follow-up survey after the event.