Location
Gore Recital Hall in the Roselle Center for the Arts, University of Delaware
110 Orchard Rd
Newark, DE 19716
Description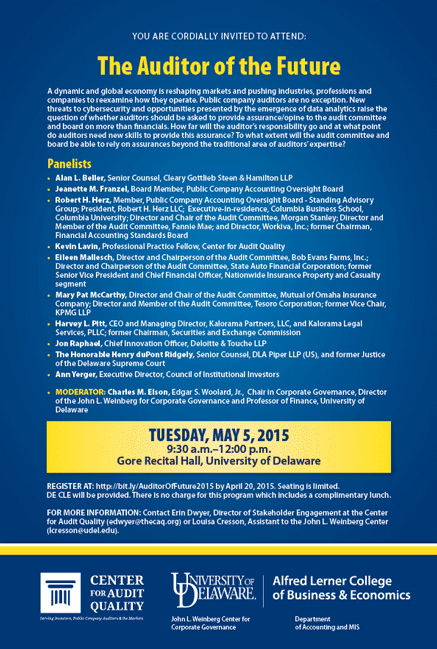 ABOUT THE CENTER FOR AUDIT QUALITY
The Center for Audit Quality (CAQ) is an autonomous public policy organization dedicated to enhancing investor confidence and public trust in the global capital markets. The CAQ fosters high quality performance by public company auditors, convenes and collaborates with other stakeholders to advance the discussion of critical issues requiring action and intervention, and advocates policies and standards that promote public company auditors' objectivity, effectiveness and responsiveness to dynamic market conditions. Based in Washington, DC, the CAQ is affiliated with the American Institute of CPAs. For more information, visit www.TheCAQ.org.

FAQs
What is the time of the program?
The progam will begin at 9:30 am until 12:00 pm. There will be a complimenary lunch afer the progam from 12:00pm to 1:00pm.

Will Delaware CLE be offered?
Delaware CLE (2.0 hours) will be offered for the progam.

What are my transport/parking options getting to the event?
Shuttle from the Wilmington, DE train station: A complimentary shuttle is being provided to take attendees from the train station to Gore Recital Hall. The shuttles will be meeting the following trains:
From Washington, D.C. - Acela Train No. 2154. Leaving at 7:00 am and arriving at 8:16 am
From New York City - Acela Train No. 2107. Leaving at 7:00 am and arriving at 8:32 am
Shuttle after the Program: A omplimentary shuttle will be provided after the lunch at 1:00 pm to the Wilmington, DE train station.
Parking: General Public parking is recommended in the CFA Parking Garage between Elkton Road and Amstel Ave. (GPS address - 79 Amstel Avenue, Newark, DE 19716). Parking Price: The parking charge for the CFA Parking Garage is $2.00 per hour.

What is the dress for the event?
The dress is business casual.

Where can I contact the organizer with any questions?
For general questions or to request special accommodations, please contact Louisa Cresson at the Weinberg Center at lcresson@udel.edu or Erin Dwyer at the Center for Audit Quality at edwyer@the caq.org.

Do I have to bring my printed ticket to the event?
Yes, for registration purposes.