Description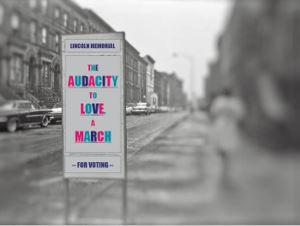 ***We're marching rain or shine! Any chance of rain should clear by the time of the march on Saturday!
Join us as we march from the Martin Luther King, Jr. Memorial, to the Lincoln Memorial, then to vote and volunteer! Together with March On, speakers from March For Our Lives DC, the Girls Who Vote initiative, local churches, community groups, and student organizations, including the Columbia Students of Color Alliance, we're prepared to bridge communities and make history.

We're marching in the spirit of Dr. King and the countless everyday heroes who came before us, or whom we have the audacity to love today. Check out the message below.

The march will support The Last Weekend, an initiative of 60+ progressive organizations that enlists people from across the country to volunteer a collective 1 million hours of getting out the vote when it matters most: on the last weekend before the midterm elections (Saturday 11/3 - Tuesday 11/6).

More information on The Last Weekend can be found here: https://thelastweekend.org
***And download the VoteWithMe app prior to arrival: https://votewithme.us/r/DC-MOTP
March route, rally, and voting:
We will gather at the Martin Luther King, Jr. Memorial Forecourt area at 12:00pm ET, cross Independence Avenue, turn left to the Independence Avenue sidewalks, then turn onto 23rd street toward the Lincoln Memorial Reflecting Pool steps, where there will be a rally. Check out the rally speakers and musician performing below! At the rally, we will get out the vote using the VoteWithMe app, sign up to volunteer for The Last Weekend, and then vote!

The backstory and message:
My name is Dominique, and nearly a year ago, I embarked on a journey around the country to increase voter turnout this November. I launched the journey because I had the audacity to love in friendship, a lens developed through experiences working for former President Obama. From that audacity, I built a coalition around the country that's culminating into a march. My journey and the motivation behind it taught me that regardless of the outcome, having the audacity to love is the most powerful change agent we'll ever witness in a lifetime.
Barack Obama showed us the audacity of hope. The next step is the audacity to love. Our causes, movements, histories, voices, and ideas about change may differ, but our audacity to love is the same. And that's why we're joining forces. Movements united together, especially at this point in history, make us stronger. Channeling the love we experience in our personal lives into action for change is the only way to combat hate.
Hate's legacy is the very reason why we face many of our struggles today. But it's the moment you see yourselves or your children in the children separated at the border, young people marching for their lives, or fighting for justice, or those having the audacity to love a partner despite society's hurdles, or the countless women commanding respect -- that you know there's no choice but to honor them through action -- not just for them, but for you and your children. And that's why it's important to vote in the midterm elections this November.
An open-hearted approach, filled with love, regardless of how it turns out, is the only way forward to build a better life. It's ok to love more than we receive – because that's exactly what generations before us did. They persevered, marched, sacrificed, wrote, cried, and died for a generation of people they hadn't even met yet. And we march in their footsteps, with their open arms welcoming our hopes and dreams on the horizon.
Signs:
Who or what do you have the audacity to love? Write it on a sign. It can be as personal or general as you'd like.
For example, I will bring a general sign, keeping the source of my audacity private, so my sign will read,
"I have the audacity to love my country, flaws and all, so I will vote on November 6th."
Another general sign example that somebody will bring is,
"I have the audacity to love the environment, so I will vote on November 6th."
Others will bring their personal audacity to the forefront. For example, some signs will include,
"I have the audacity to love my son, [insert name], and I'm voting on November 6th so that he can feel safe from gun violence."
"I have the audacity to love my mom, [insert name], so I'm voting on November 6th because she deserves to be treated equally."
Registration and other information:
If you plan to attend, we'd appreciate it if you registered here so that the National Park Service can have an accurate headcount.
And if you can, please share using #AudacitytoLove on social media. Even if you can't attend, feel free to share who or what you have the #AudacitytoLove!
For general inquiries on the march, email: organizing.nov2018@gmail.com
To email Dominique: dominique.organizing@gmail.com
What is the audacity to love?
Most of us have the audacity to love. Love is enormously powerful. It can be unpredictable – with highs and lows – and in many cases, too overpowering to hide. If you're a parent, it's like if on any given day, your child breaks down crying, leaps for joy, or laughs uncontrollably – it would all be the same to you. You would love them the same. If you're young, that love could mean many different things, including figuring out your place in the world amid life's difficulties and uncertainties. It's overwhelming. And love can make that feeling greater -- whether it's passion, doubt, heartbreak, or triumph.
You may not realize it, but those feelings are moments in time when you're seeing your path in a world that's larger than yourself. Your destiny -- your children's destinies -- are tied to something greater.
Among us all, there are quiet heroes – quiet, not in terms of sound, but rather in strength to keep on when things get tough -- when at the end of a long day, you still say, "I will try again tomorrow." And you do it for love. Having the audacity to love means you recognize it's important to fight even if you think the world is against you.
It's important to return to those roots of why we organize, why we fight, why our grandparents' generation marched – and why we VOTE.
©Dominique M. 2018
Shaheera Jalil Albasit

March For Our Lives DC

Cousin of Sabika Sheikh who was a Pakistani exchange student killed in the Santa Fe school shooting; also founding member of March For Our Lives DC

Leatrice Burphy

A LEGACY Left Behind, Inc. and Girls Who Vote initiative

Founder

Maria Teresa Kumar

Voto Latino

CEO

Dominique Mann




March Leader and Former Obama White House Media Affairs Manager

Bianca Muñiz




Singer and Two-time Cancer Survivor

Sarah Sullivan

The New Data Project

Deputy Executive Director