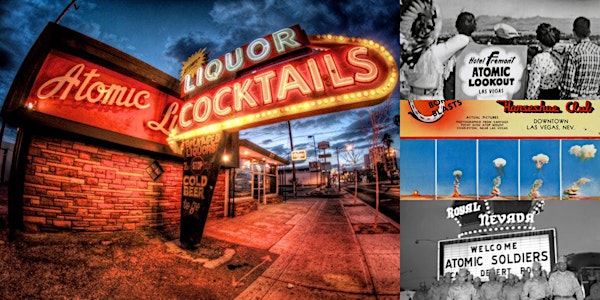 'The Atomic City: Las Vegas, Nuclear Energy, and the Uranium Era' Webinar
Can't make it live? Register and get access to the full replay for one week! New York Adventure Club | www.AdventureClub.com
About this event
In the aftermath of Japan's surrender in 1945 following the United States' decision to drop the first-ever atomic bombs, an initial period of celebration was quickly replaced by anxiety and fear. "Atomic-phobia" took hold, which according to the U.S. government, risked destroying the wellbeing of the nation and derailing nuclear power projects that could benefit communities across the country. So how exactly did the government succeed in eventually shifting public sentiment to loving all-things atomic, and what important role did Las Vegas play in this movement? It's time to travel back to the 1950s and see how Sin City transformed seemingly overnight to The Atomic City.
Join New York Adventure Club as we explore the nuclear pop culture history of Las Vegas and how its proximity to the country's main nuclear testing site transformed it into a tourist attraction for everything uranium.
Led by historian Lucy Jane Santos, our virtual experience surround Las Vegas and the Uranium Era will include:
An overview of how and why the United States government began conducting overground nuclear tests in Nevada, along with their argument for expanding the technology for the advancement of medicine, quality of life, and energy
How the U.S. government brought the American public into the 'Uranium Age,' which led to a pop culture phenomenon in cities like Las Vegas that made atomic anything synonymous with new, modern, glamorous, and exciting
Why Las Vegas officials went all in on their atomic status and used nuclear to attract visitors
Pop culture happenings to come out of the city's atomic craze, from the creation of an Atomic Cocktail at a bar that hosted atomic bomb tests viewing parties to local beauty competitions that crowned a "Miss Atomic Bomb"
Where to find traces of Las Vegas's Atomic Era in the city as well as in the movies
Afterward, we'll have a Q&A session with Lucy — any and all questions about the nuclear history of Las Vegas are welcomed and encouraged!
Can't make it live? Don't worry, you'll have access to the full replay for one week!
See you there, virtually!
*Once registered, you will receive a separate, automated email containing the link to join this webinar
**For the best possible viewing experience, please ensure you're using the latest version of your internet browser — Google Chrome is the most compatible. Exact technical requirements and a webinar user guide will be shared in the automated confirmation email upon registration.
***A full replay will be available after the experience for all registered guests
About Lucy
Lucy Jane Santos is an expert in the history of 20th century leisure, health, and beauty.
After completing a BA in Egyptian Archaeology and a MA in Arts and Heritage Management Lucy worked for several private members clubs and societies in London including The Arts Club, the Authors' Club, and the International Wine and Food Society.
She has been a judge for the Historical Writers' Association Non-Fiction Crown, the recipient of the Stephen Joseph Research Award and was the Non-Fiction Writer In Residence for the Stay-at-Home! International Literature Festival (2020). She is a founder of the Art Deco Society UK and co-founder of the Cosmetic History and Makeup Studies Network.
Half Lives: The Unlikely History of Radium is Lucy's debut book and was shortlisted for the 2021 BSHS Hughes Prize, for books that bring scholarship to new readers by capturing the public imagination while conforming to the rigorous standards of academic research. Her next book, which is a history of the element uranium, will be published in 2024.
Lucy also works as a freelance historical researcher and consultant.
Testimonials
"Great visuals and a very knowledgeable host" -Steven
"The presenter is extremely knowledgeable and relatable." -Erica
"Enjoyed the topic and learned a lot. I didn't know one of Vegas's attractions in the past was atomic testing. Then again, this was even before my parents's time. The tidbit about the Flamingo and Stardust signs was neat." -Iris
"Fascinating topic presented in a very relatable manner." -Deborah
"Lots of good photos." -Cynthia
"I learned a lot about a subject I didn't know much about. Great images. Very well researched." -Peter
"Interesting story." -Joan
Disclaimer
By attending a New York Adventure Club experience, you accept our terms of service.
Photo Credit: Main Photo - Atomic Liquors
Categories: Virtual, Moments in History