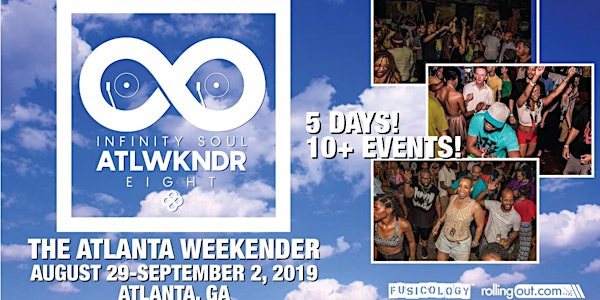 THE ATLANTA WEEKENDER/ATLWKNDR- 2019
When and where
Location
Atlanta Atlanta, GA 30312
Description
The 8th Annual Atlanta Weekender will take place August 29th- September 2nd, 2019 (Labor Day Weekend) in Atlanta, GA. Most events will be centered in the Edgewood Club District in Atlanta's Old 4th Ward Neighborhood. The festival will again be partnering with world-renowned venues The Sound Table, Believe Music Hall & more for Atlanta Weekender-branded events.
The Atlanta Weekender is curated by Salah Ananse, DJ Kemit, Kai Alce & Ramon Rawsoul - the DJs for the annual event House In The Park, which has an attendance of 10,000+ each year. The festival was designed to provide a full weekend of events for the thousands of people who fly in each year for this event. The Atlanta Weekender has grown from a festival of 12 DJs in its first year to over 40 DJs in 2018.
Past Atlanta Weekender Guests Include: Ron Trent, Theo Parrish, Ian Friday, Tony Humphries, Jihad Muhammad, Karizma, Moodymann, Josh Milan, Bobbito Garcia, Sadar Bahar, Stephanie Cooke, Roland Clark, Carlos Mena, Norm Talley, Miranda Nicole, Sadar Bahar, Jamie 3:26, Rich Medina, Gwen Bunn, Khari Cabral, Chantae Cann and more! This year the festival plans to continue in that tradition! 2019 guest announcements will begin in July!
This year's weekender will feature:
LOVESEXY- The Prince Tribute Party
SUNSET CITY GROOVE DAY PARTY
THE HOUSE IN THE PARK AFTER PARTY
RECOVERY DAY PARTY (Labor Day)
The 2019 festival will be headlined by:
Thursday, August 29, 2019
LOVESEXY- The Prince Tribute Party
DJs: Salah Ananse, Kwest_on & DJ Kemit
Venue: Moods Music- 1131 Euclid Ave. (Little 5 Points)
Venue: The Sound Table- 483 Edgewood Ave.
Saturday, August 31, 2019
SUNSET CITY GROOVE- Official ATLWKNDR Day Party
Sunday, September 1, 2019
HOUSE IN THE PARK (Included In ATLWKNDR PASS)
Venue: Grant Park- 537 Park Ave. SE
DJs: Kai Alce, Salah Ananse, Ramon Rawsoul & DJ Kemit
HOUSE IN THE PARK AFTER PARTY
Monday, September 2, 2019
RECOVERY: The Official ATLWKNDR Farewell Party
-----------------------------------------------------------------
CHECK IN/PASS PICK UP LOCATIONS:
Moods Music (1132 Euclid Ave.)- 2PM-7PM
Saturday, September 1, 2018
*Bags for Premium Passes will not be available at evening events
------------------------------------------------------------------
ALL VENUES ARE WITHIN 10 MINUTES OF EACH OTHER BY CAR!