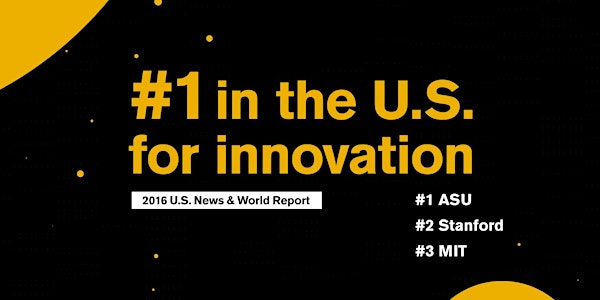 The ASU "New American University" model: Driving Economic Impact through Entrepreneurship
When and where
Location
King Abdullah University of Science and Technology Mosti Room Bldg 19 Level 0 Thuwal Saudi Arabia
Description
ASU is a comprehensive public research university, measured not by whom it excludes, but by whom it includes and how they succeed; advancing research and discovery of public value; and assuming fundamental responsibility for the economic, social, cultural and overall health of the communities it serves. Recently selected as the #1 university in the U.S. for Innovation ahead of Stanford #2 and MIT #3 by U.S. News and World Report for the second year in a row, ASU is entrepreneurially-focused both in the training of faculty, student and community entrepreneurs but also in how the university itself operates. Through public-private partnerships with leading names in entrepreneurship, venture capital and higher education institutions throughout the world, ASU has developed a suite of programs and initiatives that support new venture creation and advancement. Since President Michael Crow's arrival in 2003, 96 new ASU spin-out companies have been launched of which 8 companies have been acquired, merged or became publicly traded. Through 2015, new ASU faculty startups have raised over $600 million in venture capital investment with more than 500 people currently employed at ASU-linked startups. Additionally, 260 student team companies have been birthed representing more than 1,000 students in the past 10 years with grant, prize and investments totaling over $14 million. An overview of various ASU entrepreneurial programs will be presented along with a discussion on select success stories.
Charlie Lewis, Senior Vice President
Arizona State University
Charlie Lewis manages the creation and growth of new ASU spinout companies for AzTE. Charlie brings 20 years of entrepreneurial and private equity experience to AzTE. During his tenure, ASU has had over 70 spinout companies, who have raised over $400 million equity funding.
Prior to joining AzTE, he served as general partner for two Arizona venture capital funds, Arris Ventures and Paradise '94. He directed the investment committee responsible for analyzing due diligence findings and appropriating more than $25 million in private capital with an emphasis on early-stage technology companies. During that time, he was involved in the acquisition of three portfolio companies, one by a public corporation (NYSE: IDR).
Prior to his venture fund experiences, Charlie was vice president of sales and marketing for Tritium Technologies. There he developed the marketing plan and managed the sales process for the company's digital vibration attenuation products. He also served as International Director for Distribution for ANVT, Inc. In that role, he formulated the North American and European distribution plans and gained key insight into international trade relations.
Charlie was a founding partner of Midas Computers in 1984 after graduating from Arizona State University with a B.S. in computer science. The company designed software tools for small retail businesses and was acquired by POS Systems in 1993.