Learn how assets drive stable growth and profitability; improve valuations, attracting investments and buyout offers; and ease scalability.
About this event
Content
This half-day online event features, Daniel Priestley, author of the best-selling book, 24 Assets; Noel Bagwell, author of How to Structure Your Business for Success; and a special guest speaker yet to be announced.
Daniel will be speaking about about the power of assets to improve revenue per person in a business. The higher this important number gets, the more quality assets a business has built. Daniel talks about the 24 assets your business must develop, and makes the especially compelling case for why owning "soft" or "intangible" assets, in today's economy, is absolutely essential.
Noel will be speaking about crucial role attorneys play in the creation and protection of business assets. The best businesses use preventive legal support to help them create and protect a stunning variety of assets, but many businesses fail to do this, leaving money on the table. Noel's groundbreaking insights show how businesses can transform their legal support from a cost center into a profit engine.
Our third speaker, Kevin Valley, is a Chartered Business Valuator who will speak to the way in which assets directly contribute to higher valuations, improved investment opportunities, and higher payouts for founders seeking to exit their business for retirement or their next opportunity.
Nuts & Bolts
Time. The event will be held online from 9:00 AM until ~12:30 PM (Eastern).
Networking. There will be opportunities to connect with each speaker.
Special Offers. Each speaker will extend special offers to attendees.
Limited Space. We want to ensure that everyone has an opportunity to get the most out of the event. We especially want to make space for meaningful connections with our speakers. So, we're limiting attendance to the event.
Purchase your ticket early to ensure availability!
Notice: Under the rules of some states, portions of this event may be considered an "attorney advertisement."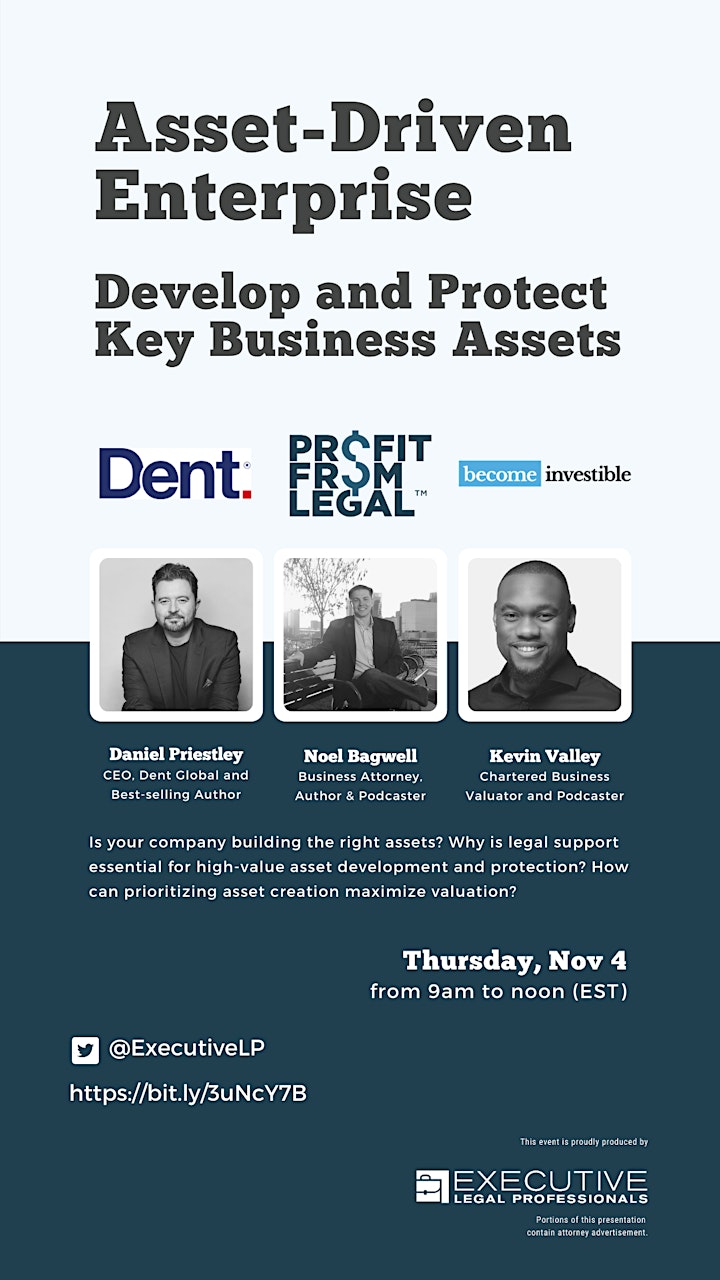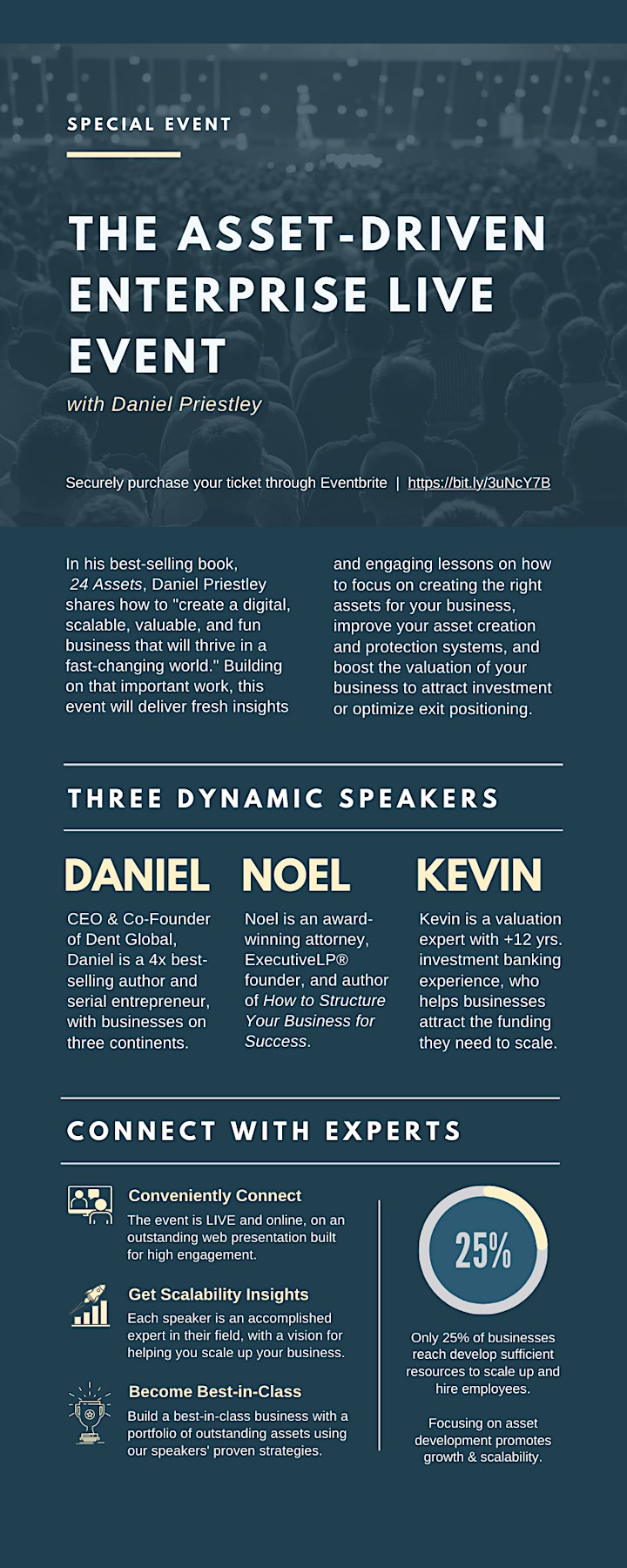 Date and time
Location
Refund policy
Organizer of The Asset-Driven Enterprise LIVE Event with Daniel Priestley
ExecutiveLP® is an innovative virtual law firm based in Nashville, TN. We work with our business clients to transform their legal support from a cost center into a profit engine.
Our core offering, Profit from Legal™, is a legal operations function install service. We offer a free digital diagnostic, designed to evaluate your legal profitability.
Click here to take the Legal Profitability Scorecard. For more information about Profit from Legal™, click here.
We also offer ongoing, preventive legal services to meet our business clients' need for outside general counsel. For the smallest businesses, we offer Legal Lifeline™ and for small-to-medium businesses, we offer our Signet™ outside general counsel service. Custom solutions may be available to larger clients.