Event Information
Refund Policy
Contact the organizer to request a refund.
Eventbrite's fee is nonrefundable.
The Asheville Ballet's Nutcracker goes virtual! Featuring Marcelo Martinez of Carolina Ballet, and our own Eve Currens and Annika Stewart.
About this Event
Asheville Ballet announces The Nutcracker 2020, In the COVID Era: a spectacular professional production of the full original Nutcracker ballet from Imperial Russia interpreted and performed by Asheville's own Ballet Company, directed by Ann Dunn.
Available via private link, December 20 – January 3 whenever (and as many times as) you want to view it, filmed live at Diana Wortham Theatre at the Wortham Center for the Performing Arts. All Tickets are $20.
On "Opening Night" (12/20/20 at 5:00pm), your ticket will allow you to view the Nutcracker here on Eventbrite, or in your browser, anytime through January 3. One ticket is all you need to receive the link to view the production, but if you want to purchase multiple tickets, please know that everyone at The Asheville Ballet is grateful for your generosity! Your kind patronage means the world to us, especially during this difficult year. Thank you for supporting your local non-profit Ballet Company!
The Asheville Ballet's Nutcracker has been a holiday tradition in Asheville for half a century. Children and adults will be charmed yet again by ballet's greatest classic. This all-time favorite story of Clara's magical midnight trip to the Land of Sweets is classical ballet at its best. Snow will fall in the Snow Queen's kingdom, scary rats will frighten and good soldiers will rescue Clara, the exquisite Sugar Plum Fairy and her handsome Cavalier will dance their eternally lovely pas de deux, and beautiful flowers will waltz, and waltz, and waltz.
There is an historical line behind our production, from Petipa and Vaganova in 19th century Russia, to their pupil and dancer George Balanchine in 20th century New York, to his pupil Ann Dunn in 21st century Asheville.
This year's full production, using some footage from 2019, features an exquisite new pas de deux for the Snow Queen and King, created by Marcelo Martinez, principal dancer of Carolina Ballet, and new choreography for The Sugar Plum Fairy and Cavalier Pas de Deux, created by Carolina Ballet's founding artistic director, Robert Weiss, all coached by Marcelo Martinez as well as by our own Fleming Lomax and Megan Jones Medford.
We are most thrilled to have made a significant connection between the oldest ballet company in North Carolina, The Asheville Ballet, and the premier ballet company in the state, Carolina Ballet, the administration of which could not have been more gracious. Our Director, Ann Dunn, and Robert Weiss, Founding Artistic Director of Carolina Ballet, share a background with The New York City Ballet's school, School of American Ballet.
Robert Weiss is an American ballet dancer, choreographer, and Founding Artistic Director of Carolina Ballet. He began his professional career at age 17 joining the New York City Ballet under George Balanchine, eventually becoming a Principal Dancer. Balanchine created several roles for him, including Ballo della Regina.
With great excitement, we introduce featured artists for 2020: Mr. Martinez as the Snow King and the Sugar Cavalier, and our own ballerinas, Annika Stewart (Snow Queen) and Eve Currens (Sugar Plum Fairy).
Marcelo Martinez was born in Paraguay where he began his training at the former Academia de danza Bettina Ramos. He then continued his training in Brazil at the Centro de Dança Rio under the instruction of Maria Angelica Fiorani. At age 17 he was accepted into the Companhia Jovem do Teatro Municipal do Rio De Janeiro where he danced under the directions of Dalal Aschar and Mariza Estrella. Mr. Martinez accepted a position with The Washington Ballet where he danced lead roles including Cavalier in The Nutcracker, Stravinsky Violin Concerto by Balanchine, and The Rite of Spring by Trey MacIntyre. In 2007, he joined Carolina Ballet, where he has danced many principal roles. Mr. Martinez has also appeared as a guest artist with Greensboro Ballet, Susan Farrell Ballet, Arka Ballet, The Raleigh Dance Theater, and The Asheville Ballet. (Image of Marcelo Martinez by Denise Cerniglia.)
Eve Currens has been training with the Asheville Academy of Ballet and Contemporary Dance since the age of two, taking classes in ballet, pointe, modern, contemporary, and hip hop. She has performed with the company, The Asheville Ballet, in the Nutcracker since 2008, with past favorite roles including Lead Chinese, Lead Marzipan, Clara, Fritz, and Ballerina Doll. Eve has also performed in Fall into Dance, Spring into Dance, Danse Macabre, Cinderella, An Appalachian Romance, Sleeping Beauty, and Winnie the Pooh. She is thrilled to be dancing as Sugar Plum in this year's Nutcracker. The Asheville Ballet has been Eve's second family and a place for her to grow her love for dance both in the studio and on stage.
Annika Stewart has been training since the age of two with the Asheville Academy of Ballet in ballet, pointe, modern, contemporary, and hip hop. She has been in "The Nutcracker" since 2008, cast in roles including, Clara, the Land of Sweets Fairy, Ballerina Doll, Lead Marzipan and Lead Russian as well as snow and flower corps. She has also been in "Sleeping Beauty," "Cinderella," "Danse Macabre" and "Spring into Dance" since 2015. The feeling of being on stage doing what she loves, dancing for an audience, fuels Annika Stewart's passion for dance.
We hope you'll join us! Please visit our website for more info about North Carolina's oldest non-profit ballet company: www.ashevilleballet.com. Thank you for your support!
Please note that there will be no refunds after the event start date, 12/20/20.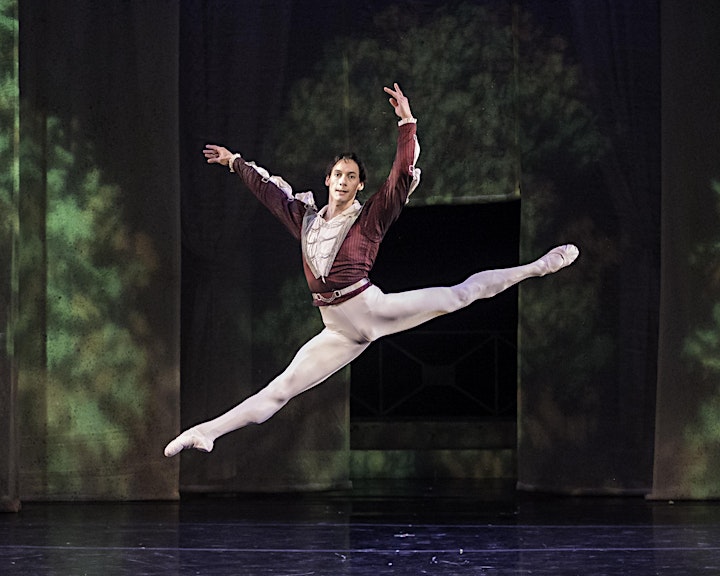 Date and Time
Location
Refund Policy
Contact the organizer to request a refund.
Eventbrite's fee is nonrefundable.