Permission To F.L.Y. Inc. Presents 'The Arts in College Park', a workshop, and Performing Arts event.
About this event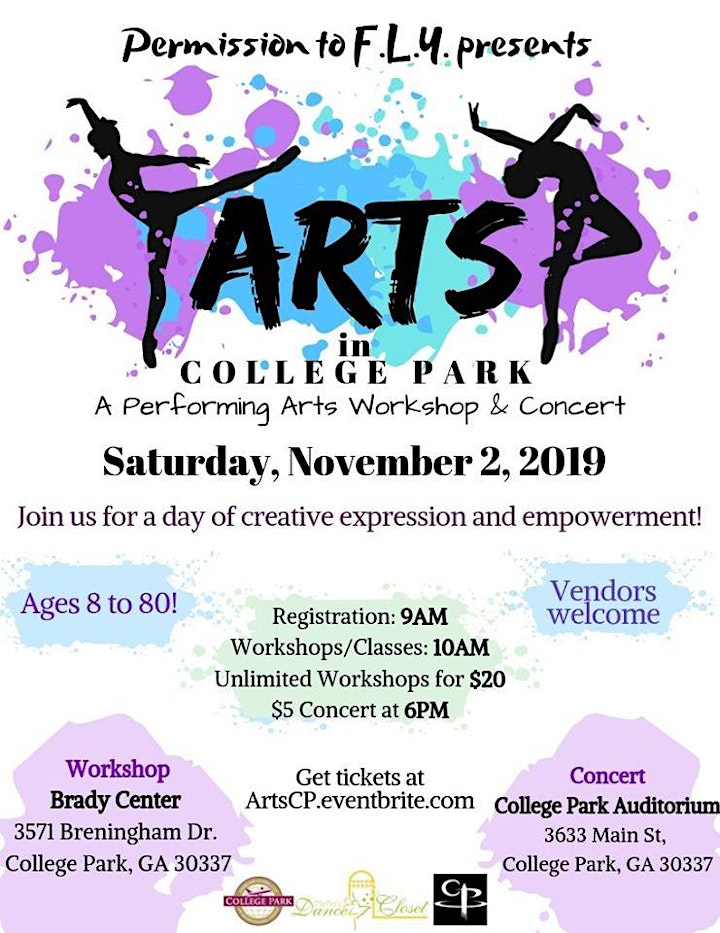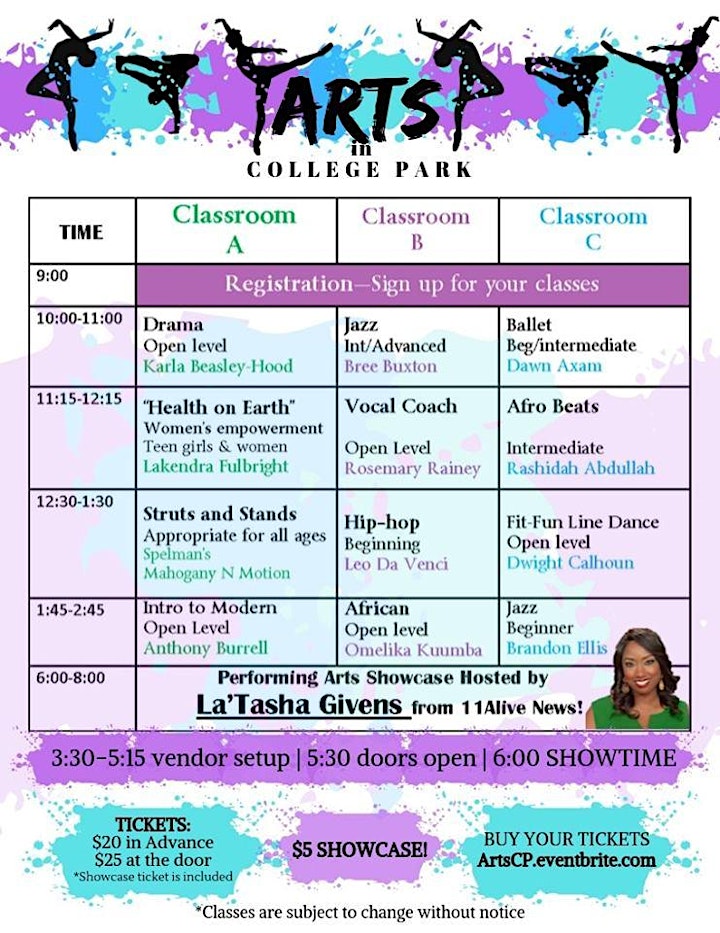 Permission to F.L.Y. presents, The Arts in College Park, an event designed to bring additional awareness of the arts to College Park and the surrounding area. The event will celebrate the performing arts by offering workshops and performances by some of Atlanta's renowned performing arts instructors. Attendees (ages 8 through 80) will have the opportunity to participate in a variety of workshops including African dance, hip hop, jazz, Afro Beats, drama, bead making, and more. The workshops will then be followed by an evening concert of uplifting and inspiring performances that will hopefully empower you to share your talent and stories. You don't want to miss! Hosted by the beautiful Latasha Givens of 11 Alive News!
The Tri-Cites H.S. Culinary Dept -The Bulldog Bistro will be selling box lunches, you are also welcome to bring your own lunch.
Work shops- Held at the Brady Center located at
3571 Breningham Dr. College Park, GA 30337
Registration begins at 9:00 AM workshops from 10:00-3:00
Concert - Held around the corner at College Park Auditorium located at
3633 Main St, College Park, GA 30337
doors open at 5:30 PM , Showtime 6:00 PM
Vendors - set up begin at 3:30
You can also CashApp at $permissiontofly
Classes subject to change without notice.
For Questions and Concerns call 404 786 3111 (c)
Thanks to our sponsors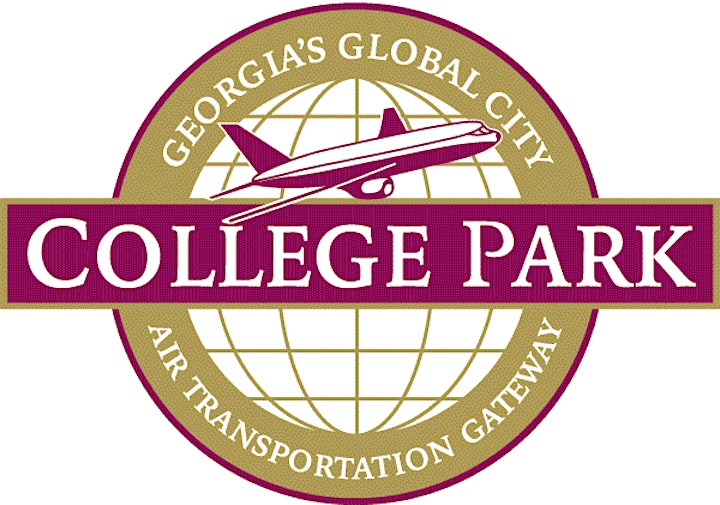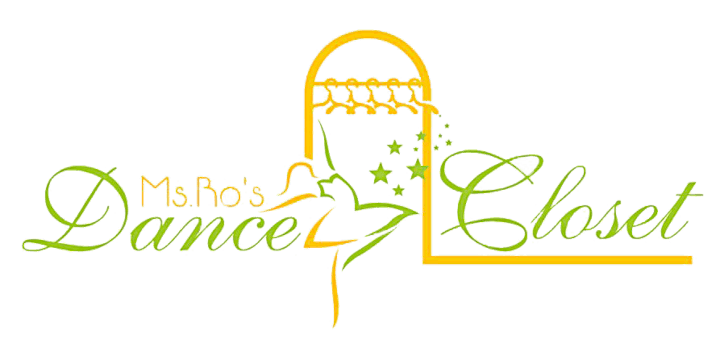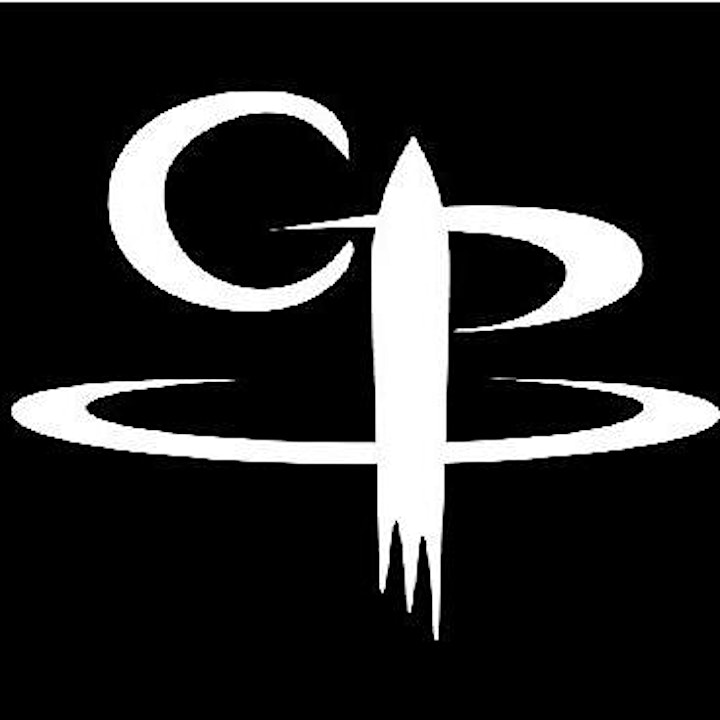 Organizer of The Arts in College Park
Permission to F.L.Y. means permission to Fully Love Yourself.
We are a non-profit organization whose mission is to empower, inspire, and mentor women and girls with rare/complex disorders through the performing arts, education, advocacy, and entreprenurialism.
Permission To F.L.Y. was Co-founded by Ashley Rose Favors and her mentor Ms. Roshawn Buxton (Ms.Ro). Both ladies wanted to be living examples of strength, inspiration, and what we call "perservillients," to women and girls who have suffered from rare disorders (e.g. Bell's Palsy, Erbs Palsy, Vitiligio, albinism). Despite having a rare condition called Erbs Palsy, which affected the function and appearance of her right arm, Ashley excelled through life. Coincidentally, her mentor Ms.Ro found the will to inspire others and become the best example of her own mentoring spirit after being diagnosed with a rare condition called Bell's Palsy. Ashley, Ms. Ro, and countless other women and girls with similar stories have triumphed in some way despite the odds, and permission to F.L.Y. is just that : To fully and triumphantly love ourselves no matter what circumstances or health challenges we may face. Ironically, the name of our organization has taken a whole new meaning since Ashley's untimely death in 2016 from a car accident. She was 26 years young, but in more ways than one she gave herself permission to FLY.  
There are many women and girls who have creative abilities that we wish to cultivate using this platform. With your generous support, we will invoke a new movement of confident, resilient, triumphant women and girls.
"Remember you already have permission to Fully Love Yourself."
In loving Memory
Ashley Rose 1989-2016