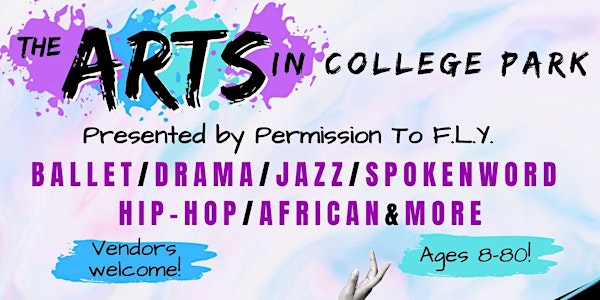 ' THE ARTS' in College Park 2022
Permission To F.L.Y. Inc. Presents 'THE ARTS in College Park. A workshop, and a performing arts concert.
When and where
Location
Wayman & Bessie Brady Recreation Center 3571 Breningham Drive Atlanta, GA 30337
About this event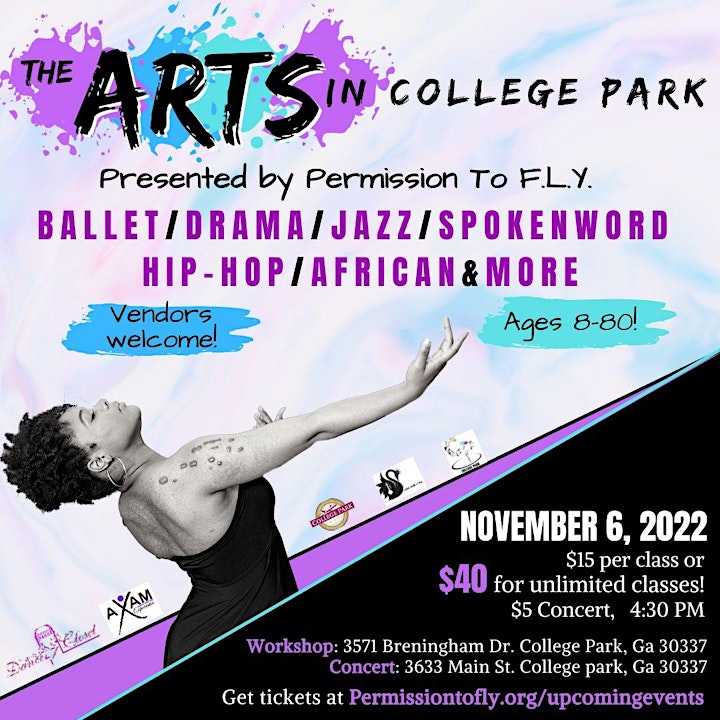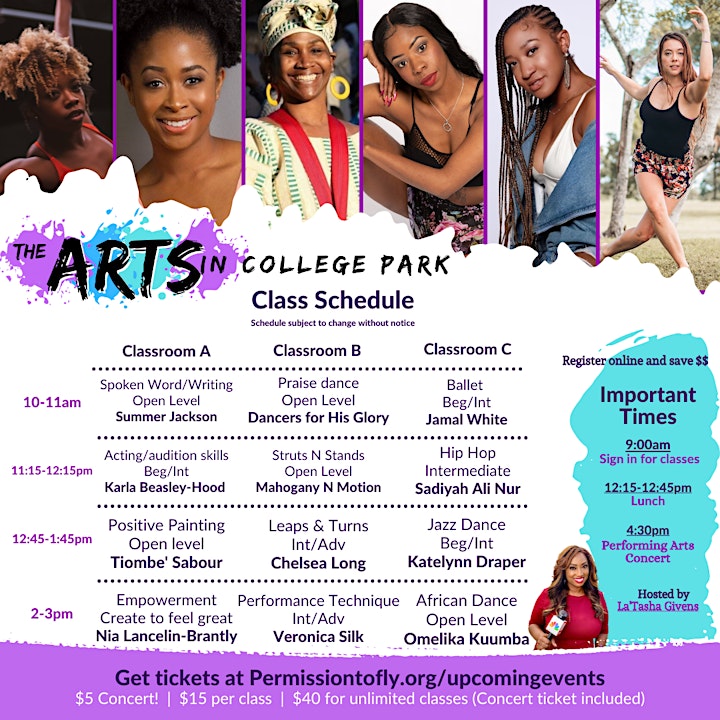 Sunday, November 6, 2022
Permission To F.L.Y. is on a mission to enhance the confidence in women and girls with rare visible medical conditions (vitiligo, albinism, eczema, alopecia, bell's palsy, lupus, scoliosis, and more). We do this through mentorship, advocacy, and the performing arts. Please join our workshop Sunday, November 6 for some empowering classes, these classes are open to any person wishing to participate. The workshop will be followed by an uplifting concert of inspiration and shared stories. You do not need to be a dancer, we have plenty of non-movement classes as well.
Permission to F.L.Y. presents, The Arts in College Park, an event designed to bring additional awareness of the arts to College Park and the surrounding area. The event will celebrate the performing arts by offering workshops and performances by some of Atlanta's renowned performing arts instructors. Attendees (ages 8 through 80) will have the opportunity to participate in a variety of workshops including African dance, hip hop, jazz, drama, writing, empowerment, and more. The workshops will then be followed by an evening concert of uplifting and inspiring performances that will hopefully empower you to share your talent and stories. You don't want to miss this!
Hosted by the beautiful Latasha Givens of 11 Alive News!
The Tri-Cites H.S. Culinary Dept -The Bulldog Bistro will be selling box lunches, you are also welcome to bring your lunch.
Workshops- The Brady Center
3571 Breningham Dr.
College Park, Ga 30337
Sign-in- begins at 9:00 AM workshops from 10:00-3:00
Online registration is strongly encouraged. ALL in-person registrations will incur an additional $10 charge. Online registration will close at 11:59 pm on Nov 5, 2022.
Concert -The College Park Auditorium (just around the corner)
3633 Main St, College Park, GA 30337
doors open at 4:00 PM, Showtime at 4:30 PM
Unlimited Classes, and entrance to the Concert $40.00 pp
individual classes $15.00 pp
Please register online, there will be an additional $10.00 pp fee for in-person registration (Cash App or CC only, no Cash).
Performing Arts Concert to follow workshops $5.00 pp (Cash app and CC only)
You can CashApp payments to $permissiontofly
Classes are subject to change without notice.
Vendors - Welcome ( please see the registration form on permissiontofly.org)
Thank you to our sponsors