The Arts & Crafts Movement in Philadelphia and Environs

Thursday, September 20, 2012 at 8:00 AM

-

Sunday, September 23, 2012 at 5:00 PM (PDT)
Event Details
 14th Annual Arts and Crafts Conference
Philadelphia, PA – September 20 - 23, 2012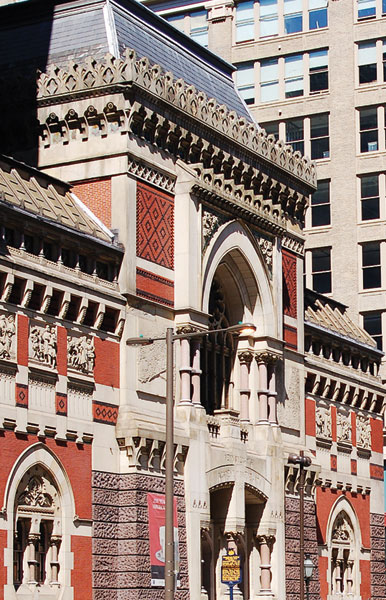 The Arts & Crafts Movement in Philadelphia and Environs
Early registration discount of $400 in lieu of $495 available
through July 31, 2012
Initiatives in Art and Culture's 14th Annual Arts and Crafts conference takes place in Philadelphia and environs, and marks the 100th anniversary of the death of architect Frank Furness. The conference explores Philadelphia's distinctive Arts & Crafts expressions, among them, Will Price's Rose Valley community, which he called, "a poor sort of heaven, a good sort of earth."The region's artistic activities were infused with a practical Quaker sensibility, and evolved to embrace industrial production, as well as a design vocabulary that valued historical precedent. The 1876 Philadelphia Centennial Exposition in many ways gave shape to America's nascent Arts & Crafts movement, and inspired the nation's designers and craftsmen. The Centennial gave rise to educational institutions, such as the Pennsylvania Museum and School of Industrial Art, the Philadelphia School of Design for Women (now Moore College of Art), and Drexel University. These schools were funded by industrialists who hired educators such as Howard Freemont Stratton and Edwin Atlee Barber, who, in turn, engaged artists / craftsmen as teachers, among them Samuel Yellin, Henry Chapman Mercer, and Violet Oakley (and Thomas Eakins at the pre-existing school Pennsylvania Academy of Fine Arts). The continuation of Arts & Crafts into the 20th century is epitomized by Wharton Esherick, whose work inspired the Studio Craft movement.

Formal sessions will be hosted by the Pennsylvania Academy of the Fine Arts ([PAFA], 1871 – 1876, Furness & Hewitt). The Academy will be the premier venue for the Furness 2012 multi-site exhibition in the city of Philadelphia, and will provide opportunities for exploring the rich archives and

collections. Evenings will feature receptions at PAFA and other venues which will open their doors for private visits. Downtown walks will feature sites such as the Curtis Publishing Co. (1910 – 1921, Edgar V. Seeler) with a large Maxfield Parrish mosaic mural executed by Louis C. Tiffany Studios; the Packard Building (1922 – 1924, Ritter & Shay), with extensive ironwork by Yellin; and the Mask and Wig Club, an 1834 church remodeled in 1894 by Wilson Eyre, with decorations by Parrish; and Jacob Reed's Sons Store (1903 – 1904, Price & McLanahan) with a Mercer Moravian Tile mural.
Day trips will include visits to Bryn Athyn, a Swedenborgian community featuring a cathedral (1913 – 1919) begun by Ralph Adams Cram and completed by Raymond Pitcairn, son of the founder of Pittsburgh Plate Glass; the cathedral was built in the medieval tradition with its own craft workshops on site; and Cairnwood the Pitcairn family's first residence (1895, Carrère & Hastings) with grounds landscaped by Olmsted, Olmsted & Eliot and Glencairn (1892– 1895), a residence designed by Raymond Pitcairn to house his family. An afternoon will be spent at Henry Chapman Mercer's Moravian Pottery & Tile Works founded in 1898 (after Mercer apprenticed himself to a Pennsylvania German potter) and where his designs are still produced, and Fonthill (1908 – 1912) Mercer's reinforced concrete "Castle for the New World" with its tile-encrusted interiors. The Rose Valley Association formed in July 1901 (on land settled by Quaker farmers in 1682), under the leadership of architect Will Price, as an Arts & Crafts experiment inhabited by like-minded "folk." The RoseValley furniture workshops and William P. Jervis's Pottery were each located in converted mills. RoseValley was situated near the Moylan train station because Price envisioned a commuter community rather than one based solely on artistic production. Other sites include Bryn Mawr College, the first institution of higher education to offer graduate degrees to women. Set in a landscape by Olmsted and Vaux, the campus features architecture by Cope & Stewardson who designed Goodhart Hall in the Collegiate Gothic style and the M. Carey Thomas Library and residence halls featuring metalwork, glass and woodwork by leading Arts & Crafts practitioners, including Tiffany, Yellin, and Lockwood de Forest. Bryn Mawr is located near the heart of The Main Line, the suburban stretch extending northwesterly from Philadelphia along the Main Line of the Pennsylvania Railroad where many of the city's wealthiest citizens built country houses designed by Philadelphia's leading architects, among them Furness, Wilson Eyre, Horace Trumbauer, and Mellor, Meigs & Howe. We also visit Washington Memorial Chapel (1903 – 1917, Field & Medary) featuring stained glass by Nicola D'Ascenzo, ironwork by Yellin, and woodwork by Edward Maene. The nearby Wharton Esherick Museum is the handbuilt studio of Wharton Esherick (1889 – 1970), furniture designer, sculptor, carver, and graphic artist, who is now recognized as the "dean of American craftsmen."
Among those who have agreed to participate are Robert Edwards, independent scholar, museum consultant, and dealer in American decorative arts; Jeff Groff, Director of Public Programs, Winterthur Museum, and architectural preservationist; Vance Koehler, curator, Moravian Pottery and Tile Works, and co-author of The Cooper–Hewitt Museum's American Art Pottery (1987); Michael J. Lewis, Faison–Pierson–Stoddard Professor of Art, Williams College, whose publications include Frank Furness: Architecture and the Violent Mind (2001) and The Gothic Revival (2002); Anna O. Marley, Curator of Historical American Art, Pennsylvania Academy of the Fine Arts; Cheryl Robertson, independent scholar, curator, and museum consultant; Hyman Myers, independent architecture and planning professional, responsible for the preservation work on many of Pennsylvania's National Historic Landmarks, among them PAFA, the State Capitol and Philadelphia's City Hall; Peter A. Renzetti, master metalsmith, and historical and architectural metalworker who—in 38 years of practice—has been responsible for many important Yellin restorations; George E. Thomas, Lecturer of Historical Preservation and Urban Studies, University of Pennsylvania and principal author of Frank Furness: The Complete Works and author, William L. Price: From Arts and Crafts to Modern Design; Anne A. Verplanck, associate professor, American Studies and Heritage Studies at Penn State, Harrisburg and co-editor of Quaker Aesthetics: Reflections on a Quaker Ethic in American Design and Consumption, 1720– 1920; Lisa Weilbacker,Fellows Program Associate, The Garden Conservancy and authority on the stained glass of Nicola D'Ascenzo; and Richard Guy Wilson, Commonwealth Professor of Architectural History, University of Virginia (as of 6/16/2012).
A pre-conference walking tour takes place on September 19th from 12:30 on.

A block of rooms has been reserved at Le Meridien Philadelphia
1421 Arch StreetPhiladelphia, PA19102; reservations: 1-888-627-7031
Located just a half a block from the Pennsylvania Academy of Fine Arts, Le Meridien Philadelphia offers 24-hour room service, fitness & business centers, wireless Internet, and valet parking (for a fee). The room block will be held until August 20, 2012, after which rooms will be available on a rate and availability basis only. A special nightly rate of $189 + applicable tax is available for participants by calling Central Reservations at 888-627-7031 and identifying themselves as Arts and Crafts conference or "Initiatives in Art and Culture" or through this website: Arts & Crafts Conference or https://www.starwoodmeeting.com/StarGroupsWeb/res?id=1206070294&key=EA36A
When
Thursday, September 20, 2012 at 8:00 AM

-

Sunday, September 23, 2012 at 5:00 PM (PDT)
Add to my calendar
Organizer
Initiatives in Arts and Culture (IAC) is an organization committed to educating diverse audiences in the fine, decorative, and visual arts. IAC's primary activities are conferences, publications, and exhibitions. These take an interdisciplinary approach, considering issues related to fabrication, connoisseurship, cultural patrimony, cultural preservation, and the future of culture. Particular areas of emphasis include American painting, the history of frames, the Arts and Crafts movement, the influence of Asian cultures on American fine and decorative art, and the history and future of fashion and materials. IAC's projects have been supported by a wide array of individual, corporate and foundation funders.