What is art if it doesn't make you think? Or feel? Or Question? Or use its influence to bring people together during a time of need.
About this event

Join us November 13th on Zoom for The Arts Are Greater Than Art Exhibit as we present a selection of fine art and creative voices related to current affairs.
Curated by Joanne Hunter, the common thread for this exhibit is based on adage that the "whole is greater than the sum of the parts." This art exhibit expresses the power of the arts through creative expression individually and as whole.
Already in a gift-buying frame of mind? These original artworks are for sale. A wonderful way to invest in the arts, support artists, and the Cultural Alliance. A preview of the show will be sent to all registrants. Don't forget to bring along your favorite nibbles and beverage too! ~
Participating Artists: Alma Al Faham; Bobbie Bernstein; Luiza Budea; Lisa D'Amico; Yvonne Espinoza; Paulina Gerner; Mary Harold; Supriya Hermenze; Linda Hubbard; Tim Jackson; Elizabeth Kaney; Carmen Li; Suzanne Marsan; Betty Ann Medeiros; Denise Minnerly; Erin Nazzaro; Christie Parker; Katie Samuelson; Peter Schachter; Karen Sion; Susannah Smith; Muriel Stockdale; Terrence Tougas; Scarlett Weissman; Annette Womack; George Zipparo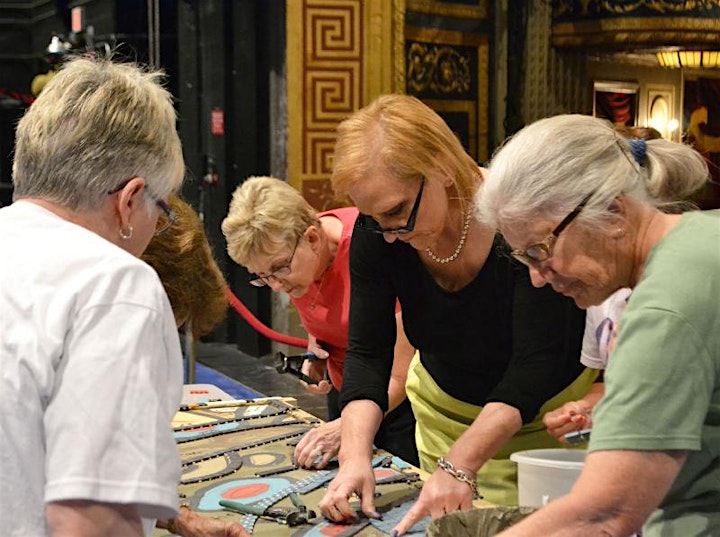 About Joanne Hunter
A graduate of Pratt Institute, Director/Co-Owner of The Art Spot, a school of fine arts in Danbury, and an exhibiting and award-winning member of regional art associations. Serving on several art Committees and arts boards, Joanne is a visible arts activist in her community as well as the surrounding area.
Through a series of twists in art experiences, her interest in public art was born. Having now designed and created site specific mosaic murals for hundreds of cities, schools, social interest groups, libraries, corporations and organizations, she has led the collaborative fabrications of this art with thousands and thousands of participants. Joanne's insights honed in on the impact and power these collaborative pieces offer to rally around the cry of social justice and humanitarian issues. Thus, "Eyes of the World" mosaic mural was joyously born. Partnering with the Women's March on NYC, this three-year project offered hands-on comradery to marchers. as they created a mosaic mural that now hangs at the entrance to the Neuberger Museum in NYC.
Organizer of The Arts Are Greater Than Art Opening