Description
19th Annual Arts and Crafts Conference
The Arts and Crafts Movement in Providence and Environs
September 14 - September 17, 2017
For more information, call: +1 646-485-1952 or
Email: info@artinitiatives.com
The first day is hosted by the Museum of Art, Rhode Island School of Design(RISD Museum); which was founded in 1877 and features the country's first museum wing devoted to the display of American decorative arts built in 1906 to replicate a Providence Federal-style residence.
Among the many sites in Providence and environs to be toured are:
The Providence Art Club, established, 1880, which includes: The Club House (known as the Obadiah Brown Brick House) built by Seril Dodge, 1790; among its features are The Cabaret; The Reading Room paneled with the dwelling's original window shutters, the Green Room with 1897 silhouettes of Art Club members; the 1896 addition housing the "Grill Room" embellished by Granville Hastings' plaster frieze bas-reliefs. A 1920 archway connects the Club House Gallery to The Seril Dodge House, 1786 - 1789. Also part of the Club are The Deacon Edward Taylor House, 1784 and The Fleur-de-Lys Studios, designed by Sydney Burleigh and Edmund R. Willson, 1885; The Providence Athenaeum, 1838, William Strickland (additions: 1914, Norman Isham and 1979, Warren Platner); the only New England building designed by the Philadelphian, the Greek Revival structure was built to house an independent, member-supported library open to the public; The Lippitt House, 1865, designed with construction supervision by Henry Lippitt (1818 - 1891); occupied by four generations of the family for 114 years, this Renaissance Revival villa with Italian palazzo elements features one of the best preserved Victorian interiors in America; The Handicraft Club was founded in 1904 by Julia Lippitt Mauran, Mary Parsons and eight other women interested to promote handicrafts and to provide a place where they could be done. After renting rooms for classes, the Club was incorporated in 1921 and, in 1925, purchased The Truman Beckwith House, ca. 1782 architect John Holden Greene (bow window on the College Street front by Norman M. Isham after 1925); Boston architect Ralph Adams Cram designed The "Rising Sun" (The Arthur Knapp House), ca. 1897; it features a Pagoda roof with imported woods used in the woodwork, carvings, and built- ins and with attached "Tea Room"; Clouds Hill (1871 - 1877), built for Elizabeth Ives Slater Reed by her father, William S. Slater and occupied by four generations of his descendants, this Gothic Revival structure built on a country estate is one of few surviving large-scale residential designs by Providence architect William R. Walker; the property contains many examples of high quality period workmanship, including a distinctive Egyptian-themed room.
Among the sites in Newport to be toured on Saturday are:
McKim, Mead & White, The Newport Casino (parts of which are housed in the International Tennis Hall of Fame),1879 - 1880; Kingscote, Original Builder: George Noble Jones, Architect: Richard Upjohn (1839-1841) and Mickim, Mead & White (1881); Chateau-sur-Mer, Original Architect, Seth C. Bradford, 1852; Richard Morris Hunt, remodeling and redecoration in the Second Empire French style, 1872-1880; Isaac Bell House, McKim, Mead & White in September of 1881 commissioned.
Among those participating at this early stage are: John Dunnigan, furniture maker and professor, RISD; Robert P. Emlen, Senior Lecturer, Department of American Studies, Brown University and lecturer, History of Art & Visual Culture, RISD; Paul Miller, curator, Newport Mansions Preservation Society; John Tschirch, architectural historian; John Smith, director, RISD Museum Elizabeth Williams, Curator of Decorative Arts & Design, RISD Museum; Richard Guy Wilson, Commonwealth

Professor, University of Virginia;

Kate Wodehouse

, Director of Special Collections, The Providence Athenaeum.
More information to follow soon! We hope you can join us for another GREAT conference with amazing sites, insightful information and great people.
Rooms have been reserved at the
Hampton Inn & Suites Providence Downtown at a discounted rate. Please call

(401) 608-3500 and mention Initiatives in Art & Culture.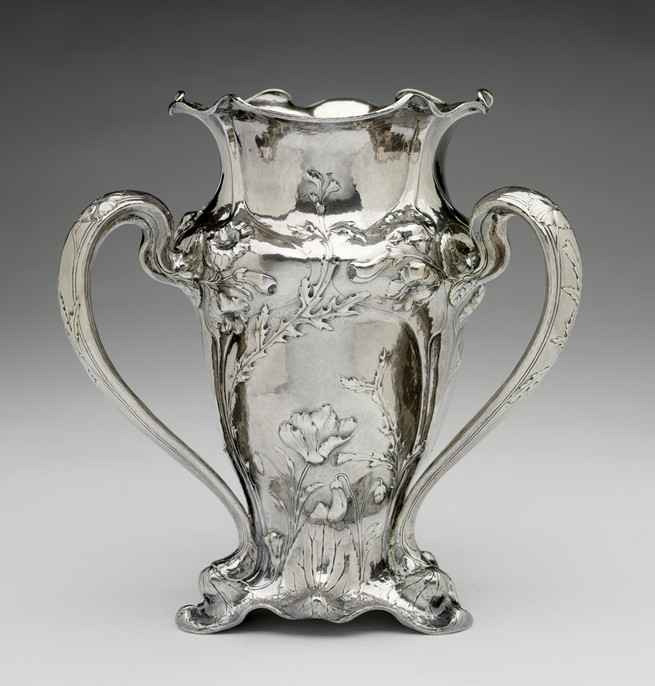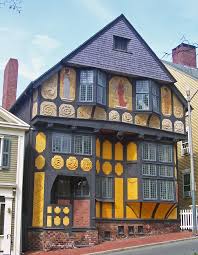 Captions from Top: American architect H. H. Richardson, William Watts Sherman House, 1875-1876. A National Historic Landmark, it is located at 2 Shepard Avenue, Newport, Rhode Island; Martelé Loving Cup, 1905, Silver with gilding Height: 10 ¼" Gorham Manufacturing Co. American, William Christmas Codman, designer. Charles A. Johnson, metalworker, George Shakel, chaser (metalworker), Gift of Elizabeth and Lloyd Volckening; Designed by Sydney Burleigh, an artist and Edmund Wilson, a Beaux Arts trained architect, The Fleur de Lys Studio, built in 1885. A National Historic Landmark, it is located at 7 Thomas Street, Providence, Providence County, RI.
Organizer of The Arts and Crafts Movement in Providence and Environs
Initiatives in Arts and Culture (IAC) is an organization committed to educating diverse audiences in the fine, decorative, and visual arts. IAC's primary activities are conferences, publications, and exhibitions. These take an interdisciplinary approach, considering issues related to fabrication, connoisseurship, cultural patrimony, cultural preservation, and the future of culture. Particular areas of emphasis include American painting, the history of frames, the Arts and Crafts movement, the influence of Asian cultures on American fine and decorative art, and the history and future of fashion and materials. IAC's projects have been supported by a wide array of individual, corporate and foundation funders.