Actions and Detail Panel
The Arts Alliance - Creative Exchange - Wet Felting Workshop
Sat, May 6, 2017, 10:00 AM – 4:00 PM EDT
Description
Join The Arts Alliance, as we welcome artist Therese Holt for her wonderful WET FELTING WORKSHOP!
"Felt is the play dough of the fiber world." Wet felt is the oldest form of felting. Come and explore and discover what happens when you layer fibers together and use the wet felting technique to create your own fiber art.
Saturday, May 6th
10:00am - 4:00pm
Snyder House at Cottell Park, 5847 Irwin Simpson Rd., Mason, OH 45040
Pack your own yummy lunch and we'll provide morning coffee, teas, waters and pastries.
$125.00 per person.
ALL supplies are provided.
No experience necessary. Supplies included: wet felting mat, liner, mesh netting, soap, Merino Wools and other fibers to create your art. Each student will leave with one or two finished works of art approximately finished size is 8x10.
Supplies you might like to bring:
4 - 5 large (old) towels that you will only use for this workshop.
2 pet grooming brushes (only if you already own them) we'll have extra.
Natural Fibers, wool and yarns that you might also like to encorporate into you design.
An image or two that you can use for inspiration. (We'll also have plenty of image to inspire you!).
Q & A
What is Wet Felting?Wet felting is a process used to make wool and other animal fibers into the dense fabric known as felt. The process involves the application of warm, soapy water, which causes layers of fleece placed at 90 degree angles to one another to hook together into a single piece of fabric.
Do I need experience to take this workshop? No. Therese will walk you through the wonderful fun and relaxing art making process.
I have an old wool sweater, may I bring it? SURE! Therese will be supplying all of the materials, but you're welcome to bring a wool item to incorporate into your work.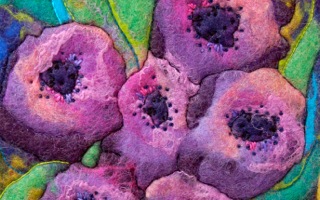 About Therese Holt"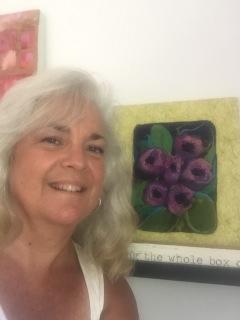 Therese E. Holt - born, raised, and creates works of arts in the beautiful Queen City of Cincinnati. Earned her B.F.A. with a concentration in Fiber Arts/Fabric Design at the College of Mount St. Joseph, Cincinnati, OHio. Therese's love of color, design and texture is the driving forve behind her Fiber Art. God's spectacular creation is Therese;s inspiration. Therese is wokring with the wet felting process using Merino sheel wool, Alpaca, Mulberry Silk along with other natural and synthetic fibers. Sewing adds a quilt like quality along with the addition of embellishments which entices the view to come and take a closer look.
Contact us!
Meredith Raffel - 513-309-8585 or email: info@the-arts-alliance.org
ENJOY!
The Arts Alliance Creative Exchange events are designed for community connections, art making, creative awareness, happy accidents, friend making and exploration. ENJOY! There are no rules.
Enrollment Policy:
The Arts Alliance is unable to prorate students for missed classes or classes that they are unable to attend.
Inclement Weather:
Weather happens! If Mother Nature is causing problems, we will notify students as soon as possible to cancel class. We will make every effort to reschedule the class. If unable to reschedule, you will receive a full refund. If student is unable to attend make up, student will receive a full refund.
The Arts Alliance Course Cancellation Policy:
Occasionally, The Arts Alliance may find it necessary to cancel a course or workshop due to low enrollment or other scheduling conflicts. If this occurs, students will be contacted immediately and receive a full refund.
Student Cancellation Policy:
Student will receive a full refund if request to withdraw is received by The Arts Alliance 30 prior to the first day of class. Requests to withdraw from a course less than 30 days prior to the first class session will not be eligible for tuition refunds. We understand that there are times when unforeseen circumstances arise. We will work with students on a individual basis regarding partial refunds.