The Artists Soiree -- Winter 2011

Thursday, February 24, 2011 from 4:00 PM to 8:00 PM (EST)
Event Details
Meet, Greet, and Enjoy with 
Artists who Live and Work in the Naples area
A Charity Function to Benefit the National Center for Missing and Exploited Children and Artists For Charity SWFL
Donations of $125, $250, and $1500 will be used to fund the event, fund scholarships, and raise money for the two charities
Come and spend time with the Artists

The event also includes an art auction (click to see the art up for auction)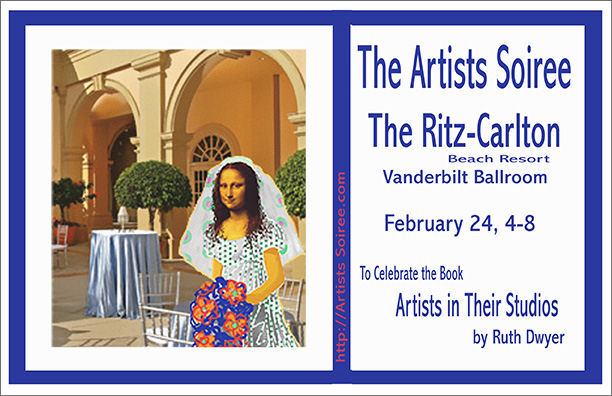 Why did we form Artists for Charity SWFL?  Because, as an art community, we envied the Naples Wine Festival.  It is a huge success and raises millions of dollars for needy causes – but we do not grow grapes in Naples.  The Festival is all imported.  Well… we do grow artists in Naples.  We have great light.  We have natural beauty and we have a thriving artists community.  Artists for Charity SWFL aims to do for the local arts community what the Wine Festival has done for local wine lovers.  Through Artists for Charity SWFL we can help nurture local artists and invigorate the many relations between the artists and the community.  Artists are Naples grapes.  Art is Naples Wine.  It is time celebrate part of what makes Southwest Florida so special.
Please join us on Feb 24 at the Ritz Carlton for the Artists Soiree -- Winter 2011

When & Where
The Ritz Carlton -- Vanderbilt Ball Room
280 Vanderbilt Beach Rd
Naples, FL 34108


Thursday, February 24, 2011 from 4:00 PM to 8:00 PM (EST)
Add to my calendar
Organizer
Artists For Charity SWFL
Artists for Charity SWFL 's mission is to enrich the artistic and educational life of the SWFL community. Artists for Charity supports existing artists by engaging them to nurture the future artists in the community through:
1) public events, where the public can interact with the artists and gain insights into how they work,
2) educational experiences, where the artists work with the young artists of the community to further their talents and aspirations, and
3) media experiences (on-line and in print), to educate the community about the artists and their work.
Artists for Charity SWFL also helps SWFL artists to involve themselves with the community and its concerns and to usr their talents to help address those concerns.
Artists for Charity SWFL is a newly organized not-for-profit organization (501(c)(3) application pending).
The Artists Soiree -- Winter 2011