Description
THE ARTISTS FORUM FESTIVAL OF THE MOVING IMAGE (#affestnyc) returns for its fourth year with new, innovative programming starting October 17 through 19, 2019 at the Dolby Screening Room NYC* in mid-town Manhattan. The festival provides a platform for filmmakers from around the world to share their stories with New York City's creative, media, and film communities.
AFFESTNYC: 2019 will showcase 30 short films, created by independent filmmakers originating from 9 countries. The festival requires that films present innovative vision and unique perspectives in 30 minutes or less and will include several premieres.
Categories include: Narrative, Documentary, Experimental, Sci-Fi, Dark Themes, Animation, and Music Video. This year, the festival will also feature a special themed category: Social Justice.
Tickets go on sale September 3, 2019. Seating is limited, so get your tickets now! https://affestnyc.eventbrite.com
Follow THE ARTISTS FORUM: Instagram, Twitter, Facebook, YouTube: @theartistsforum
Festival Hashtag: #affestnyc
*Please note: The Dolby Screening Room is ADA Compliant.
The Artists Forum Festival of the Moving Image is funded in part by a grant from the NYC & Company Foundation.
---
THE ARTISTS FORUM FESTIVAL OF THE MOVING IMAGE: 2019
Oct 17-19, 2019
Dolby Screening Room NYC
1350 6th Avenue
Lobby Level @ West 55th Street
New York, NY 10019
Tickets & Info: https://affestnyc.eventbrite.com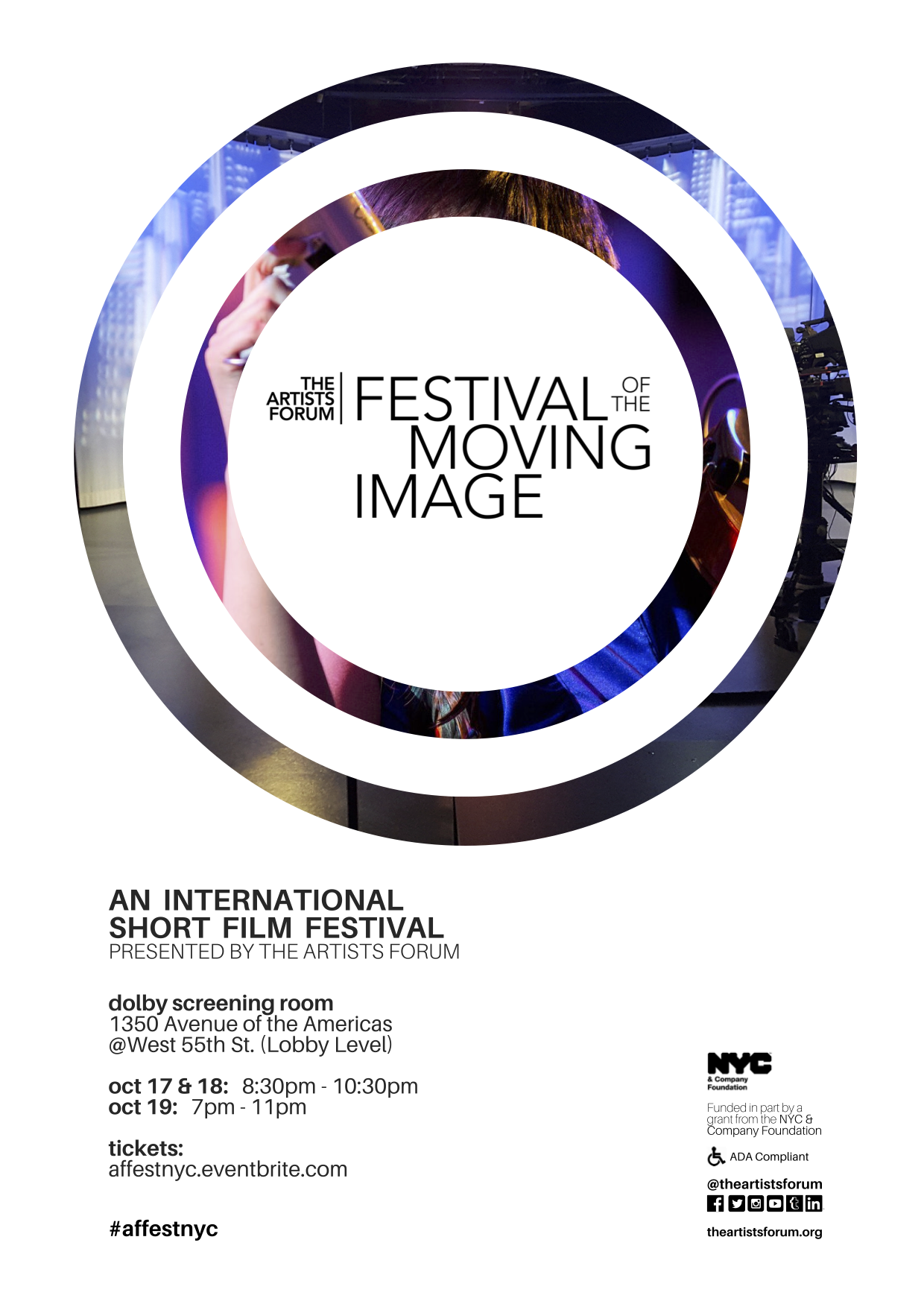 Date and Time
Location
Dolby Screening Room NYC
1350 6th Avenue
West 55th Street, Lobby Level
New York, NY 10019
Refund Policy