Description

Join us for a one hour talk by scientist, artist, and author, Dr. Goodsell followed by a reception with light refreshments. Dr. David Goodsell is an Associate Professor of Molecular Biology at the Scripps Research Institute and is known for combining scientific data, computer graphics, and art into beautiful masterpieces. Dr. Goodsell is an author and illustrator of several books, including the recent "Atomic Evidence: Seeing the Molecular Basis of Life." He also authors the "Molecule of the Month" for the RCSB Protein Data Bank. He has a unique style of scientific drawings and has become well known for his accurate depictions of molecules and cells. His representations of cells and molecules are both accurate and breathtakingly beautiful!
If you are interested in attending, please reserve your seat today! Please be sure to arrive with your ticket at least 15 minutes early. Any remaining seats 10 minutes before the start of the talk will be open to anyone!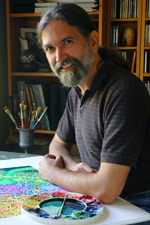 This event is sponsored by the NC Science Festival. Founded in 2010, the North Carolina Science Festival is the first statewide science festival in the United States. During a two-week celebration each spring, the Festival brings hundreds of events (hosted by schools, colleges, libraries, museums, parks, businesses and other community organizations) together under one banner to recognize the economic, educational and cultural impact of science throughout North Carolina. The Festival is presented by the Biogen Foundation and produced by Morehead Planetarium and Science Center at the University of North Carolina at Chapel Hill. For more information, visit www.ncsciencefestival.org.
Date and Time
Location
Wake Technical Community College - Northern Wake Campus
Building E Auditorium
6600 Louisburg Road
Raleigh, NC 27616