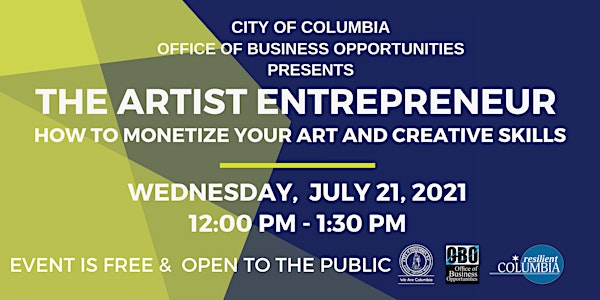 The Artist Entrepreneur - How to Monetize Your Art and Creative Skills
The Artist Entrepreneur - How to Monetize Your Art and Creative Skills
About this event
The Artist Entrepreneur – How to Monetize Your Art and Creative Skills
July 21, 2021 | 12 PM -1:30 PM
Topics Covered:
Introduction to business vocabulary such as cost of goods sold, profit margin, and inventory
Overview of city requirements for doing business including licensure and support systems
Business models for artist entrepreneurs
Business Model Canvas as a tool for business planning
Funding, start-up, grants, sales, and other sources
Examples of successful artist ventures for the purpose of learning
Meet the Presenter -
Dr . Kasie Whitener - Clemson Road Creative Dr. Kasie Whitener teaches entrepreneurship at the University of South Carolina and runs Clemson Road Creative, a shared services company providing operational support to independent consultants. She is the author of Practical Entrepreneurism (Great River Learning, 2021) and co-authored Redesign Work Volume 1: A Beginner's Guide to Autonomy in 2020. In 2018, she co-founded the Women's Business Center of South Carolina at Columbia College.