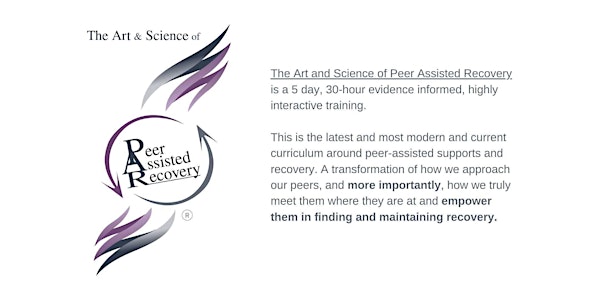 The Art & Science of Peer-Assisted Recovery (Zoom Online) Sept 2022
A 30-hour, evidence-informed, highly interactive training and comprehensive training on peer-assisted recovery delivery.
About this event
The Art & Science of Peer-Assisted Recovery
Overview:
A 5 day, 30-hour, evidence-informed, highly interactive training (online on zoom) for persons interested in providing peer-assisted recovery services in a variety of service settings, authored by several New-Hampshire-based and national thought leaders in the field of peer-based recovery supports. Concepts and competencies addressed include: Recovery-Oriented Systems of Care; Multiple pathways of recovery; harm reduction; Peer recovery supports ethics; boundary management; Motivational Interviewing; social justice issues in recovery coaching; self care; role-specific research and data collection and reporting; stigma, discrimination, and language. This class will also take an extensive look at ethical considerations and scenarios that are common in peer-assisted recovery to prepare individuals for engagement in peer-assisted recovery. (Includes 4 hours of ethics)
(Sept 12 - 16th from 8:30am - 4:00pm)
Learning objectives:
Participants will be able to:
• Describe the peer recovery specialist role and sub-roles
• Examine empowerment as a process and a tool to guide their activities with recovering populations
• Examine how paradigms about recovery can support or limit the process of coaching recovery
• Identify effective means of managing personal biases about recovery
• List the components of both the art and the science of supporting recovery
• Practice core Motivational Interviewing skills
• Compare the peer recovery specialist role with other recovery-supportive roles and professions
• Define and locate opportunities to improve a Recovery-Oriented System of Care
• Discuss social justice issues surrounding the role and services of recovery coaches
• Discuss the importance and roles of data in the peer recovery specialist role
• Discuss trauma-informed care in relation to the peer recovery specialist role
• Practice newly acquired knowledge and skills
• Identify opportunities to improve present skills relative to coaching recovery
Sept 12-16th, 2022 8:30-4pm
This curriculum is designed as a process of personal transformation to understand peer assisted recovery supports. It will test personal and recovery community norms we have come to understand in the last 20 years of peer-assisted recovery supports and services. Identifying that the term "coaching" typically involves a power differential we've even removed that from the title and hope to change the language of the traditional "recovery coaching" approach to one of even more empowerment titled simply,"peer-assisted recovery." This is the latest and most modern and current curriculum around peer-assisted supports and recovery that will transform how we approach our peers, and more importantly, how we truly meet them where they are at and empower them in finding and maintaining recovery. We will demonstrate that these aren't simply taglines, they are how we provide peer-support.
This started as a vision to locally reduce barriers and costs and modernize existing "recovery coaching" training and became a national effort of SOS Recovery Community Organization and recovery advocates and leaders in NH and across the United States.
The development started with a grant from Kennebunk Savings Bank and a group of NH recovery community leaders in NH
It gained steam with major contributions from Jim Wuelfing and Art Woodard who were both pivotal in developing a nationally recognized "recovery coaching" training over 20 years ago. Major contributions included Robert Ashford, MSW, research scientist and national recovery advocate who also helped teach the first pilot with Dean Lemire and Michelle Reilly in Portland Oregon at the Alano Club. Also contributing was Brooke Feldman, MSW, a person in long-term recovery and respected recovery and social justice advocate from Philadelphia. In the spirit of the recovery community we utilized the pilot training with Brett Canode and his team at the Alano Club in Portland, Oregon to inform us and get input with further development.