Description

The Art of Thanksgiving with Spyce
Presented by The Trustees
Join us at The KITCHEN at the Boston Public Market as we celebrate the holiday season with a FREE demo & tasting with Spyce, the world's first restaurant featuring a robotic kitchen that cooks complex meals to order. Led by a Culinary Team including Michelin-starred Chef Daniel Boulud as Culinary Director, and Executive Chef Sam Benson, Spyce's menu features wholesome and delicious grain-bowls inspired by flavors from around the world for $7.50.
Spyce's Executive Chef, Sam Benson, will be demoing components of our Spyce's NEW Thanksgiving bowl + discussing role of robotics in the food and agricultural sector. Join us for delicious samples and a hearty discussion on the future of food!
This event is FREE and everyone is welcome. Please RSVP so we can have enough samples.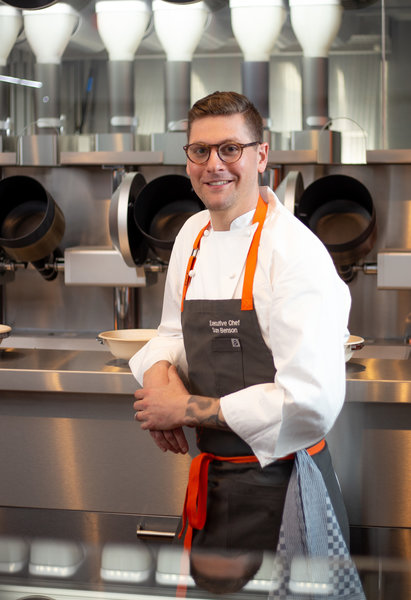 About Sam Benson
Sam Benson comes from a long lineage of chefs. His mother, Beau Benson, began teaching Sam the basics of French cooking at a young age. He grew up on a farm in Vermont, where his parents ran a bed and breakfast. Starting every morning with a fresh glass of milk from the farm and a breakfast made from whatever was in season, he learned the importance of flavor combinations. He honed his craft working in many kitchens, and got his first big break as a sous chef at the Michelin-starred Café Boulud in New York City; first under Chef Gavin Kaysen and later under Chef Daniel Boulud. While at Café Boulud, he was nominated to represent the U.S in two of the world's most prestigious culinary competitions - the Bocuse d'Or Commis and the Trophée Passion where he won best dessert platter. Following Café Boulud, Sam moved on to work in the corporate cooking sector at Chipotle for two years, which opened his eyes to see the potential in a new fast-casual concept like Spyce. Now, as executive chef of Spyce, Sam has married his expertise in the old-world techniques of French cuisine with modern technology and design, to create a simple and straightforward menu highlighting vegetables' flavors and textures.
About The Trustees and The KITCHEN
As one of the largest owners of agricultural land and the premier steward of the cultural and natural landscape of Massachusetts, The Trustees extends its leadership to transform the local food system by connecting residents and visitors back to the land and sharing the Commonwealth's collective agrarian heritage through innovative retail and educational experiences at the Boston Public Market in the heart of downtown Boston.
The KITCHEN is a community gathering place, managed by The Trustees, that is restoring the craft of seasonal cooking in Massachusetts, New England, and beyond through hands-on classes and educational experiences that celebrate the farmers and artisans of this region. Partnered with the Boston Public Market, The KITCHEN embraces a whole-food approach to eating and promotes cooking as an essential cornerstone of a sustainable food system.
Join The Trustees and receive 20%-50% off all classes, workshops, and events at The KITCHEN and all Trustees properties.