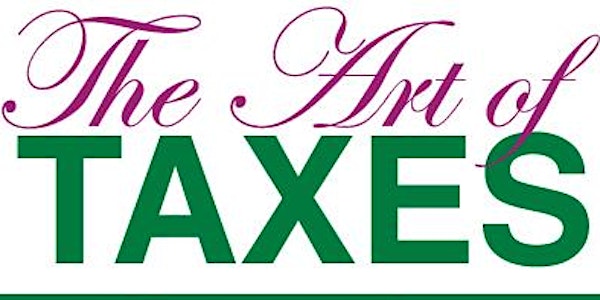 The Art of Taxes-Houston
By TALA: Texas Accountants and Lawyers For The Arts
When and where
Date and time
Thursday, February 16, 2017 · 6:30 - 8:30pm CST
Location
United Way Community Resource Center 50 Waugh Dr Houston, TX 77007
Description
FREE TO ATTEND!

The Art of Taxes-Houston
Thursday, February 16, 2017
6:30 pm


Structured with artists in mind, this seminar is designed to walk you through your tax return, addressing common artist concerns and important IRS regulations pertaining to creative practices.
Topics Covered:
What it means to be self-employed/independent contractor

What the self-employment tax is and how it is paid

Keeping records of income and expenses

Which expenses are deductible

What is needed to prepare your taxes

Estimated tax payments

Business v hobby rules

Sales tax and employment tax

Home office expenses
About the speaker Kathy Ploch, CPA
Kathy is a CPA and the Entrepreneurial Services Department Manager at Harper & Pearson Company, P. C. She has been in public accounting preparing all types of taxes for 30 years and has worked with small nonprofit organizations for 15 years. She is a Past President of TALA and has been a volunteer with the organization since 1999. She is a member of the Houston CPA Society and served as Society's President in 2009-2010.
About the organizer
Texas Accountants and Lawyers for the Arts (TALA) was formed in 1979 to help meet the legal and accounting needs of artists and arts nonprofits across the State of Texas.
TALA's pro bono legal and accounting services are offered to artists from all creative disciplines, including visual artists, musicians, actors, dancers, film makers, and writers. Through a partnership with the US Patent and Trademark Office (USPTO), TALA's Patent Pro Bono program is designed to assist financially under-resourced independent inventors in Texas. With the goal of advancing invention based economic development, the program matches patent attorneys and agents with inventors to assist in filing for patents with the USPTO.
Services include lawyer and accountant pro bono assistance for artists, patent pro bono assistance for inventors, dispute resolution services, and educational programs for the artistic and business communities. Programs are designed to help participants apply sound business practices to protect intellectual property, advance careers, and develop income.