The Art of Style with Marlo Hampton

Sunday, August 23, 2015 from 2:00 PM to 4:00 PM (CDT)
Event Details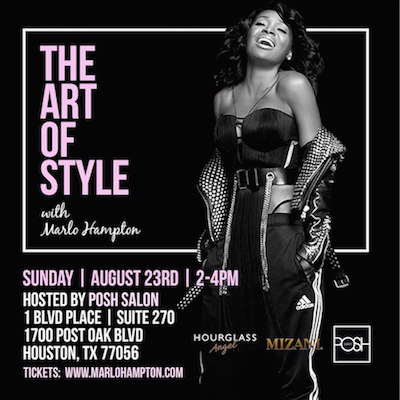 Marlo Hampton is the sassy and self-assured fashion maverick, internationally known for her appearances as a cast member on Bravo's Real Housewives of Atlanta and the girl we loved or loved to hate on I Dream of NeNe: The Wedding.
Once you meet Marlo you know there is something special about this southern beauty from St. Petersburg, FL. She is very comfortable in her skin; not to mention, she's always "dressed to the T!"
In 2008, Marlo parlayed her signature style into a business and opened her first high-end fashion boutique which catered to the who's who of Atlanta's elite. And, while it was her love of haute couture that gave her entrée to the circles of the rich and powerful, it was her spirit, determination and passion for fashion that has left its mark on the hearts of clients, customers and fans worldwide.
When Marlo strutted onto the scene in 2011, fashionistas everywhere took notice. Her now infamous luxe shoe display scene that aired during the season 4 RHOA girls vacation in South Africa is still making a buzz to this day. Marlo has proven, she knows and is STYLE on and off camera.
She traveled to Paris, the fashion capital of the world to take in haute couture attending the exclusive Chanel show and sat front row during NYC fashion week this year.
Known by her fans as "The Queen of Chanel," Marlo has proven that she knows which designers are at the top of their game and can accessorize any outfit from any line, high end or low.
Now with The ART of STYLE, Marlo will delve into a multitude of layers speaking directly to her fans, aspiring stylist and those that just want to look good. Whether you are a wannabe fashion diva, costume designer or just want to know how to bring any outfit to life and freshen up your look, this workshop is for you!
The ART of STYLE with Marlo! is a hands on seminar that will teach:
Marlo's 101: 
Style Basics

Fashion Education:
Color Theory

Personal Style Tips:
Accessorizing for your personality
Professional Stylist Secrets: 
How to do a pull for a client

Shopping on a Budget:
Put together an outfit for under $100
5-Minute Outfit Makeover:
How to revamp any look on the go
 
"I love fashion," says Marlo Hampton. "Sharing fashion style, tips and so much more with the attendees will be equally as rewarding for me as I hope it will be for them. I can't wait to hit NYC to meet my divas and divos in training and to share my secret style tips!"
When & Where

Posh Salon
1 BLVD PLACE SUITE 270
1700 Post Oak Blvd
Houston, TX 77056


Sunday, August 23, 2015 from 2:00 PM to 4:00 PM (CDT)
Add to my calendar
The Art of Style with Marlo Hampton