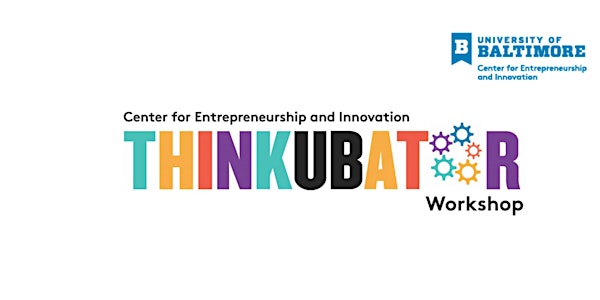 The Art of Storytelling
Join The University of Baltimore's Center for Entrepreneurship and Innovation for a ThinkUBator Workshop lead by Darin Harm
By The Center for Entrepreneurship and Innovation
Date and time
Wednesday, February 22 · 10 - 11am PST
About this event
Event Description
The ability to craft compelling stories is a non-negotiable skill for entrepreneurs. Whether your goal is to influence an investor or sell a product, a well-crafted story is the most powerful tool at your disposal.  In this interactive workshop you will learn simple techniques and frameworks to make your stories unforgettable!    
About the Presenter
Darin Harm is a Board Certified Leadership & Mindset Coach based out of Baltimore, MD.  As the founder of PowerPlay Coaching and Consulting LLC, he provides high-impact leadership development coaching to individuals and teams.  As a card-carrying introvert, he has a special passion for helping you grow and thrive as an introverted entrepreneur, by unleashing your introvert superpowers.       
He is the co-founder and manager of the "Applied Improvisation" program at Highwire Improv, a Baltimore-based non-profit improv theater. As a trained improv performer, coach and teacher, he partners with teams and individuals on using improvisational techniques and strategies to transform the way they collaborate and solve problems.    He holds a Masters Degree in Organizational Psychology, along with certifications in Project Management ("Project Management Professional") and Operations Consulting ("Lean Six Sigma Black Belt").
The Center for Entrepreneurship and Innovation
About the Workshops
The CEI sponsors programming throughout the year focused on entrepreneurial learning and growth. Our weekly thinkUBator Workshop series has one goal: to provide CEI member companies with the knowledge and resources they need — access to seed capital, finding potential partners, hiring employees, marketing do's and don'ts, etc. — to transform their big ideas into a big deal, as quickly as possible.
About the Center
The University of Baltimore Center for Entrepreneurship & Innovation directs support and assistance to UB students and alumni interested in building or growing an enterprise. We do this through support, culture, events, education and research, and connecting with the business community. Meet with one of our counselors to discuss launching or growing your business. Visit us at www.ubalt.edu/cei for more information.
Zoom Meeting
https://ubalt.zoom.us/j/92619872110
Meeting ID: 926 1987 2110
Passcode: CEI104