The Art of Sound Healing: Virtual Sound Bath Meditation Saturday 12-05
Sales Have Ended
Ticket sales have ended
Please check out www.TheArtofSoundHealing.com and sign up for my newsletter so I can keep you posted about upcoming sound baths in Orange County and other special events! I sometimes even get amazing coupons or offers from related vendors I can share with my high vibe tribe!
Sales Have Ended
Ticket sales have ended
Please check out www.TheArtofSoundHealing.com and sign up for my newsletter so I can keep you posted about upcoming sound baths in Orange County and other special events! I sometimes even get amazing coupons or offers from related vendors I can share with my high vibe tribe!
Sound Healing is a shortcut for clearing mental blocks and promoting deep states of relaxation and wellbeing so join us and feel the bliss!
About this Event
AHHHHH, FINALLY A VIRTUAL SOUND BATH THAT SOUNDS JUST LIKE YOU'RE IN THE ROOM!
SO WHAT HAPPENS IN THIS VIRTUAL SOUND BATH?
A virtual sound bath with The Art of Sound Healing is delivered as a live video stream using YouTube's Live platform. The benefit of delivering this class via a live stream video is that it can be listened to for 3 days after the class using the same link and can be repeated any time during those next 3 days.
Before starting the sound bath we will drop into our inner selves, and our inner worlds by using our breath and breathing exercises and/or guided relaxation exercises to allow ourselves to surrender and let go. If you attended previous classes with me, I am incorporating some new ideas and ways of breathing in to my classes so this will be a little bit different to how I may have taught Breathwork in the past. I have learned through my own study that Breathwork can be gentle and still offer profound effects on the mind, body and soul and am excited to be able to share some new ways of breathing with my previous students and with anyone coming for the first time!
Even a few minutes of Focused Breathwork helps break our habit of disconnecting with ourselves and reconnects the mind, body and spirit to the present moment in the most profound way!
Following about 10 minutes of breathwork and/or guided meditation exercises, we will move in to the virtual sound bath. Listeners are encouraged to wear headphones and/or use a good external speaker to listen to a succession of beautiful sound instruments designed to relax, de-stress and ignite a deep inner journey. The different sounds help to move listeners in to a relaxed alpha or theta brain wave state as the harmonic, coherent frequencies move through their ears and into every area of their mind and body.
The instruments used are a planetary sun gong, quartz crystal singing bowls, Tibetan bowls, rain stick, buffalo drum, ocean drum, rattles, chimes, bells and more. The purpose of a sound bath meditation is to induce a state of relaxation and provide a space for personal inquiry. The sound bowls are tuned to the different energy centers in and around the body and the gong vibrations help to permeate each and every cell releasing blocks, reducing tension and stimulating circulation. The gong is used in both sound healing and breathwork and is a fantastic tool to help clear out the old patterns and emotions bringing in new manifestations and intentions.
The sound bath experience is about letting go and allowing the sound to take your mind to a deeper place as the sound vibrations work on your nervous system. Sound is a vessel that can help you reach and stay in a meditative state more easily, and because the healing frequencies are beneficial to the body and mind, sound bath meditations are useful to both the beginner and the seasoned meditator.
COST:
$25 Adults, Kids and Teens (up to 18) $5-10 recommended (If you are teen or young person, please email me and we can take care of cost through my Venmo account @terry-silberstein. NOONE IS TURNED AWAY BASED ON COST, so please email me (terry@taosoundhealing.com) if you need to make special arrangements due to the price!
IMPORTANT EVENT DETAILS:
This is about a 60 minute laying down experience with some breathing and grounding exercises to get the body ready for the sound bath.
If you want to meditate with us at the time of the event, please get settled beforehand and have headphones ready and a comfy, quiet, low-light place to sit and/or lay down.
The Live will be turned on at least 5 minutes before the start time. Please arrive a few minutes prior to start time if you want to chat or connect with others on the Live.
Dress comfortably and wear appropriate layers or grab a mushy blanket.
There really is no minimum age, sound is good for ALL ages
There are no refunds unless your class is cancelled due to an emergency. If you sign up but miss the Live event, you will be able to listen to the sound bath meditation for a week after the event. If a class is cancelled by Terry, you will have the option to move to a different time or day, or you can request a full refund.
ABOUT TERRY:
Terry Silberstein is a Certified Breathwork and Sound Healing Coach with a passion for helping others heal and grow towards their fullest potential. Terry's training includes 6 Teacher Training Sound Practitioner Certifications, A Breathwork Certification, 200 Hour Meditation training, 200 Hour Kundalini Yoga instructor with extra certifications in leading women's circle certification and is currently pursuing an Associates Degree in sound healing.
She also knows first-hand the challenges and frustrations of those seeking deep emotional healing, for she herself was faced with overcoming trauma and P.T.S.D. at a young age. Terry's self-healing journey has been extensive, and she has used different healing modalities including Mindfulness, Meditation, Sound Healing, Energy work, Nutritional therapy, Psychotherapy, and a background 12 Step work. She has found the combination of Breathwork, Meditation, Sound Healing and Yoga to be the most powerful and efficient techniques she has used for deep inner transformation.
Terry's message to anyone seeking healing and spiritual growth is "Treat yourself with gentle oving kindness. Healing takes time, dedication, and perseverance, but you WILL see results if you put in the work. Sound and Breathwork together or separately are like fertilizers for healing. These modalities help you connect to the innate healing intelligence of your own body. Give them a try and see for yourself!"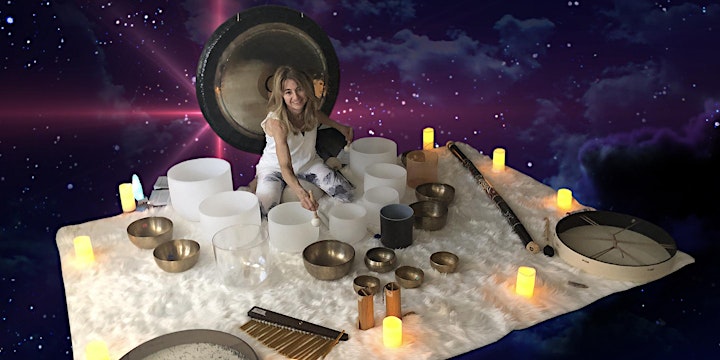 Date and Time
Location
Refund Policy