Sales Have Ended
Ticket sales have ended
Thank you for your order! See you at the event!
Sales Have Ended
Ticket sales have ended
Thank you for your order! See you at the event!
Description
How yoga asana is sequenced for a group class or a single individual has a huge impact on students physically, energetically, mentally, and emotionally. This course will present time-tested principles of safe and artful sequencing, starting with an asana practice. You'll learn:
the function of the five directions of movement of the spine along with inversions and leg balances in an asana practice.

how to create biomechanically safe breath and movement sequences based on a specific intention.

how to prepare and compensate for every movement in an asana practice so that the spine starts and ends in neutral.

how to avoid creating cumulative stress in body, breath, and mind.

the differences in sequencing a static sequence verses a dynamic, flowing asana sequence.
The principles taught in this course were developed by the great 20th century acharya (master teacher) T Krisnamacharya and further refined by his son TKV Desikachar. I learned them from my teacher, Gary Kraftsow, a long-time student of Desikachar and Krisnamacharya and a master sequencer.
With a firm grasp of these principles, you'll be able to confidently create a wide range of fun and interesting sequences for groups and individuals – including and especially yourself! You'll also know how to modify sequences you write to respond to different configurations of students who show up for class.
This course is for yoga teachers, yoga practitioners, health care practitioners, and school teachers who use yoga asana as a tool in their work with students/clients/patients.
Pre-requisites
Some experience of asana practice.
About the presenter: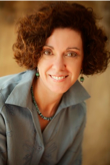 Aggie is certified through the American Viniyoga Institute (AVI) as a yoga teacher at the 500-hour level (2009) and a yoga therapist (2011). She initially turned to yoga to find relief from the stresses of her publishing career and found so much more. She began studying with Gary Kraftsow in 2007 has been part of the faculty for his Foundations for Teaching and Yoga Therapy Program at Mount Madonna Center in California. In the fall of 2016, she will begin studying with Richard Miller in his iRest program.

A member of the International Association of Yoga Therapists (IAYT), Aggie has presented on her yoga therapy work with people who have rheumatoid arthritis at IAYT's Symposium on Yoga Therapy and Research in 2011 and published a paper on that work in the 2013 edition of the International Journal of Yoga Therapy. She specializes in therapeutic work for back and other musculoskeletal conditions, autoimmune conditions, arthritis, chronic pain, anxiety, and depression. She has a particular interest in yoga therapy's efficacy for addressing the effects of trauma on a wide range of auto-immune conditions.
In addition to her therapeutic work, she teaches on the yoga of creativity and is a passionate gardener. She incorporates her love of art, creativity, and the natural world into all levels of her work with individuals and groups, and is writing a book on the Yoga of writing.

Since 2013, Aggie has served as the Accreditation Manager for IAYT, which began accrediting yoga therapy training programs internationally in June of 2014.