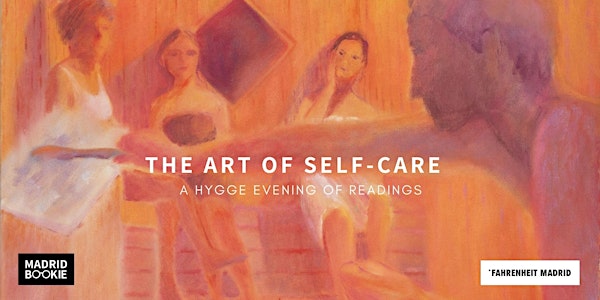 The Art of Self-Care - a Hygge Evening of Readings
Join MADRID BOOKIE and art gallery FAHRENHEIT MADRID for a hygge evening of live Zoom readings!
About this event
We've invited five writers from around the world to share their notion of self-care through their poetry, fiction and essays.
What's the meaning of self-care in pandemic times?
What happens to community, when taking care of the self means isolating the self?
And can there truly be self-care without spas?
Join the sauna readings! Log in October 21 at 8 PM to listen to Sarah Thibault, Margarita Gokun Silver, Amelie-Yan Gouiffes, Kit Fan, and Mary Donnelly explore new and old facets of self-care through the lens of their work.
Our theme for this round of readings was inspired by artist and writer Sarah Thibault's current solo exhibition "Winter Woods", a series of sauna-based artist portraits, on view at Fahrenheit Madrid.
"I was fascinated in particular by the rituals of saunas and hot tubs as vehicles for self-care, as well as how these sites are spaces for making connections and socializing within the community."
The event will be hosted by Madrid Bookie co-founder ANDREAS LOIZOU.
About the artists/writers:
SARAH THIBAULT is an artist and writer living in San Francisco. She has written art criticism, as well as creative non-fiction stories exploring life in San Francisco, female troubles, failed attempts at spirituality and solo female travel. Her work has been published in The Bold Italic, SFAQ, and Brenda Magazine. She is currently working on her first memoir about living as an artist nomad for two years.
MARGARITA GOKUN SILVER is a writer and an artist. She's written for The New York Times, The Washington Post, BBC, and The Atlantic, among others. She tweets @MGokunSilver. Margarita will be reading with Eliana Silver, a Journalism student studying in Scotland. She's written for Hey Alma and GoOverseas Magazine. She tweets @silver_eliana.
AMELIE-YAN GOUIFFES has spent almost 25 years in Asia, Africa, Latin America and the Caribbean, working in areas hit by war or natural disasters. Her first book, Speak & Live Your Legacy, is a powerful mixture of memoir, advice and self-help.
KIT FAN's second collection As Slow As Possible was a Poetry Book Society Recommendation and The Irish Times Poetry Book of the Year. Diamond Hill, his debut novel about Hong Kong, will be published by Dialogue Books/Little, Brown and World Editions in May 2021. He was a winner of a Northern Writer's Award and the POETRY magazine's Editors Prize of Reviewing.
MARY DONNELLY is a Brooklyn-based poet. Her work has appeared in The Brooklyn Rail, Hunger Mountain, The Iowa Review, Indiana Review, Prairie Schooner, The Literary Review, and The Yale Review, as well as her chapbook Mad World Colored Oil (2019, Dancing Girl Press). She teaches through Gotham Writers Workshop and in the low-residency MFA program in Interdisciplinary Arts at Sierra Nevada College, and is an editor for DMQ Review.
Ticket price: 4 Euros.
Only 40 tickets available.
Madrid Bookie is thrilled to organize this event in collaboration with art gallery FAHRENHEIT MADRID. Co-founded in 2019 by Carmen Rodés and Valeria Aresti, Fahrenheit Madrid exhibits international emerging contemporary art. With a strong commitment to artists, Fahrenheit works closely with each artist to realize distinctly envisioned exhibitions that foster artistic exploration and growth.