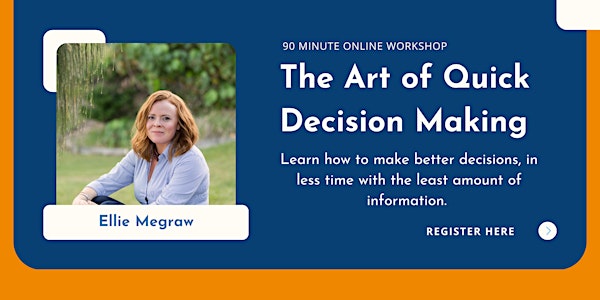 The Art of Quick Decision Making
Learn how to make better decisions, in less time with the least amount of information.
About this event
The average adult makes 35000 decisions a day! Wow, I'm just exhausted reading that.
No matter where you are in life (professional and personal) you have gotten here as a result of millions of tiny decisions you made along the way.
Although sometimes, some decisions are more complex than others.
Have you ever….
Gotten stuck? Paralysis Analysis anyone?
Second-guessed yourself and gone round in circles until you are forced to choose?
Felt crippling doubt creep in constantly AFTER you have made your decision
Maybe you have beaten yourself up when you made the 'wrong' choice
Does having too many options get you stuck when trying to decide on which strategy or direction to take?
Do you find yourself constantly changing your mind and not knowing what your next move should be?
Stop getting stuck and overwhelmed when trying to decide, which leads to stress and ineffective decisions and start getting clear and confident on which path to take so you never give yourself a hard time again.
Who is this for?
This workshop is for business owners, entrepreneurs and business leaders who find there are too many variables that mean making a decision is harder than it should be and they want to feel happy and confident in their choices.
This is for anyone in business that has to make business-critical choices and would like to simplify the process yet still maintain the strategic focus take less time and feel comfortable in the uncertainty.
It's for those that want to reduce the anxiety of getting it wrong and create great momentum in their life and business.
What we will cover
Over 90 minutes you will learn ways to speed up the process and feel assured in your ability to get things done while being detached from outcomes and the role of 'luck'.
What makes us indecisive and what holds us back?
The Neurology of the decision-making process
Difference between Choice and Decision
The False Choices Trap
How to move from Procrastination to Decisive Action
Formula to confidently make quick, quality decisions
Would you like ways to make decisions confidently and put self-doubt into your rearview mirror? Join us on Wednesday 24th August @ 10 am. Can't attend live? No worries, we will send you the replay.