The Art of Prototyping

Saturday, March 12, 2011 from 9:30 AM to 5:00 PM (AEDT)
Event Details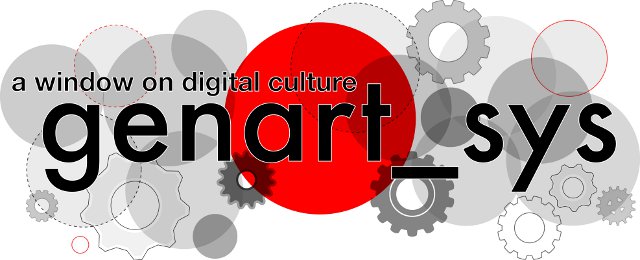 About genart_sys

The Australia Council has a strategic priority to build arts content for the digital era. We know that audiences are seeking creative experiences on a wide variety of digital platforms and are keen to connect with these live immersive worlds.
genart_sys showcases 19 innovative artists, collectives and organisations supported by the Australia Council from a broad range of artforms. Theirs is a generative, ever evolving system of art-making, by which artists are innovating and sharing stories and knowledge over space and time, playing and interfacing with audiences across diverse platforms and communities.
Some artists are investigating what we can do with highly portable technologies such as smart phones and wiimotes. Others are playing with unconventional sports like roller derby, with alliances of old and new media like origami and robotics, and even experimenting with a power-tool orchestra. And many are researching new ways to connect with science.
Building digital culture, all these artists are connecting with us across real and virtual platforms, leading us into new territory with exciting examples of how technologies and content can converge.
It's all about exploring how Australians can differently experience and interact with the arts.
One of the public programmes to support this exhibition is a 1-Day Intensive Workshop called The Art of Prototyping.
---
PARTNERS | Arts Digital Era | New Media Curation | Powerhouse Museum | Creativity and Cognition Studios | Urban Aid
---
The Art of Prototyping | 1-Day Intensive Workshop
Date | Saturday 12 March 2011 | 9:30-5pm
Locations | Powerhouse Museum, Sydney | 500 Harris Street Ultimo NSW 2007 |
Target Theatre and Foyer from 9:30-1pm | PLC rooms and foyer from 2-5pm |
ONLINE via USTREAMTV channel and Twitter |
ABOUT THE WORKSHOP
The Australia Council, New Media Curation and the Powerhouse Museum invite you to participate in a day of discussion and workshops examining how artists, organisations and audiences work with prototypes in media arts and digital culture. This program will augment the exhibition currently residing in the Australia Council foyer, genart_sys | a window on digital culture, 29 January - 16 March 2011.
Under the banner of the UTS Research Group, Creativity and Cognition Studios, the Beta_spaceGallery has evaluated the audience's role in interactive art making for the last 6 years. This has been done within the Powerhouse, a museum context famous for the celebration of design and the act of making, within an exhibition that celebrates digital artefacts. Some 30 case studies and 20 publications remain as evidence of model of practice-based research. With this event, we aim to draw out some of the innovation, practices, challenges and collaboration involved in the prototyping process that are relevant to all digital art-makers. How do we capture what a knowing/unknowing audience can provide for us in terms of feedback? How can we harness this dialogue and participation as a force for change and growth within our work?
What we would like to accomplish over the course of this day, is to show that there is an art to prototyping, that it's not just a process.
Some of the more artistic themes involved in prototyping these include developing technological platforms for ideas such as embodiment, immersion, elegance, invisibility, nuance, dramaturgy, engagement, learning, and there are many more. There are also more practical queries of how can I plan and market a successful prototype? How do I learn coding and work across platforms myself? How could we align ourselves for what may be in store for digital culture in the future, across Australia and internationally?includes a tricky nuance to capture, a deft skill to adapt and offers extraordinary potential.
PROGRAMME
PRESENTATION DESCRIPTIONS – Morning Sessions 10am - 1pm
Target Theatre, Level 2
1] 10am | CuriousWorks (in person presentation)
How a community gains empowerment through a process of experimental digital engagements
CuriousWorks has spent the last 5 years developing a best practice model for utilising new media in communities. Shakthi, the Director of Curious Works, will present that model, stories from the communities in Western Sydney and the Western Desert that we've been working with, and how a community gains empowerment through a process of experimental digital engagement.
http://www.curiousworks.com.au/

2] 10:30am | Tasmanian Symphony Orchestra & their Geek(s) in Residence (SKYPE
presentation)
Daniel Andrews and Peter Morse: Prototyping the NBN, education and the regions
Planning and prototyping projects for infrastructure which does not yet exist in many ways redefines 'challenging'. Dividing attention between known and knowable aspects of the project while learning as much as possible about the technologies in development necessitates the pursuit of moving targets. The process of developing a means for musical performance for symphonic orchestral musicians across the NBN fibre to the premise and other high bandwidth networks is precisely this kind of project. Key to this is flexible planning able to react to new information and technical possibilities while maintaining conversations with technology providers, potential funders, our host organisation (TSO) and the artists.
http://www.petermorse.com.au/2010/05/geek-in-residence/

3] 11am | Vicki van Hout and her work with Critical Path (in person presentation)
Prototyping between cultures and art forms
---
11:30am | MORNING TEA in the Target Foyer (provided)
---
4] 12pm | Australian Chamber Orchestra (in person presentation)
ACO & Michela Ledwidge: Prototyping new delivery models for traditional art forms
In 2010 the Australian Chamber Orchestra engaged Michela Ledwidge to research new marketing and distribution opportunities. The research led to a pilot interactive video installation produced by MOD Productions in collaboration with iCinema Centre, UNSW. The Virtual Orchestra featured 4 players from the ACO and demonstrated a range of contexts including dome theatres, flat screens, and mobile devices. Visitors were immersed in a 360 degree 3D experience, surrounded by the musicians in performance. Different visual backgrounds and foregrounds can be selected and individual musicians can be highlighted, bringing their audio and visuals to the foreground, adding an educational aspect to the experience.
http://michelaledwidge.com/

5] 12:30pm | Fred Rodrigues – Hosted by Andrew Donovan of Inter-Arts at the Australia Council for the Arts (live streaming software presentation)
Fresh from an Artist-Initiated Residency in Amsterdam, Fred Rodrigues will utilise a prototype streaming
software to discuss and demonstrate prototype development in collaborative artistic environments.
http://heavymetalworkorchestra.com/artists.html
---
1pm | LUNCH
--
WORKSHOP DESCRIPTIONS - [Afternoon Tea provided from 2:30-3pm]
Please choose ONE of the following

1] 2-5pm | Kate Carruthers of Google and GirlDevelopIt
The protoype website - building and testing HTML
Having just taken over for Pamela Fox, the Australian pioneer of GirlDevelopIt via Google, Kate Carruthers will speak to the ethos of GirlDevelopIt, and get you on your way to making your own website!

Want to learn how to code? Have a great idea? Don't be shy. Develop it.

Though the web developer community these days is open and welcoming, it is still up to 91% male and it can be intimidating for women to learn and ask questions when they are in an extreme minority. We decided it was time to provide a place where all questions are OK and everyone can learn in a supportive environment. The idea started in New York, and now we've taken it down under to Sydney, Australia. The GDI courses focus on coding, leveraging existing technology, and having something to show for it (aka building sweet websites).
- OR -

2] 2-5pm | Sydney Dance Company and Peter Greig
Utilising a prototype practise (rehearsal) to pre-empt user experience via Social Video

This comprehensive workshop will provide an overview of the process behind developing engaging social media video. Peter will demonstrate his uses of equipment, techniques and the need to develop relationships in order to capture a story that enhances user experience and evokes a positive response. He will also discuss the strategy behind releasing the right material, at the right time, to the right audience.

Requirements: Though this workshop will provide video content for you to edit and upload to the Internet, please bring along your laptop ready to connect to a wireless router.
http://sunnysideup.com.au/
- OR -

3] 2-5pm | George Khut
Sensor Based Interactive Arts Design.

Using modular components built using Cycling74's Max-MSP software (Windows and Mac) participants will explore approaches to the analysis, mapping, scaling and transformation of sensor data (breath, wii-mote, proximity etc.) into multi-layered interactive compositions.

Requirements: bring your own laptop, headphones, cables to connect to VGA and DVI projector, and sensors/controllers if you have already worked out how to obtain a signal from them in your computer… i.e. TouchOSC for iPhone etc. George will provide a limited number of sensor-setups for participants to share, along with installers for Max-MSP and related applications.
For further information, download links etc. visit http://georgekhut.com/software/
- OR -
4] 2-5pm | Damien Cassidy, the Queensland Theatre Company and Ortelia Interactive
Virtual Set Designer – From Concept to Classroom and Industry: Assessing the impact of new learning tools

This prototype uses gaming software to render theatre spaces into digital 3-D environments. Users move around in first-person, accessing side menus to choose the position, scale and colour of set pieces, props, lights and sound. Easter eggs and embedded video content help guide and shape the user experience. Initially being built for the senior school drama curriculum, future development will service professional designers, touring agencies and production departments. This workshop will embark on prescribed design tasks and encourage debate on the strengths and weaknesses of the interface, design flexibility and content.

*Please Note: PC Compatible Only - Not currently available for Mac users. Minimum system
requirements are 2GB RAM and 256MB graphics card with DirectX 9.0 capability.
http://www.ortelia.com/projects.htm
- -
Please also note another event as part of genart_sys: #twig, Sydney's first (we think) digital arts tweetup, Thursday 10 March, Evening Star / Australia Council.
When & Where

Powerhouse Museum
500 Harris Street
Ultimo
Sydney, New South Wales 2007
Australia

Saturday, March 12, 2011 from 9:30 AM to 5:00 PM (AEDT)
Add to my calendar