The Art of Poetry and Politics
Actions and Detail Panel
The Art of Poetry and Politics
Fri, February 10, 2017, 7:00 PM – 9:00 PM EST
Sales Have Ended
Registrations are closed
Thank you for registering! We look forward to seeing you Friday, February 10th at 7PM.
Sales Have Ended
Registrations are closed
Thank you for registering! We look forward to seeing you Friday, February 10th at 7PM.
Description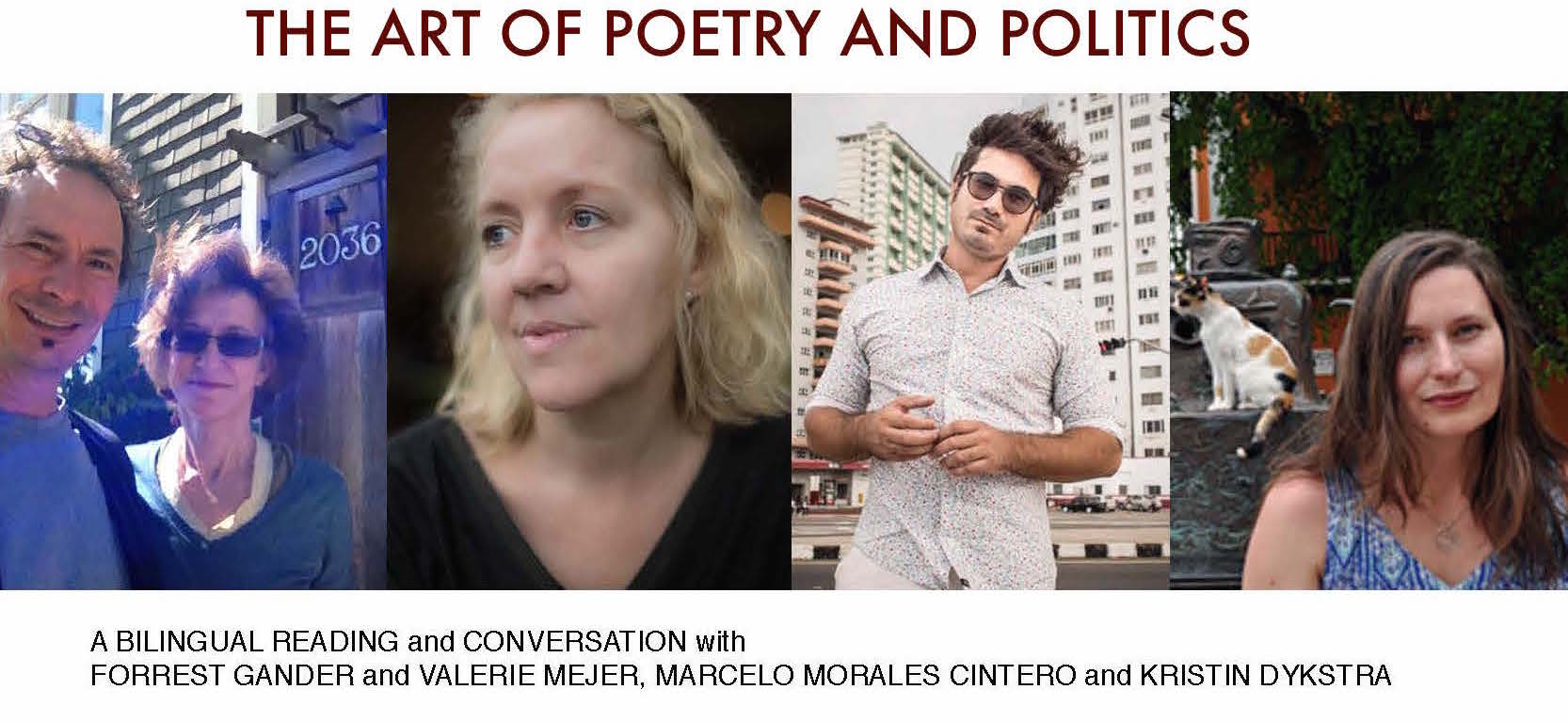 THE ART OF POETRY AND POLITICS
"The Art of Poetry and Politics" is a bilingual reading and conversation featuring Mexican poet and visual artist, Valerie Mejer, US poet and Pulitzer Prize Finalist, Forrest Gander, Cuban poet, Marcelo Morales, and translator, literary critic, and NEA grant recipient, Kristin Dykstra.

Anna Deeny Morales, of the Center for Latin American Studies, will introduce the poets and moderate a discussion with the public.
This event will be in Spanish and English.
WRITER BIOS
VALERIE MEJER CASO
Painter and poet Valerie Mejer was born in Mexico City. She is the author of the poetry collections Rain of the Future (2013), translated by C.D. Wright, Forrest Gander, and Alexandra Zelman; de la ola, el atajo (2009); Geografías de Niebla (2008); Esta Novela Azul (2004), which was translated by Michelle Gil-Montero as This Blue Novel (2013); and Ante el Ojo de Cíclope (1999). Her book De Elefante a Elefante (1997) won the Spanish Government's "Gerardo Diego 1966" International Award. In September 2013, Mejer was a featured writer for Harriet, the Poetry Foundation literary blog.
Mejer's etchings appear in Raúl Zurita's Los Boteros de la Noche (2010), and her paintings appear in Forrest Gander's Ligaduras/Ligatures (2012) and in Antonio Prete's Menhir (2007) and L'imperfection de la Lune (2007). Mejer is also the recipient of two CONACULTA grants as well as a grant from Sistema Estatal de Creadores for her translations of Australian poet Les Murray's work. This year, her large-scale installation piece, "Luz Indomable" is featured in India's Kochi-Muziris Biennale.
FORREST GANDER
Forrest Gander is the Adele Kellenberg Seaver Professor of Literary Arts & Comparative Literature at Brown University. The author of numerous books of poetry, including Redstart: An Ecological Poetics and Science & Steepleflower, Gander also writes novels (As a Friend; The Trace), essays (A Faithful Existence) and translates. His most recent translations are Alice Iris Red Horse: Poems of Gozo Yoshimasu, Then Come Back: the Lost Neruda Poems and Fungus Skull Eye Wing: Selected Poems of Alfonso D'Aquino; Spectacle & Pigsty by Kiwao Nomura (winner of Best Translated Book Award); and Firefly Under the Tongue: Selected Poems of Coral Bracho (Finalist, PEN Translation Prize). His most recent anthologies are Pinholes in the Night: Essential Poems from Latin American (selected by Raúl Zurita) and Panic Cure: Poems from Spain for the 21st Century.
MARCELO MORALES CINTERO
Marcelo Morales Cintero, born in Cuba in 1977, is a member of a generation of writers who came of age in Havana during the island's "Special Period" of severe post-Soviet economic crisis. His influences range from international literature to readings in history and philosophy. Dedicated to the slow development of his book projects, Morales has earned many of his literary awards for segments of larger works in progress. For example, excerpts that would come together to form his 2006 poetry collection El mundo como objeto won the 2004 poetry prize presented by La Gaceta de Cuba, as well as an honorable mention in the national Julián del Casal prize competition and a coveted finalist position in the international Casa de las Américas competition. Morales is also the author of the poetry collections Cinema (1997, Pinos Nuevos prize) and Materia (winner of the 2008 Julián del Casal prize), among others. His novel La espiral appeared in 2006. Morales edited and introduced Como un huésped de la noche, an anthology of poetry by Roberto Branly, published in 2010. El mundo como ser / The World as Presence, translated and with a critical introduction by Kristin Dykstra, was published by Alabama Press in 2016.
KRISTIN DYKSTRA
Kristin Dykstra's translations of poetry collections by Reina María Rodríguez, Juan Carlos Flores, Angel Escobar, and Marcelo Morales were published by the University of Alabama Press in 2014 and 2016, each with her critical introduction. She previously translated other books from Cuban authors, including works by Rodríguez and Omar Pérez, which are available in bilingual editions from Factory School, Green Integer and Shearsman Books.
Dykstra is currently co-translating and editing Maqroll's Prayer and Other Poems, a collection by Álvaro Mutis (Colombia) to be published by New York Review Books in 2017. With Kent Johnson, she is co-editor of Materia Prima, an anthology dedicated to Amanda Berenguer (Uruguay) forthcoming from Ugly Duckling Presse in 2018. In late 2016 Jacket2 published "The Sea Doesn't Have to Be a Wall," a solicited article asking how poets in Cuba have experienced "change" since the 2014 announcements by the US and Cuban governments regarding a new stage in foreign relations. Her forthcoming critical articles explore literature by Soleida Ríos (Cuba) and Daniel Borzutzky (US). Dykstra co-edited Mandorla: New Writing from the Americas / Nueva escritura de las Américas from 2004-2014 with Gabriel Bernal Granados and Roberto Tejada. She taught in the Department of English at Illinois State University from 2002 to 2014, entering as Assistant Professor and leaving as Full Professor. She is now Distinguished Scholar in Residence in American Studies at St. Michael's College in Vermont.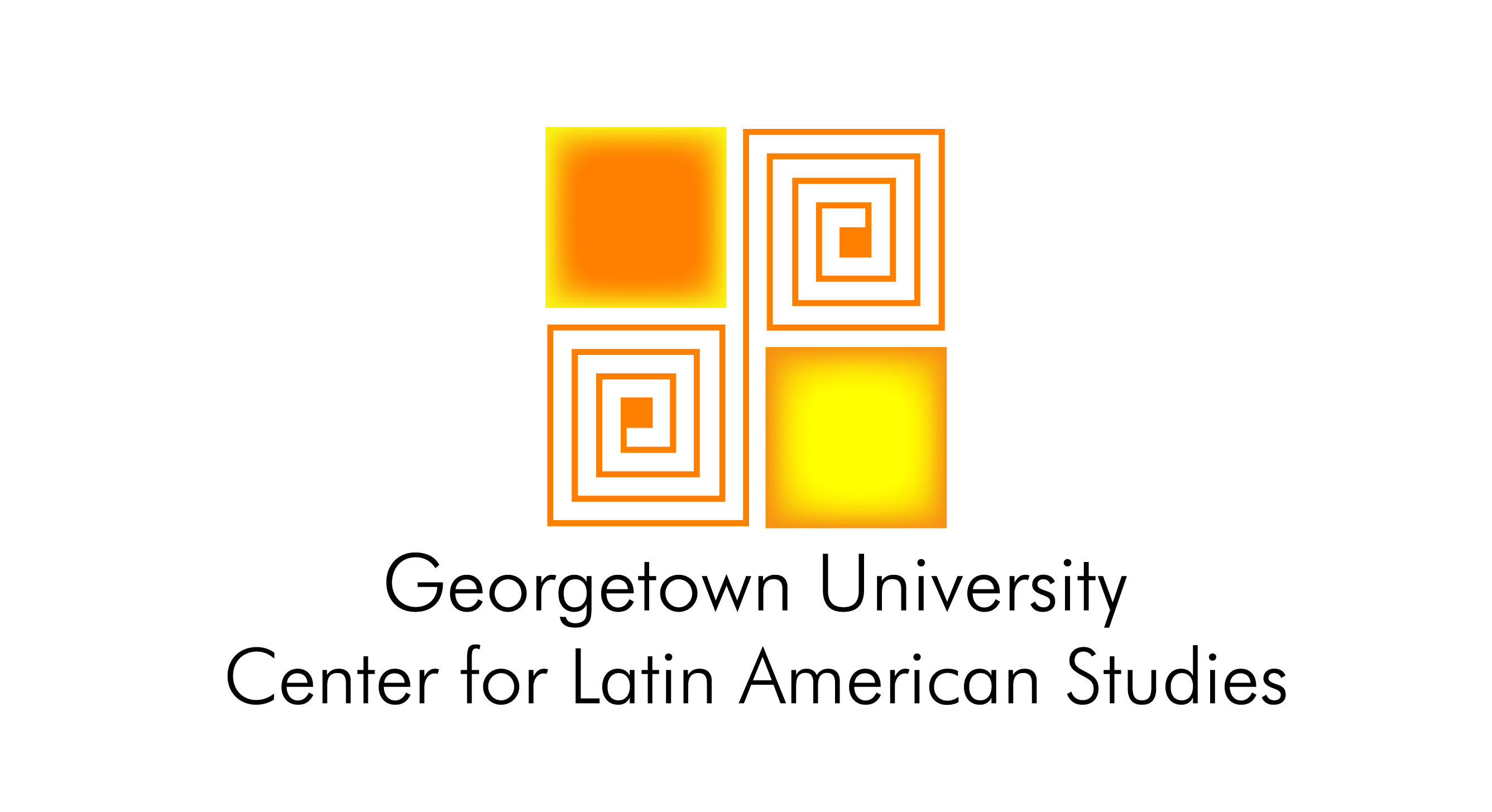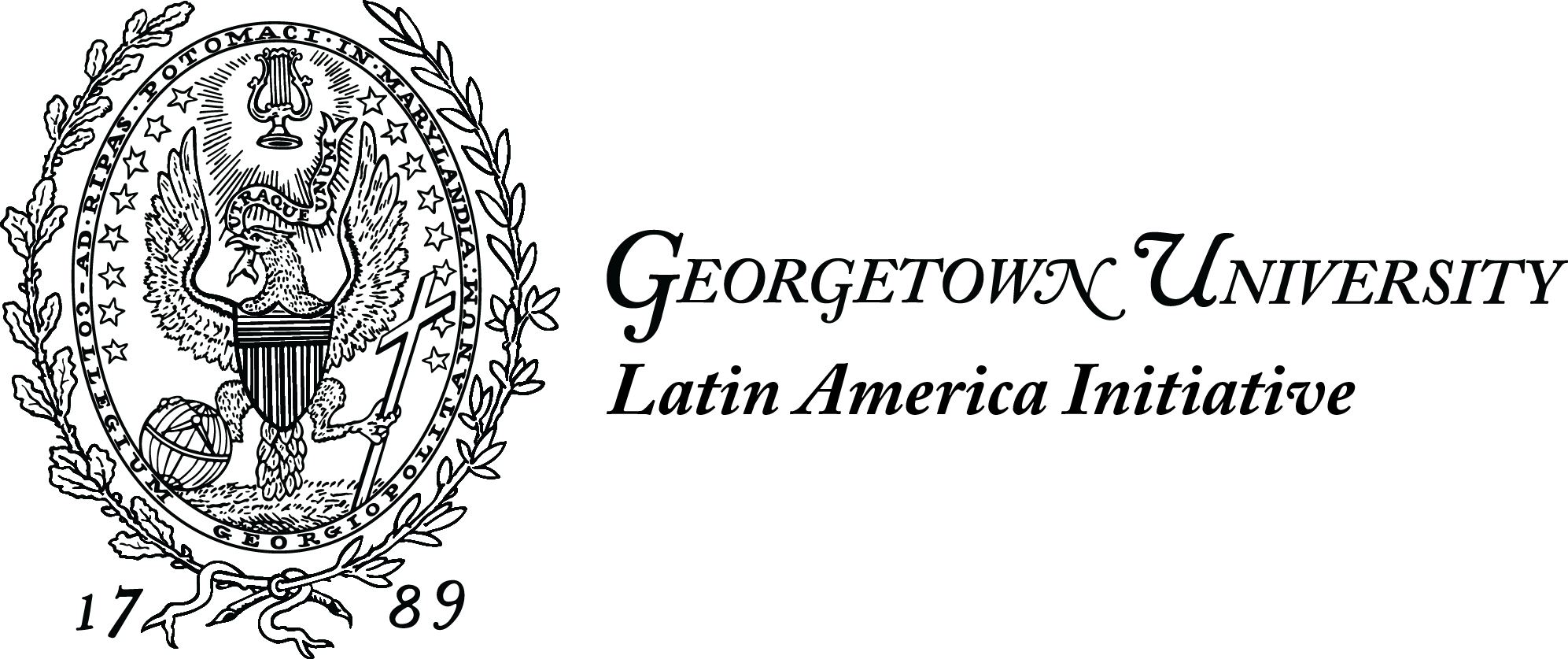 Date and Time
Location
Mortara Center for International Studies, Boardroom
36th Street Northwest
Washington, DC 20007