Event Information
Refund Policy
Contact the organizer to request a refund.
Eventbrite's fee is nonrefundable.
The Art of Persuasion and Negotiation is about the power women have to shift their mindset and make big career moves.
About this Event
JOIN WEWIL COLLABORATIVE as we host Rebekah and Natalie,
Friday, April 9th at NOON-1:30 PM PST
......................................
WHAT TO EXPECT
Rebekah and Natalie will be raising awareness about the power women have to shape their future by shifting their mindset about the impact of effective communication. Whether you're a business owner or in a corporate career, you'll walk away understanding the tools needed to confidently advocate for yourself in any situation.
The Art of Persuasion and Negotiation covers the following:
Checking Your Mindset: Do you advocate for yourself?
Getting Paid What You're Worth: Do you ask for what you want, so you get what you deserve?
(Almost) Everything Women Have Been Taught about Negotiation is Wrong (for us)
Great Expectations: Transform Unspoken Hopes Into Success on Your Terms
......................................
GUEST SPEAKERS
Natalie Barron, CPC, PCC, ELI-MP, Founder of Core Creation Coaching & Consulting
Natalie is passionate about helping professional women create bold leadership, confident communication, and substantial growth for their businesses because she knows women use their wealth for impact.
Natalie has over 27 years of corporate sales experience working for Mars/Wrigley. She called on the top retailers in the country and during her last 5 years at Mars, she sold over $100 million dollars. In the sales process, Natalie has always been passionate about delivering results, while simultaneously building long-lasting partnerships.
In her previous corporate role, she launched an internal coaching program for high potential associates which was instrumental in preparing them for leadership positions. In addition to coaching, Natalie has developed and facilitated team training on personal branding, storytelling, and career planning. She is also the host of the Lead Your Life podcast which focuses on topics that help women up-level their leadership.
Rebekah Wildman, Founder of R Wildman Consulting
Rebekah spent the first five years of her business career working in corporate finance and operations for two Fortune 500 companies. Reporting to the CFO and having visibility across all company departments and functions, as well as spending time on the production floor of multiple manufacturing facilities, Rebekah was able to apply that real-world experience to achieve a successful 18-year career in B2B sales and account management, where she sold complex consulting engagements to C-level executives at Global 1000 companies.
Recognized for having a consultative approach with her clients, Rebekah now serves as a strategic advisor to growing B2B companies. While she works with many different types of organizations, her specialty lies in professional services, where the "product" being offered is actually a service (think accounting, engineering, IT, marketing, training, HR, etc. - you may have heard them referred to as "intangibles").
Rebekah's strong presentation and public speaking skills have placed her in front of audience sizes ranging from five to one thousand. She also applies her training in understanding body language to manage complex situations and effectively lead meetings or facilitations involving multiple stakeholders.
Rebekah has a B.S. in business from Miami University (Ohio), with a major in finance and a minor in statistics. She is also a graduate of Coro Foundation's Women in Leadership program in Pittsburgh, PA. Originally from Chicago, Rebekah is elated to say that she has lived in California since 2008.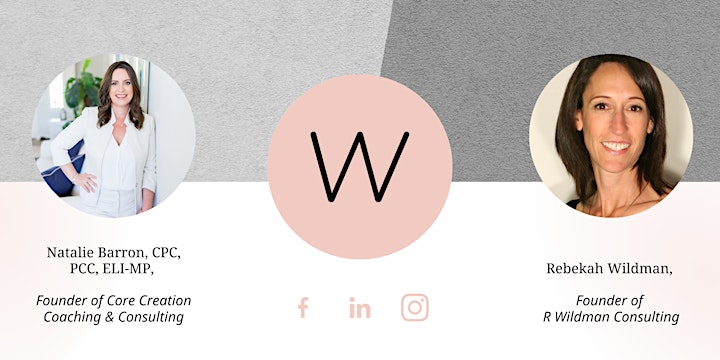 THIS PASSION PROJECT IS POWERED BY:
Women leaders face a variety of unique challenges today that require practical strategies to navigate and succeed. Our purpose is to create a safe space where women can grow, learn, and apply the skills necessary to maximize and leverage our leadership development. We are committed to supporting our community's growth by empowering women with opportunities to enhance and advance their leadership in important aspects of their careers, industries, networks, and lives by providing a series of substantive workshops that grow women leaders to make a deep and lasting impact in our Santa Clarita Valley community.
......................................
EMPOWERED BY:
Their mission is to coach and mentor business owners and organizational leaders and their teams to achieve the highest quality products and services that are valuable, profitable, and sustainable, as well as make a positive social impact on the local community.
At each event, you will have access to a donate button. If you wish to donate, all proceeds go to a local organization supporting women. OR, you can donate directly below.
Parenting is too important a responsibility to bear alone, yet all too often single mothers and fathers are forced to do just that. With a mission to "empower single parents and their children by providing hope, support, and resources so that families can become self-sustaining and thrive," Single Mothers Outreach (SMO) directly helps single parents find jobs, get educated, secure housing, stabilize their children's emotional states, manage their finances, and help one another.

Date and Time
Location
Refund Policy
Contact the organizer to request a refund.
Eventbrite's fee is nonrefundable.