Event Information
Refund policy
Contact the organizer to request a refund.
Eventbrite's fee is nonrefundable.
Masterclass aimed at improving your negotiation skills and the impact those skills can have on life inside, and outside the workplace
About this event
CTO Academy will be hosting this live and interactive masterclass looking at the art of negotiation and how to always win:win.
More specifically we will explore the following key points;
Introduction
While a common belief is that the biggest challenge a working person faces is balancing the personal with the professional life, the truth is that all aspects of an individuals life are equally important and connected: work, social, spiritual and physical and negotiation crosses all points.
This masterclass has been developed to empower individuals with the knowledge and insight about the negotiations that are useful to their wider daily life, helping them to set their boundaries when it comes to their needs and evolution.
1st Phase
1. What is a negotiation?
2. When are we negotiating?
3. Negotiation's vocabulary with examples
4. Negotiation's most important variables
Breakout session with cohort members
2nd Phase
1. What is a negotiation's tactic
2. Most common and less common tactics
3. What is compliance?
4. Most popular compliance techniques with examples
Breakout session with cohort members
3rd Phase
1. How do we come to agreement when negotiating
2. Examples of all the roads that lead to agreement
4th Phase
1. Can a negotiation be ethical?
2. Should we be morally flexible when negotiating?
3. Harvard approach to negotiations and their model 'Getting to YES'
4. Basic principles to follow for a successful, ethical negotiation
Shared Knowledge and Insight
There will be a maximum of 20 people attending this masterclass.
It will be live and dynamic masterclass with suitable opportunity to ask Zoe direct questions and breakout sessions with other attendees to discuss and exchange ideas and insight about this business critical skill.
"Key Takeaways"
✅ Learn how to decode the dynamics on a negotiation's field
✅ Recognise all the roads that lead to agreement and choose the ones that suit you more
✅ Understand why a win-win is what we should be always going for
✅ Realise the difference between the objective & subjective obstacles towards your goals
✅ Develop your negotiation's strategy and use contextual factors to influence the outcome
More About Why Negotiation Skills Matter, In and Out of Work Environment
CTO Academy focus on helping tech leaders around the world to build their leadership skills and become as effective as possible within their organisations.
But we also believe in building an individual's skill set across wider life perspectives such as social, spiritual and psychological.
Why do some people always have it their way, while others struggle?
We will help to clarify the boundaries of assertiveness and manipulation, but also explore how to recognise the grey areas in between.
Moreover, it will provide you with useful, hands-on tools to manage your future negotiations, while investing in creating long-term, healthy relationships.
About Your Host
Zoe Fragou is an Organizational Psychologist with an MSc in Human Resources Management, a clinical psychologist license, a diploma in Business Coaching & Mentorship and a Certificate in Agile Leadership.
She is a PHD Candidate at Panteion University and her research is focused on the psychometry of the corporate culture.
Alongside her academic interests, she is operating professionally in the full spectrum of her science for both private and corporate clients globally, taking over projects of culture transformation, employee training and development, business coaching, personal branding, public speaking, and writing.
She is also the HR Director of Horizon Travel and a senior member of the Hellenic Institute of Coaching.
Read here Zoe's most recent article on negotiations:
PS - We limit this masterclass to a maximum of 20 people so that everyone gets a chance to contribute, engage and share the huge amount of knowledge around our virtual masterclass table.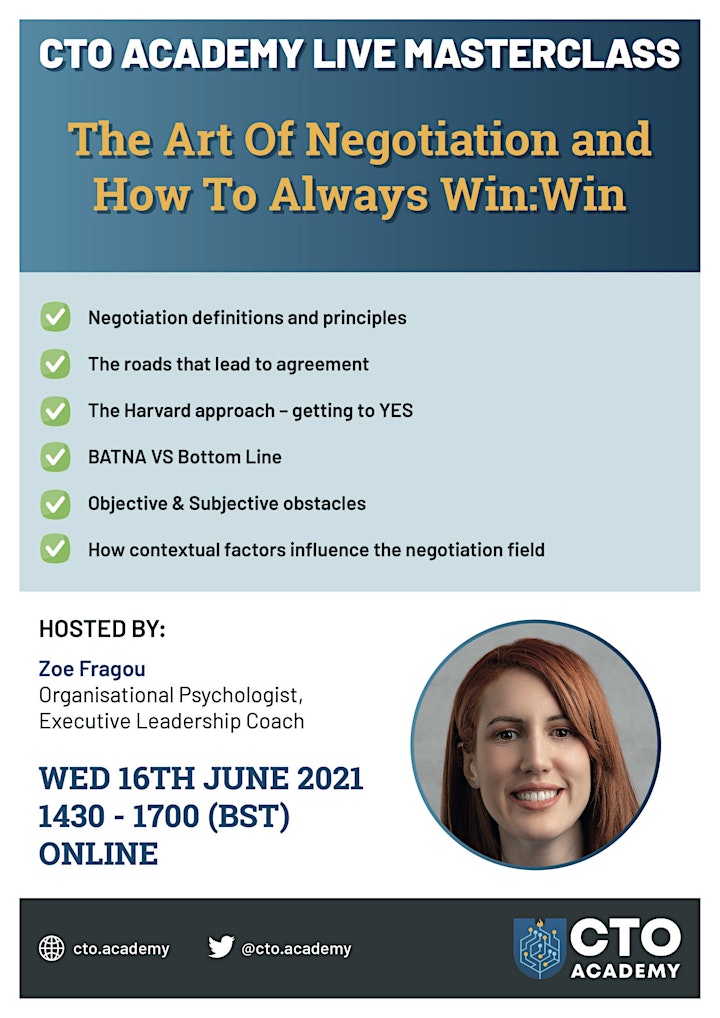 Date and time
Location
Refund policy
Contact the organizer to request a refund.
Eventbrite's fee is nonrefundable.