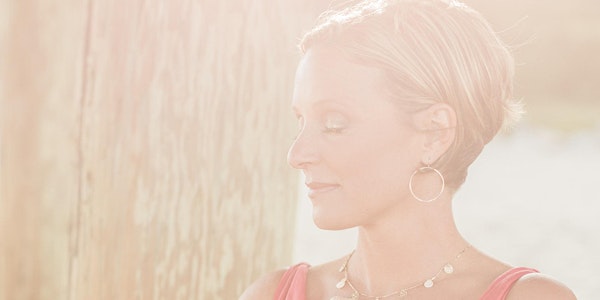 The Art of Mindful Singing Online Fall Series
ONLINE COURSE: Where vocal meditation meets the fundamentals of effortless singing.
Refund Policy
Contact the organizer to request a refund.
About this event
About the Series:
Free your voice, quiet your mind, sing your prayers and nourish your spirit.
Through the use of mantra, seed syllables, toning and chanting, we'll do a deep dive into the subtleties of your voice and awaken the rivers of your breath. You'll discover more vocal presence, refinement of intonation, and the bliss of a relaxed tone. Learn to sing with ease rather than force.
You'll be given simple, yet powerful take-home practices that develop sustainability for your voice and promote greater health and well-being for your whole body temple.
There will be Q&A time at the start of each call so that Heather can weave your questions into the hour long session.
Each 9 week series will offer a different repertoire, a different collection of chants for you to learn and practice and enjoy! Winter, Spring, Summer and Fall!
This is an invitation to slow down, tune-in, and listen deeply with complete embodied awareness.
The course includes:
Nine, hour-long Zoom classes with Heather's instruction - Replays are indefinitely available
A playlist of breathing practices, vocal exercises and chants from various traditions - indefinitely available
A PDF of lyrics and translations of chants and songs
A re-play of the Zoom class sent to your inbox (just in case you need to review anything or missed the call)
A download of Heather's "Prayers for the Water" album
Payment Plan:
A payment plan is available if you need it. $75 (early bird)/$100 (ontime bird) gets you registered. Then my assistant Natalie will be in touch with you to set up your next payment(s ). Payments are billed monthly through square debit/credit care processor. Two more payments of $75 / $100 will be billed to you on the first of October and November. 
About Heather:
Since 2003, Heather has held deeply safe space for people of all ages and ability levels to free their voices. She has taught over 10,000 private lessons, and over 3,000 group classes. She has been offering the The Art of Mindful Singing online course since June of 2019. She is a certified Kali Ray Tri-Yoga teacher and she has an abundance of wisdom to share.
Testimonials:
"I must say, I have been taking private singing lessons for several weeks and I have gotten TONS more out of a single session in this Art of Mindful Singing course than I have through all my weeks of private lessons! I would sincerely love to just continue learning with you online however that may be possible!" - Anonymous
"I feel incredibly honored to have participated in the Mindful Singing Online Class. I learned many tips, scale nuances, songs and postural techniques that I know will serve me throughout the rest of my singing life. Just being even in the same virtual space as Heather I found to be powerfully moving and informative... taking an hour once a week to drop-in for a sit and sing with Heather and my beautiful fellow singers was a high point of my week." - Mitchell Hambley, Monterey, CA
"The Art of Mindful Singing taught me to shift my attention in the process of singing from outward to inward. I now pay attention to the vibration of each note that is sung, to where it lands in my own body and how I can create more space for it to be within me. It opened me up to the depth that exists in songs that I had sung before, but never with minute such attention. Heather's guidance taught me how to let go and get lost in the vibration of each note so that my mind could rest and I could be connected to my Self. It was truly medicinal and deeply nourishing. I am so grateful and can't wait to take the full series!" - Megan Murphy-Rouse, Ashland, OR
"Heather's class Art of Mindful Singing came just at the right time in my life.  I was looking for a supportive weekly community to lift my spirits and open my heart. What I found was even more. Heather has an incredible gift for teaching vocal technique in a way that is accessible, powerful and beautiful. As an experienced singer, I made some fantastic new discoveries about my voice.  I never could have dreamed I would get so much from a group online singing class.  I loved every minute of it;  the songs, the teachings, the resources, and the community.  I will definitely be joining again!" - Zoey Wren, Nelson, BC Canada
"I feel very blessed to have participated in the Art of Mindful Singing Online Class. I learned many tips, songs and postural techniques that taught me to embody singing and  will serve me throughout the rest of my singing life.  I practice many of her techniques every day.  My soul was nourished and I left feeling so open and giving of exactly that energy into the world.  I love singing, and now never worry that I am good enough, because I sing from the inside out. Thank you from my deepest being."   - Jackie, Madison, WI
"I was a part of Heather's online Spring Session of The Art of Mindful Singing. It happened to coincide with the time of shelter in place orders for Covid-19. Heather's guidance in singing became my place of self care and grounding during a transitional time of great unknowns. I felt refreshed and protected by her calm, encouraging presence. The songs themselves became a meaningful shelter during the week when fear or stress would arise. I always felt that singing could be both a spiritual and deep somato healing practice and longed for a teacher to guide me into the art with this as a focus. Heather's approach supports this in spades. I'm so grateful." - Kathleen Cook
"The Art of Mindful Singing online course offered by Heather Houston, has given me many profound gifts, the kind that keep on giving. Woven with vocal coaching, mindfulness awareness, and the power of mantra, this program has offered me very priceless perspective on my own singing and is helping me attune to the vibration of my voice, and my breath as a deep and valuable friend- with mysteries unfolding according to my attention to it! Heather's sweet and kind graceful Presence, guides my discovery process with so much gentleness. She brings her heart and care to the participants, and its truly palpable!" Soma, Santa Cruz, CA
"Heather Houston's class the Art of Mindful Singing gives one the chance to work on their vocal skills via a Zoom platform. During these virtual group vocal lessons you get to ask questions about your current vocal challenges and hear Heather's thoughtful answers and advice. Heather has spent a lifetime of learning and studying the many aspects that are involved in the art of singing and we are lucky to tap into her gifts as a teacher who has an excellent communication style. I appreciate Heather's use of traditional mantras and current song circle repertoire to challenge and improve our vocal skill level." - Valerie Jean Chase, Watsonville, CA