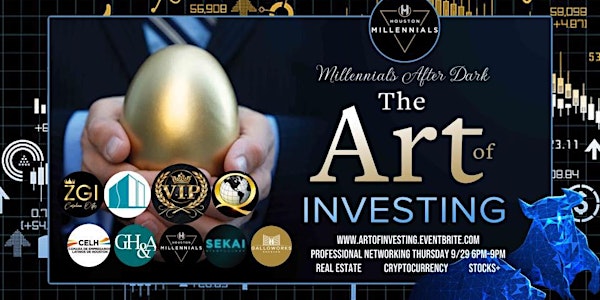 The Art of Investing: A Millennials After Dark Professional Networking!!
Open to all professionals, this spectacular Millennials After Dark Professional Networking event will showcase the world of investing!!
When and where
Location
Sekai 1505 Saint Emanuel Street Houston, TX 77003
Refund Policy
Contact the organizer to request a refund.
Eventbrite's fee is nonrefundable.
About this event
The Art of Investing 💰
Millennials After Dark Professional Networking 🔥
RSVP 🌐 ArtOfInvesting.Eventbrite.com
Real Estate 💲 Cryptocurrency 💲 Stocks+
Limited Space ⚠️ RSVP Today ✅
Open to all professionals, this spectacular special version of our popular Millennials After Dark Professional Networking event will bring about the world of investing with hundreds of personally invited live and in person multi-millionaire investors mixing and mingling with all attendees!! Hosted at the ultra-modern and fun Sekai Houston Day & Night located in EADO, come network with seasoned diverse investors in the worlds of Real Estate, Stocks, Cryptocurrency!! Awarded the BEST networking events in Houston, the spectacular venue along with the event concept and its energetic professional attendees will create a memorable atmosphere and lifetime connections! *VIP Limited space*
EVENT DETAILS:
🔸WHO: Houston Millennials
🔸WHAT: Millennials After Dark Professional Networking
🔸WHEN: Thursday, September 29, 2022
🔸WHERE: Sekai Day & Night
🔸ADDRESS : 1505 St Emanuel St, 77003
🔸TIME: 6pm - 9pm+
🔸PARK: $20 valet, $10 lot, free street
🔸ADDITIONAL: Happy Hour
🔸TICKETS: General, VIP & Vendor
🔸SPONSORSHIP OPP: Contact POC
🔸POINT OF CONTACT (POC):
Sponsor Director: Christina: 281-854-9864
Networking Interim Co-Chair Allen 832-416-1377
Business Chairman Nathan Lombardi 608-516-6161
HM President: Ivan: 832-713-4577
HOST:
🔸 HM Business Committee
🔸 HM Networking Committee
🔸 HM Executive Council
SPONSORS:
🔸 Garcia Hamilton & Associates
🔸 Galloworks Share Office Space
🔸 Tenaz Consulting - Public Affairs
🔸 Drink Savers
PARTNERS:
🔸 Sekai Day & night
🔸 Houston Wake Up
🔸 Creative Club - Xipil Photography
🔸 Texas Robot Show
FEATURES: (so far)
🔸 Hundreds of Personally invited heavy investors
🔸 VIP includes private bar, food, and private section with politicians and business leaders
🔸 Happy hour during event (15% off)
🔸 General, VIP & Vendor tickets
🔸 Multiple professional photographers
🔸 Time Elapse Camera & Drone Footage
🔸 Live picture uploads to social media
🔸 360 slow-mo video booth
🔸 2x Photo-booths
🔸 Hundreds of connections
🔸 Partners & Sponsors take-aways
🔸 Short Program with surprises
🔸 DJ Houston Millennial
🔸 Giant LED Robot
🔸 Main Bar & 2 satellite bars
🔸 3 valet drivers
🔸 Parking spots at front of exotic cars
🔸 Professional staffing
🔸 Elected Officials & Business Leaders
🔸 more coming soon
SHOWCASING INVESTORS IN:
🔸Real Estate
🔸Cryptocurrency
🔸Growth Stocks
🔸Bitcoin
🔸NFT's
🔸Banks
🔸Oil and gas
🔸Life Insurance opportunities
🔸Business investments
🔸Angel investors
🔸Target Date funds
🔸Government bonds
🔸High-Yield savings accounts
🔸Bond funds
🔸Ethereum
🔸Value stocks
🔸Dividend stocks
🔸Corporate bonds
🔸Mutual funds
🔸S&P 500 Index funds
🔸Exchange-traded funds
🔸Individual stocks
🔸Business partnerships
🔸Money lending
🔸Information Technology investments
🔸Emergent Technology investment
EVENT FAQs:
🔸 MUST RSVP via Eventbrite
🔸 All ages welcome (21+), WE CHECK ID
🔸 Please drink responsibly
🔸 Use of Uber or Lyft encouraged
🔸 Wear your HM Lapel Pin (if avail)
🔸 No dress code, just remember first impressions are everything!
🔸 PHOTOS DONT LIE, CHECK THE ALBUMS See less
*INVESTMENT EVENT DISCLOSURE:
Houston Millennials and its affiliates are hosting this event and any related materials (including newsletters, blog posts, videos, social media and other communications) for networking and educational purposes only. We are not providing legal, accounting, or financial advisory services, and this is not a solicitation or recommendation to buy or sell any stocks, options, or other financial instruments or investments. Examples that address specific assets, stocks, options or other financial instrument transactions are for illustrative purposes only and do not represent specific trades or transactions. This event and any information are not intended as a solicitation for any future relationship, business or otherwise between the members or participants and the moderators. No express or implied warranties are being made with respect to these services and products.
All investing and trading in the securities market involves risk. Any decision to place trades in the financial markets, including trading in stock or options or other financial instruments, is a personal decision that should only be made after thorough research, including a personal risk and financial assessment, and the engagement of professional assistance to the extent you believe necessary.