Actions and Detail Panel
The Art of Intention ⋇ Manifestation Immersion Workshop
Fri, May 12, 2017, 7:00 PM – Sat, May 13, 2017, 6:00 PM EDT
Description
Who am I?
What do I want?
What is my purpose?
What is it that makes my eyes light up, my spirit soar, and my heart feel as wide as the world?
Perhaps you've already aligned yourself with the answers to these questions and are slowly bringing them to life. Perhaps, before this very moment, you never even thought to ask. To find the right answers, we must ask the right questions. Wherever you are on your path of self-discovery, are you ready to unfold another layer of your greatness??
If you said YES, this workshop experience is exactly what you've been searching for.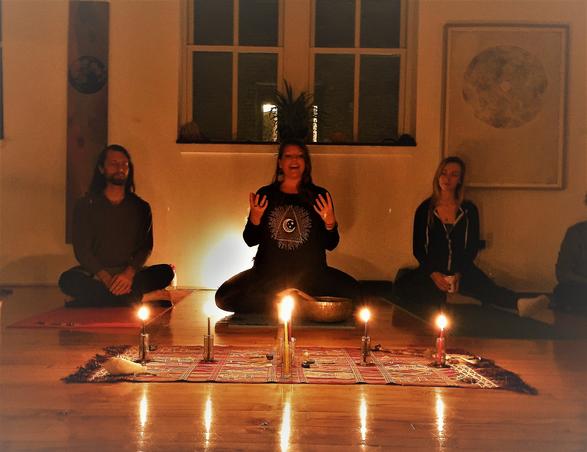 Join your tribe of fellow soul-voyagers as we journey deep into each layer of our beings – physical, emotional, mental and spiritual – to not only identify and manifest our highest intentions and deepest desires, but to transmute and remove all the barriers we've built around embracing and living them fully
In The Art of Intention is a powerful, purposeful unleashing of your soul's wildest dreams:
Friday May 12 ⋇ 7pm - 9pm
The Spiritual Body :: Mayan Awakening - Cacao, Fire and Yoga Ceremony
Saturday May 13 ⋇ 10am – 6pm
The Mental Body :: Yoking the Mind - Awareness and Mindfulness Practice
The Emotional Body :: Freedom in Forgiveness - Obstacle Transformation Rituals
The Physical Body :: Truth Embodied - Yin Yoga Flow and Sound Healing
Each session is highly interactive and experiential, designed to open your heart, expand your mind and provoke you soul. We will work with the ancient teachings of mindfulness and Vedic philosophy, the sacred Cacao deva Ixcacao and traditional Mayan prayer, the transformational element of fire, the detoxifying properties of gentle yogic movement, as well as the spirit of sound and energy healing.

Together we'll to journey through a weekend of vital healing and co-creative community like none you have experienced before.
What you seek is seeking you. Are you ready to be found?
---
Soul Investment - $129 until 4/12
$149 from 4/13 - 5/12
SPACE IS LIMITED to 30 participants.
Register early to ensure your space.
Saturday lunch is not included. A 90 min break will be scheduled to enjoy the delicious near-by options.
---
About Your Guide
Monica Graves

I am an insatiable spirit nerd, who has been studying consciousness-based wisdom traditions for over a decade, and am an international certified teacher of meditation, yoga, Ayurveda and Reiki. Vedic philosophy has been the cornerstone of my teachings, as I was a master educator with The Chopra Center for over 6 years. In 2015, I moved to Guatemala to study the Mayan Cosmovisión and ancient ceremonial practices of the Maya.

With last year's launch of my company, Maha Veda Soul Journeys, I am exploring the juxtaposition of these ancient traditions to bring to you interactive, interesting workshops and retreats that inspire the adventurous journey of your soul.