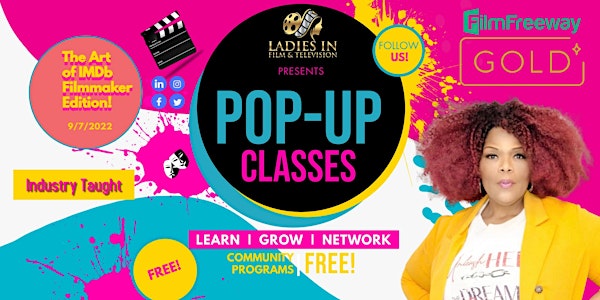 The ART of IMDb. THE FILMMAKER EDITION!
As Filmmakers & Actors, your work should be noted. Why is IMDb important and WHO should be using it? How do I enter my projects?
About this event
IMDB (Internet Movie DataBase)- What is it and why should I care? Jeanette Greenwood is going to teach you why!
About this Event:
How to start my Account?
What is IMDB?
I am an Independent Filmmaker can I publish my Indie Projects?
Should I get IMDB Pro?
Why should I have one?
What if I did a job and never received credit?
What is a Moviemeter?
How do I improve mine?
Q&A
IMDb is the world's most popular and authoritative source for movie, TV, and celebrity content. Find ratings and reviews for the newest movies and TV shows. This is where directors, casting directors, movie critics, and actors go for resources. So what does that mean? Your information needs to be updated regularly. It's not about getting ready...WE NEED TO STAY READY! International Award-Winning Director, Writer, Filmmaker, and Acting Coach Jeanette Greenwood will walk you through getting ready for the next big HOLLYWOOD WAVE!
We will walk through the basic steps of IMDB...
The class will be Via Zoom as I will take you step-by-step with visuals, providing visuals of what you will see in the system.