As Filmmakers & Actors, your work should be noted. Why is IMDb important and WHO should be using it?
About this event
IMDB (Internet Movie DataBase)- What is it and why should I care? Jeanette Greenwood is going to teach you why!
About this Event:
How to start my Account?
Should I get IMDB Pro?
What is IMDB?
Why should I have one?
Do I have work out here unclaimed?
How do I claim my existing account? I didn't set it up!
What if I did a job and never received credit?
What is a Starmeter?
How do I improve mine?
I am an Independent Filmmaker can I publish my Indie Projects?
Q&A
IMDb is the world's most popular and authoritative source for movie, TV, and celebrity content. Find ratings and reviews for the newest movies and TV shows. This is where directors, casting directors, movie critics, and actors go for resources. So what does that mean? Your information needs to be updated regularly. It's not about getting ready...WE NEED TO STAY READY!
International Award-Winning Director, Writer, Filmmaker, and Acting Coach Jeanette Greenwood will walk you through getting ready for the next big HOLLYWOOD WAVE!
We will walk through the basic steps of IMDB...
The class will be Via Zoom as I will take you step-by-step with visuals, providing visuals of what you will see in the system.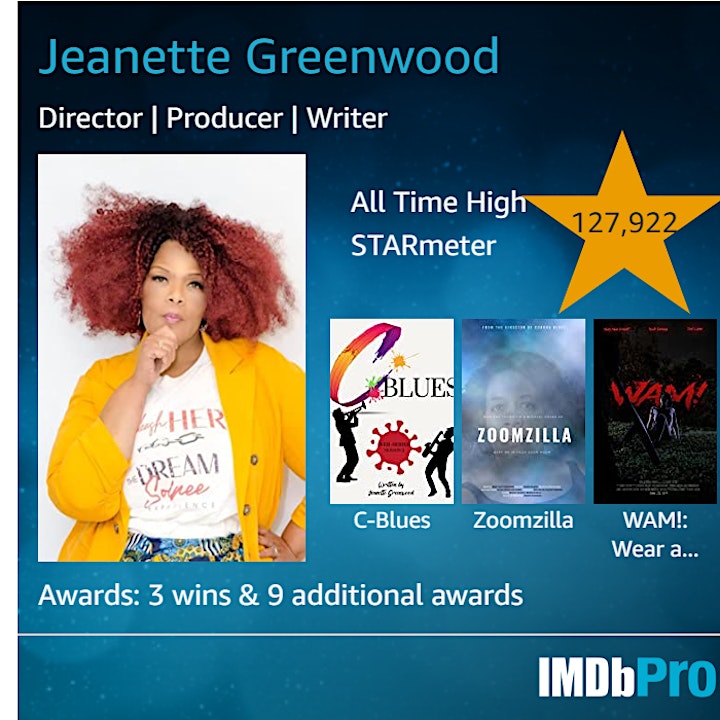 Organizer of The ART of IMDb. HOW TO FREAKIN USE IT!?
MISSION & VISION
     We   have a simple, but robust mission: to help ladies in the film industry be the   best version of themselves by empowering them with resources and tools to aid   them in their success. We do that by focusing on community-based efforts   including education, awareness, and mentoring opportunities. We want to make   a difference.
Who Are We?
We are a community of ladies building memories together! As ladies in the film industry we are often made to feel we are not equipped for this industry.  We are building a diverse team of ladies that do not have to depreciate or devalue ourselves to be part of a male-driven industry. 
It is painful to be judged by age, gender or color of your skin in a widely known bias industry.  We want to bridge the gap and unite all ladies as one industry and rid the divide.  We are stronger together...we are LADIES IN FILM! 
We are a family friendly organization catering to the needs of the ENTIRE family of our lady filmmakers.  We know that our family support is what aids us in our accomplishments.