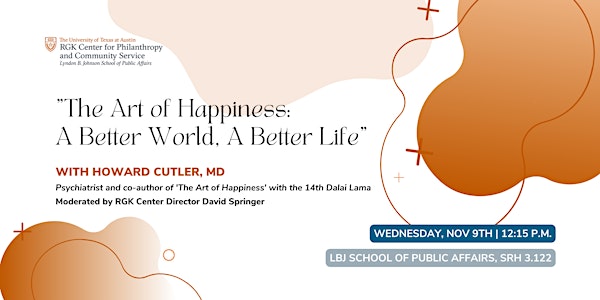 The Art of Happiness: A Better World, A Better Life
A conversation with psychiatrist and author Howard Cutler, M.D., an expert in the science of human happiness.
When and where
Location
LBJ School Of Public Affairs 2315 Red River Street SRH 3.122 & North Lobby Austin, TX 78712
About this event
Join the RGK Center for a conversation with Dr. Howard Cutler led by Center director Dr. David Springer. The two will discuss Dr. Cutler's research and experience with how happiness positively affects all aspects of our personal and professional lives, including our relationships, career, and health, as well as community well-being and a civil society.
Lunch will be provided for registered attendees.
About Dr. Cutler
Howard Cutler, M.D. is a psychiatrist and the co-author of "The Art of Happiness," which he wrote with the 14th Dalai Lama. Dedicated to helping people find happier, more rewarding lives, Dr. Cutler works with individuals privately and has given presentations on happiness throughout the United States and abroad. He has been interviewed on hundreds of radio and television programs, and featured in magazines and newspapers including Time, O-The Oprah Magazine, and Psychology Today. Dr. Cutler holds degrees in art and zoology, and a medical degree from the University of Arizona College of Medicine, in Tucson. He lives in Scottsdale, Arizona.