Description
CE-BAR Fire Department is proud to host Captain Mike Gagliano's The Art of Go/No Go & This House Rocks, and Firefighter Aaron Fields' Nozzle Forward. This workshop will consist of both lecture and hands-on training, and will be offered in the following track options and schedule:
Track 1 - Full Workshop (3-days): Gagliano lectures & Nozzle Forward - $250
Track 2 - Gagliano lectures only (1-day): The Art of Go/No Go, This House Rocks - $50
Equipment: Structural PPE (No SCBA) required for Track 1 / Nozzle Forward
Food: Not provided; options available near by
Hotel: Sonesta @ 12525 Bee Cave Pkwy Bee Cave, TX 78733; The block rate is $160 / night. To make a reservation by phone, call (512) 483-5902 and use the group code 0117TCEMSD. To make a reservation online, use the following link (Note: the link does not work with mobile devices) Travis County Emergency Services District #10

Wednesday, January 30, 2019 (Lecture @ Austin Bible Ridge)

0800 – 1200 The Art of Go/No Go
1200 – 1400 Lunch
1400 – 1700 This House Rocks

Thursday, January 31, 2019 (Lecture & Hands-On Training)

0800 – 1030 Nozzle Forward (Austin Bible Ridge)
1100 – 1300 Nozzle Forward (Mackey Field)
1300 – 1400 Lunch
1400 – 1800 Nozzle Forward (Mackey Field)



Friday, February 1, 2019 (Hands-On Training @ Mackey Field)

0800 – 1200 Nozzle Forward
1200 – 1300 Lunch
1300 – 1700 Nozzle Forward


The Art of Go/No Go - Mike Gagliano (SFD Retired)
The toughest and most critical decisions you make in your career typically revolve around committing to an interior attack or choosing another route. Seasoned officers know the difference between "We can get it" and "It's lost." You should, too. Using a simple framework that allows you to build on your experiences and those of others, you can develop an intuitive approach that grows with you throughout your career. This is not a magic class; no one becomes a great decision maker by attending a few classes and watching a few videos. The goal is to create a framework of three varying profiles: Rescue, Building, and Fire. These profiles allow you to keep focused on your decisions and give you the ability to draw on what you've learned and to react to changes in the dynamic fire environment. Students will leave with tools with which to drill their troops and continue to enhance their ability to make great decisions.
This House Rocks: Firehouse Excellence - Mike Gagliano (SFD Retired)
There is nothing quite like a firehouse. It can be the most incredible experience of your life or a miserable exile to purgatory. It can be a place of learning where skills are honed and techniques refined or a stagnant cesspool where competence erodes into ineffective complacency. What is it that causes one place to be cohesive and brimming with camaraderie while just down the road there are dissension and drudgery? Learn five key areas that can turn any firehouse into the type of place that enables firefighters to thrive and fulfill their calling. This class looks at how to build and enjoy the type of firehouse everyone wants.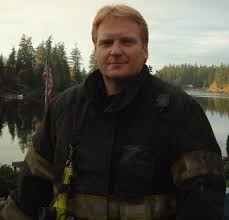 Mike Gagliano has over 30 years of fire/crash/rescue experience with the Seattle (WA) Fire Department and the United States Air Force. He has written numerous fire service articles and is coauthor of the bestselling book Air Management for the Fire Service. He is a member of the Fire Engineering, FDIC International and the UL-Firefighter Safety and Research Institute advisory boards.
Nozzle Forward - Aaron Fields (SFD)
The one thing that every fire department in the country has is fire hose. The one event that happens on every single fire is a hose-line gets pulled and water gets flowed. The Nozzle Forward is a class for engine company crews. It is not a collection of technique; it is an adaptable system of hose line management and fire attack. It is focused around fighting fire, interior offensive firefighting, aggressive firefighting, for which we will never apologize. Aggressive firefighting is not the problem, it is the solution.
For today's nozzle-person, the art of hose and fire suppression often has been obscured and put to the side in favor of other "hot topic" training. How to attack fire and move the line has been ignored and forgotten by many engine companies. "The fire goes as the first line goes," so Go Dog Go.
It is the ongoing development of an in-depth study of all things engine. It is not a "what if" class, it is a program designed to engrain the nozzle team to make the right choice and be able to accomplish whatever task is necessary for a successful interior attack. It is not theory; it is proven on fire-grounds around the country. Adapted from a variety of sources, but reconstructed to be based around simple principles that maximize mechanical advantage.
The class answers the "whys," not just the "what's," and quickly creates a system that can be adapted to fit any engine company from the urban to the rural.
The goal of the "The Nozzle Forward" is to help craft more efficient Engine Companies by increasing the individuals' competency with their tools and expanding on the conceptual aspects of the fire environment.
The course will integrate the three major components of engine company work; fire behavior, hose management, and fire attack.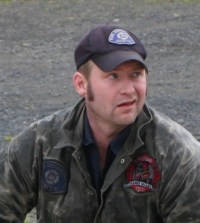 Aaron Fields is a firefighter for the City of Seattle and the OG of the Nozzle Forward. Between his dad, brother, and himself, there is nearly always a Fields member on watch somewhere in the 5th battalion. His aspiration has always been to ride on the back of Engine 28, allowing him to work in the neighborhood he grew up in (98118 shout-out). After time at 28's, Aaron moved to his dad's spot on Engine Company 13, Battalion 5 headquarters. He is known for his dislike of "the MAN", tendency to question authority, and zealous belief that good basics win. Aaron developed the skills shared in the Nozzle Forward in an unrelenting pursuit of all things engine. The skills are adapted from many sources, but reconstructed to be based around simple principles that maximize mechanical advantage. At the request of folks who wanted to see how he was going about hand-line use the Nozzle Forward was born as a program and has been slap'in lines around since 2008. When all else fails, give 'em a West Coast Salute……