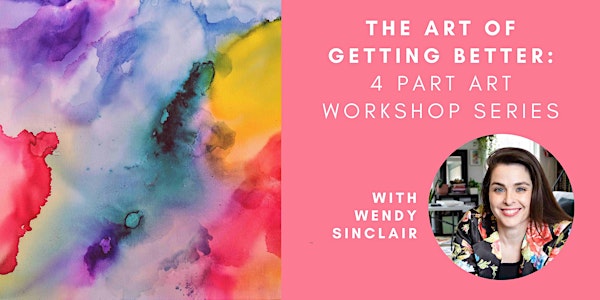 The Art of Getting Better: 4 Part Art Workshop Series
Art Workshops to Connect You to More Authentic Self-Care
Refund Policy
Contact the organizer to request a refund.
About this event
$97 for the series - all 4 Workshops, or 50% off for Collective Members.
-------> Collective Members get 50% off all of our events and workshops! Sign up for a free trial here!
The Art of Getting Better is a 4-part series of virtual workshops that connects individuals to their creativity and introduces art-based activities for the purpose of creating better, more long-lasting, more authentic self care routines, with light-hearted exposure to the elements of art.
This program is designed for the non-artists and for individuals who feel disconnected to the "self" and/or a desire to create and maintain self care practices.
Each session is 1.5 hours with community connection and takeaway activities and challenges to receive maximum benefits between sessions. The environment is fun, non-judgmental and creative.
All sessions happen from 8 pm - 9:30 pm EST
November 23rd - Session 1: Art
December 7th - Session 2: You
January 11th - Session 3: Care
February 8th - Session 4: Putting it All Together
What are the expected participant outcomes?
• Begin to use art as a self care practice.
• Learn the elements of art & art as meditation.
• Create self care goals that lead with the secret sauce (that isn't motivation).
• Gain a better understanding of your true essence.
• Form long-lasting habits.
• Build new friendships and community.
What can participants expect?
Community
Women and nonbinary folks have been leaning on each other for support long before the internet came along and introduced us to chat forums, email newsletters, and Facebook groups. We naturally know how to gather, share, and learn from each other. This community is no different. Join like minded, supportive people in small group sizes.
No Perfectionism
The Art of Getting Better ensures the following pillars are applied to all experiences: connected, community, inspired, guided, judgement free, and fun. We ask that folks bring the same pillars to the program and please, please, ditch any need for perfectionism.
Art exploration & techniques
We only need the basics of art tools; pencil crayons, markers, sharpie pens, and perhaps pastels to play, explore, and find our own personal style. We'll go from doodles and chicken-scratch to creative exploration that can be used as meditation and may open the floodgates to a new hobby!
Weekly off-line art & self care challenges
Due to popular demand, off-line personal takeaway activities and challenges are given out to sustain and build on the session's concepts, and prompt deeper discovery for self care, providing the maximum benefits between sessions and having fun with your personal art style.
About the Faciliatator:
Wendy Sinclair is a Toronto-based artist and designer who specializes in fine art and coaches the basics of art and design for entrepreneurs and micro businesses so they can own their aesthetic and voice, and run with their own marketing materials and website maintenance.
Wendy facilitates art as an accessible and transformative tool to connect individuals to their true selves, organizations to their dedicated people, and businesses to their customers.
Her 4-series workshop "The Art of Getting Better" connects women to their creativity, and introduces art-based activities for the purpose of creating better, more long-lasting, more authentic self care routines, and light-hearted exposure to the elements of art in a fun, non-judgmental, creative environment.
Website: https://wendysinclair.net/
LinkedIn: https://www.linkedin.com/in/wendy-sinclair-60814717/
FB: Wendy Sinclair
Instagram: @wendy_ascendy