Event Information
Refund Policy
Contact the organizer to request a refund.
Eventbrite's fee is nonrefundable.
About this Event
The Art of Erotic Exploration - Online Class
Sat, July 11th - Sun, July 12th
1pm - 5pm ET
(w/ Optional Introduction class on Fri, July 10th)
This intensive workshop is an exclusive opportunity for individuals and couples to begin their journey into the erotic arts. Kink expert and somatic therapist Kimi Inch (aka Mistress Nina Payne) offers an unique journey to sexual expansion that will not only increase your erotic knowledge, but will also deepen your intimacy, strengthen your communication, build trust and bring your body alive in new and exciting ways. This class includes:
✫ Awakening Eros Energy
Raise your sexual vitality with breath, movement and sound while you deeply connect to the source of your power and creativity. This tantric step is vital but so often missed, and will ensure that you create orgasmic intimate moments.
✫ Introduction to Kinky Play
Expand your bedroom repertoire and learn, through experience, how to incorporate this valuable tool to increase the intensity of your sexual experience. This will cover kink basics and include many techniques from building the foundation to creating safety and will lead to more advanced techniques such as impact play, bondage and sensation play.
✫ Fantasy Becomes Reality
Bring your full self in: body, mind and spirit and move deeper into the erotic world of limitless potential as you bring your fantasy to life. In heightened states of sensitivity, with new found imagination, grounded in your power - you will experience being in full energetic flow while exploring your wildest fantasies.
This class is open to women, men, non-binary, and couples of all sexual identities. You will receive personalized attemtion as Kimi Inch will create a safe space for you to explore and deepen your tantric and erotic journey, by incorporating your body, your mind, and your spirit. This class is fun, sexy, thought provoking and heart opening.
*Space is limited - Tickets are not refundable*
Tickets are $125 per person - couples must buy 2 tickets.
Click here for a list of Frequently Asked Questions (FAQs)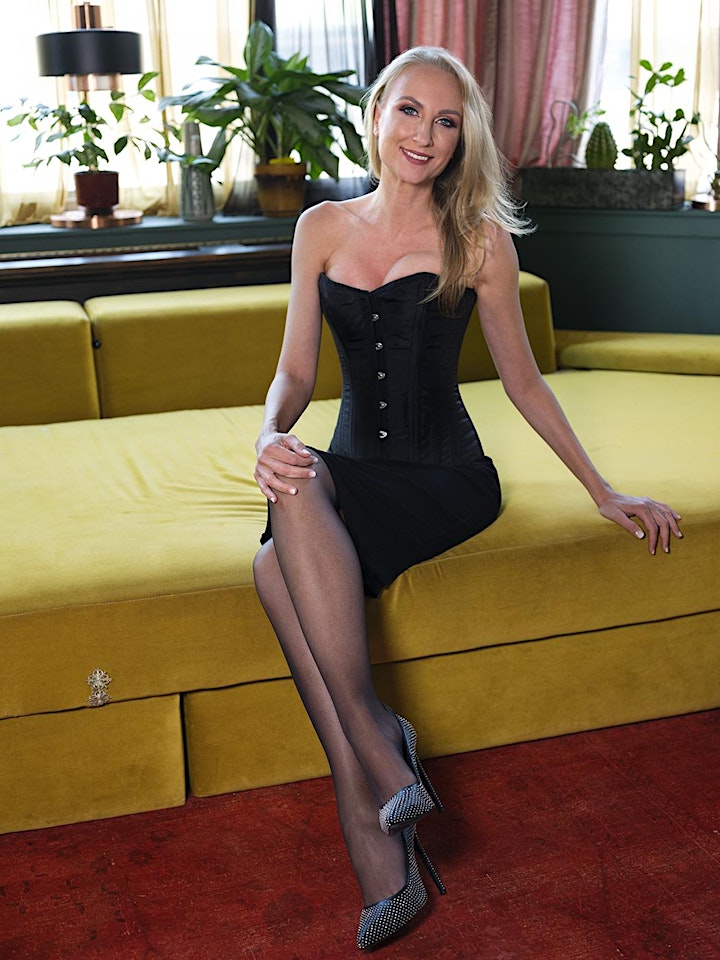 Kimi Inch (Mistress Nina Payne) Bio:
Kink expert Kimi Inch (aka Mistress Nina Payne) has been involved in the kink lifestyle as a professional Dominatrix since 2002. In 2006, she was hired by New York's top dungeons to develop training programs for their new employees. This eventually led her to start her educational company in 2008 called Domi Dollz. Through Domi Dollz she was able to bring her kink knowledge to the mainstream by holding public workshops as a way to teach and empower curious individuals and couples on how to enhance their sex lives through kink and fantasy exploration. Alongside her classes, Kimi is trained at the Institute of Core Energetics and holds somatic healing sessions which is focused around intimacy, relationship help, and sexual healing. She works with individuals and couples of all sexual identities and backgrounds.
Kimi Inch has lectured at Princeton University and has been featured in several media outlets like The Wall Street Journal, Cosmo magazine, New York Post, and Business Insider. She has also made numerous television appearances, having been featured on ABC's 20/20, ABC's Nightline, The OWN Network's Our America with Lisa Ling, TMZ Live, and IBTimes TV.
To see more, check out her YouTube Channel: www.YouTube.com/DomiDollz
Date and Time
Location
Refund Policy
Contact the organizer to request a refund.
Eventbrite's fee is nonrefundable.