Description
Public speaking is one of the most effective tools to create and increase your personal and professional success.
Click here for feedback
Imagine inspiring and influencing people and audiences everytime you speak. Do you want to be heard? Do you want to eliminate limitations that are holding you back? Personalities like, Diana Princess of Wales, Dame Anita Roddick, Margaret Thatcher had had personal public speaking coaches to help them use their voice to move nations.
Throughout this workshop, you will learn how the alignment of mindset, body language and voice is crucial to becoming a professional speaker. The course is packed with practical exercises, role plays and awareness to help you identify your own style of speaking.
Get to the course In order to increase your confidence as a woman and professional by helping find and use your voice efficiently.
Thankfully, great public speakers are not born. They're trained.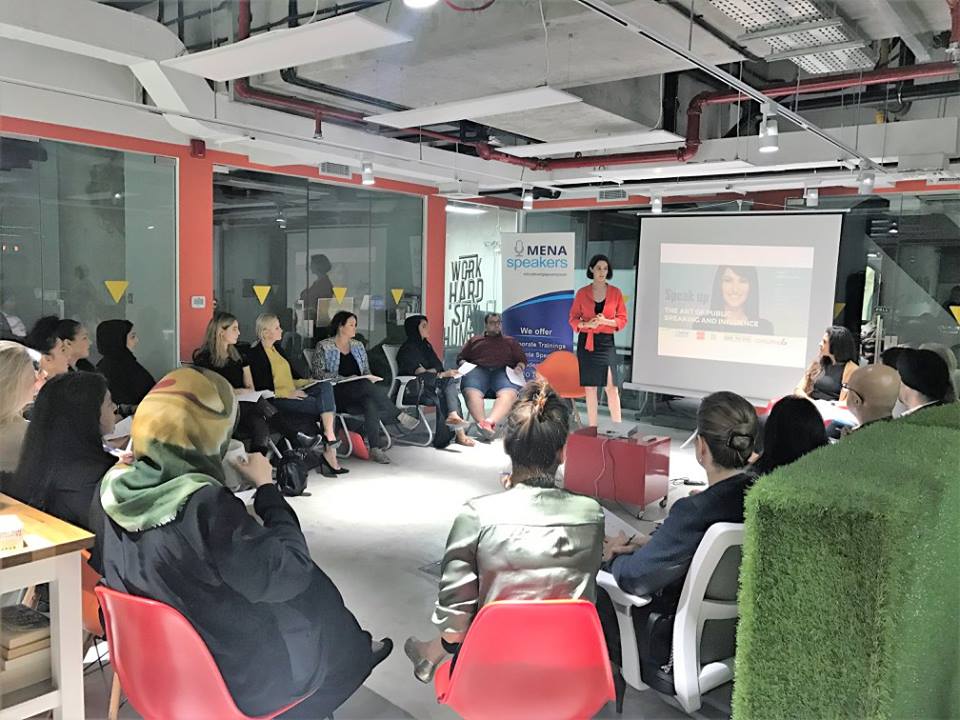 In the exclusive workshop "The Art of Connection" you will learn the systematic methods to use your voice to command a room, take control of your body language, and craft stories that are TED-worthy.
But what does mastering the art of connection truly mean?
It means that you will speak with confidence anytime anywhere. It means that you will be more persuasive. It means that you will captivate people and take them whereever you want to take them. In short, you will have mastered in one day, what others take years to master.
This one day workshop designed for executives, managers, and professional speakers.
This workshop offers you a unique opportunity to take your skills to the next level in a discrete and safe environment. The high level of interactivity will give you breakthroughs and insights that you would not otherwise get in regular public speaking training.
Workshop Investment 1900 AED
A very limited number of seats is available in order to provide the highest level of engagement and progress for you.
For more information WhatsApp or call us at 058 971 2626

---
Workshop Agenda
Introduction to the workshop
Building Group Rapport
Outline course objective
Analysis of current presentation style
Core Skill 1 Executive Presence

Discover the power of P - P - W formula
Discover how to ''own the stage'' right from the start
Top tips for confidence, impact and handling nerves
Core Skill 2 Power of Stories

Understand the effectiveness of stories so you can connect better
How to structure your thinking when speaking off-the-cuff
Essential skills for achieving a strong positive impact
Core Skill 3 Empowering Feedback
Our whole communication is a feedback – let it be empowering
Motivate others through positive verbal feedback
How to identify and release the true value in other people
Core Skill 4 Sensory Impact: Voice & Body Language
Your voice determines your success in business
Explore techniques to grab the audience attention
Learn about the power of rhythm while delivering a presentation
Practice engaging the audience through eye contact and questions
Core Skill 5 Visual Aids
Identify your key message
Select visual aid and use them with ease and confidence
Engage an audience when presenting with slides
Prepare a slide presentation
Deliver slide presentation and gain personalized feedback
---
Program Director - Andreea Zoia
Andreea's approach is significantly different from what the market has seen. As much as the traditional public speaking coaching and training style has focused on vocal tonality and body language, her approach takes it to a whole new level.
Andreea is a regular guest on Joelle Show on MBC1. Formally trained as a NLP master coach from the American international training company Mind Bridge, Andreea counts amongst her mentors, London's Film and Academy tutor Peter Purves, Los Angeles based TV presenter Steve Truitt and Romanian celebrity coach Mihaela Tatu.
Having left her country, Romania, 12 years ago to come to the UAE, she found herself standing amidst the city of success and growth. Armed with passion, desire, and hunger for success, her only suitcase and minimum cash in pocket amount didn't matter to her. What mattered was her mission to transform her life, personality, and other people she meets.
Fast forward 12 years later, Andreea is now a walking, talking stand for artistic communication, public speaking, and MC. Her profile is widely viewed by various agencies and individuals, and her coaching work has reached TEDx speakers, artists, business executives, and impactful entrepreneurs.
Andreea focuses on the person as a whole; from head to toe. Suited with the technologies of successful presenting and the unwavering confidence in herself to deliver results, she uses an "inside-out" transformational style of coaching that is uncommon, but deeply impactful on the person.
Her workshops fill up with professionals eager to unlock their voices of success and utilize them in their careers, businesses, and lives.
With more than a decade of experience and her own personal story, Andreea makes sure she delivers the one result that will craft people's success today: Own your voice and let your confidence be heard, respected, and desired.
If you're looking for a confident professional to elevate the success of your organization, then Andreea Zoia is for you! She is a highly-sought MC and presenter by international and local agencies, transformational public speaker and coach for high profile people, and brand Ambassador for luxury brands. Andreea believes that our voices are what we need to uplift our confidence and success as individuals and brands.
Andreea Zoia coach guest on MBC1
https://www.youtube.com/watch?v=g-CH0jQG1Sk