The Art of Brooklyn Film Festival Presents THE BIG SCREEN

Sunday, August 4, 2013 at 6:00 PM

-

Sunday, August 25, 2013 at 9:00 PM (EDT)
Who's Going

Loading your connections...
3 of your friends are going.
Share it to get more people on board!
Share

Sara Haughty
San Francisco, California

Luke Picard
London, United Kingdom

Rick Vespucio
Florence, Italy
Event Details
Fresh from a successful third annual festival in the Spring, The Art of Brooklyn Film Festival (AoBFF) surrenders the reigns to some of the best film curators in Brooklyn for the summer.
The Big Screen is a month-long celebration of Brooklyn's best independent film series, which usually screen in intimate venues throughout the borough. From August 4 - 25 at St. Francis College's Founders Hall and Maroney Theaters (180 Remsen St. BK, NY 11201) Brooklyn's best independent film series move out of the back rooms and onto The Big Screen. 
 ______________________________________________________________________________
Sunday August 4th - 6pm
BATTLE FOR BROOKLYN
Presented by Heather Freudenthal  (Sunday Film Series)  
Running Time: 93 min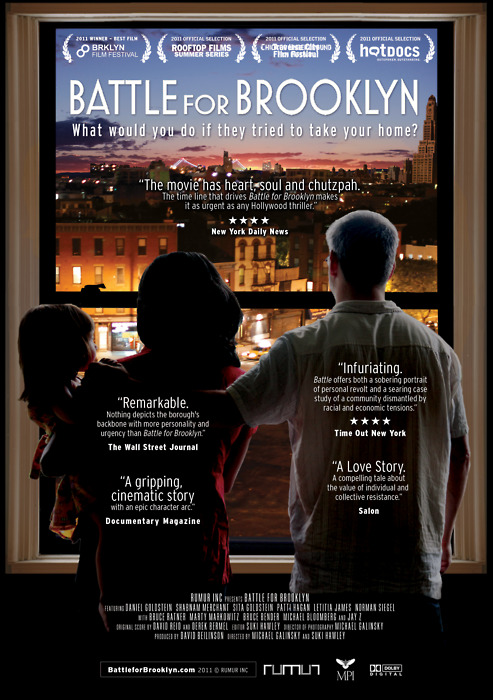 Synopsis:
BATTLE FOR BROOKLYN follows the story of reluctant activist Daniel Goldstein as he struggles to save his home and community from being demolished to make way for a professional basketball arena and the densest real estate development in U.S. history. Along the way, he falls in love, gets married and starts a family while living in a vacated building located at the heart of the project site. Over the course of seven years, Daniel spearheads the movement against the development plan as he and the community fight tenaciously in the courts, the streets, and the media to stop the abuse of eminent domain and reveal the corruption at the heart of the plan.
Filmmaker Bios:
Michael Galinsky - Michael is a filmmaker, photographer, and musician. Along with wife Suki, he's produced six award-winning feature films and dozens of shorts. Michael is a contributing editor for International Documentary Magazine, writing articles about filmmaking and distribution. Raised in Chapel Hill, Michael graduated Phi Beta Kappa in Religious Studies from New York University. He previously played bass for Sleepyhead.
Suki Hawley - A director and editor, Suki has collaborated with husband Michael for 20 years. Together they've produced a series of critically acclaimed features, which have screened to audiences around the world. She has also served as a consulting editor on high profile documentaries and tv series. A native of Dallas, she studied film at Wesleyan University and after graduation worked in the cutting room of Roger Corman's legendary studio.
David Beilinson - Combining a range of creative skills, David manages production for RUMUR's projects. In partnership with Michael and Suki, he's produced a collection of groundbreaking documentary films. Prior to joining RUMUR, he was a producer for the Emmy-winning PBS series In the Mix. Born and raised in Miami Beach, David graduated from the Gallatin School at New York University, where he split his time as the youngest associate at Miramax Films.
________________________________________________________________________________
Saturday, August 17th - 6pm
UNDER THE BUS
Presented by Heather Freudenthal (Sunday Film Series)
Running Time: 45 min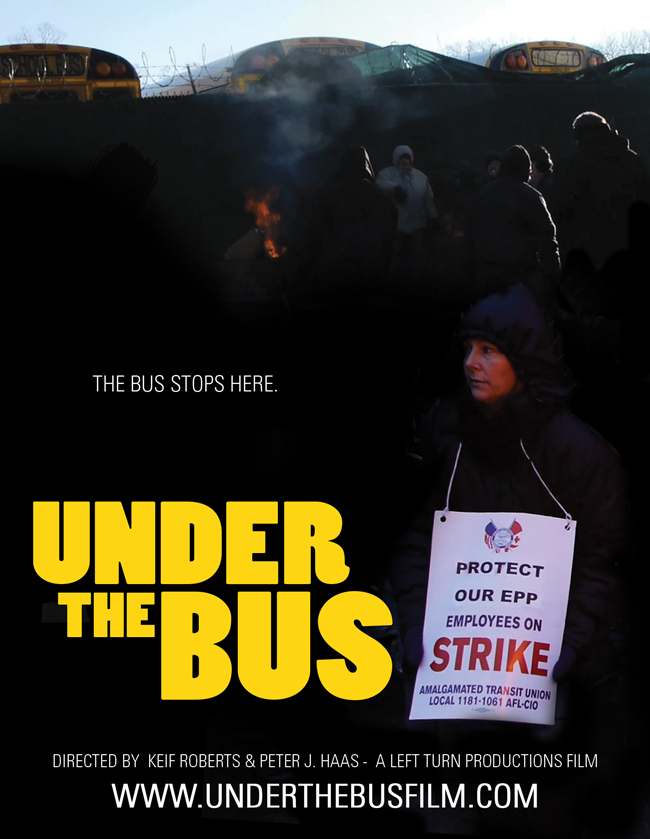 Synopsis:
Anthony has driven a school bus in Staten Island, New York for twenty-four years. His plans to retire suddenly grind to a halt when the Union (ATU 1181) goes on strike in response to a contract dispute with the City of New York.  The film follows Anthony and his fellow drivers to the picket line, where they find themselves battling harsh winter weather, a media blackout, Union politics and a Mayor who refuses to negotiate. When the City puts Anthony and the driver's jobs out to bid, a tense atmosphere erupts as non-union 'replacement drivers' start crossing the picket lines.
The striking workers, who receive only $150 a week are forced to take stock of their own lives.   Anthony worries he might have to delay his retirement.  Donna, a matron, and her daughter are forced to move out of their apartment due to financial difficulty.  Albert, a driver from Howard Beach who lost his home in Hurricane Sandy, depends on his full time employment to survive while he deals with insurance companies and FEMA. As the strike drags on, many workers fear they will have to leave their Unionized jobs in order to support their families.
Filmmaker Bios:
Keif Roberts (co-director) graduated from SUNY Stony Brook and was a screenwriter and producer before adding directing, editing and cinematography to his repertoire. He first knew he wanted to be in film when he saw Martin Scorsese's "Taxi Driver" in a theater. Keif has worked as an editor and cinematographer for DIY Network, Discovery 3D, and the ASPCA. He lives in Queens, NY.
Peter J. Haas (co-director) is a graduate of Keene State College and is a professional raconteur in feature and broadcast documentary and narrative.  His work has been seen on PBS, NBC, at the Sundance Film Festival, IFC and on various cable networks.  An advocate of "ecstatic cinema," Peter masterminds works that have been described as H.P. Lovecraft landscapes populated by the imaginative absurdities of Philip K. Dick.
________________________________________________________________________________
Sunday August 18th - 6pm
MARRIED & COUNTING
Presented by Heather Freudenthal (Sunday Film Series)  
Running Time: 93 min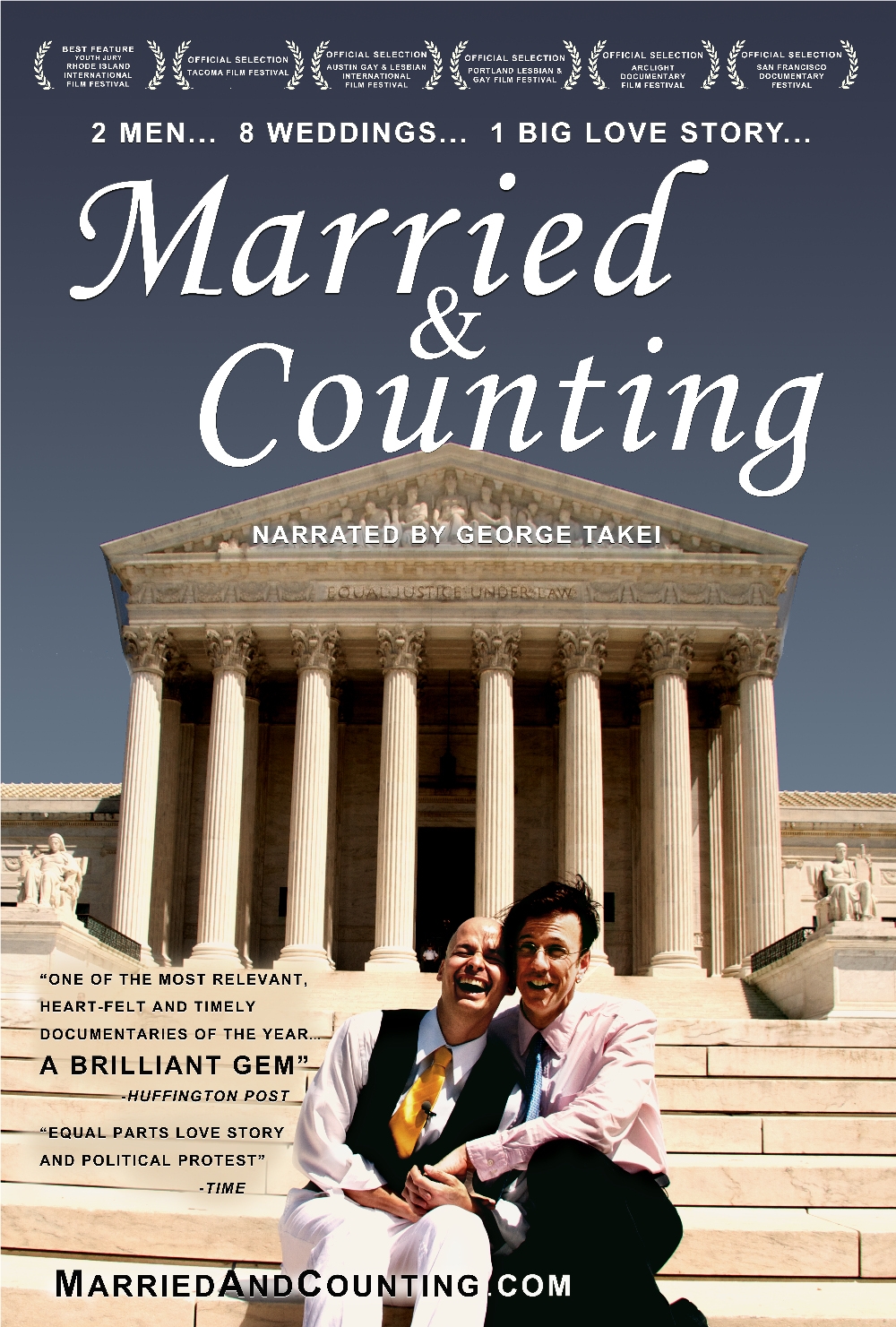 Synopsis:
Two men celebrate twenty-five years together by taking off on a "slightly zany... cross-country adventure" (The New York Times) to marry in every state that will let them. Along the way they find acceptance from strangers, rejection from loved ones, and discover that no distance is too far to go to declare that their marriage counts.

Filmmaker Bio:
Allan Piper (director) previously directed the award-winning indie romantic comedy Starving Artists, which the Boston Globe called one of "the best films you've probably never seen." He also directed the award-winning documentary Admiral, My Name is Corey, about Admiral Byrd's 1933 Antarctic expedition. He is formerly the Senior Editor and a director for BBC New York, and has edited numerous shows for ABC, Bravo, MTV, TLC, Discovery, and Food Network, including Wife Swap, What Not to Wear, and Chopped. Most recently he was part of President Obama's campaign video team.

Film Subjects Bios:
Pat Dwyer & Stephen Mosher (the grooms)  met in Texas in the 1980s, but have been New Yorkers since 1993. They wanted to get married on their 25th anniversary, but since same-sex marriage was at that time illegal in New York, Texas, and 43 other states, they decided to travel the country to get married everywhere they could. Dwyer worked for 16 years in advertising and has recently returned to his first love of acting. Mosher is a blogger, event-planner, and an acclaimed photographer who has done shoots with countless glamorous people, including Judi Dench, Kirsten Dunst, Sarah Jessica Parker, and most especially his friends and family.
________________________________________________________________________________


Friday, August 23rd -  8pm
A Smorgasbord of Shorts!  WORLD PREMIERE
Presented by Andrew Greer (Infinity Ball Productions)
Running Time: TBD
Synopsis:
Pig out with a variety of cinematic tastes ranging from comedy to drama, action to romance, contemporary and classic movies. Featuring the best films from Infinity Ball Productions' 72-Hour Film Festival as well as past and present members of the Infinity Ball Production team. Take all you want, but eat all you take!
MENU:
APPETIZERS (20 minutes)
Trailers, Music Videos, Cartoons, and a silent film by various artists will open the evening.  Featuring the work of Al George, Andrew Greer, Brayden Hade, DEEP, Jamal Stone, Joshua Weisbroad, Rob Yulfo.
MAIN COURSES
From the Vault – Devices by Kenneth H. Brown (40 mins)
"The play on which this film is based was produced by Yale Drama School in 1966 when I was the resident playwright there.  Bob Young and Mike Roemer, the team that made Nothing But A Man, were teaching there at the time, and Bob said he wanted to shoot a movie of it, and so we did using acting students from the Drama School.  The soundtrack on piano is played by Al Carmines who ran the Judson Poets Theater in those days, and you will note the name of John Guare as "Grips" in the credits.  He was a good friend at the time and already a well known playwright.  I have written more than twenty plays that have been produced worldwide in a dozen languages including The Brig which was nominated for a Pulitzer Prize in 1963 and has had more than 200 productions over the last fifty years." – Kenneth H. Brown
New Work – Life is Hard, Kinda by Dan Buyanovsky (40 mins)
Life is Hard Kinda is a comedic drama that tells the story of a twentysomething waiter/writer, or writer/waiter, who struggles with both his professional goals and personal relationships. As he's faced with trauma, he learns exactly how not to react to whatever is thrown his way, and eventually realizes that things are only as bad as he imagines them to be.
DESSERT (30 mins)
Infinity Ball Productions' 72 Hour Film Festival
In 72 Hours 1059045 people are born, Americans eat 300 acres of pizza, 0.024657534 people are eaten by bears, Aaaaaaaand you could make a short film!  No fees! No winners! Just terrifying, pure unfettered creativity presented by www.InfinityBallProductions.com.
Filmmaker Bios: 
Andrew Greer was born and raised in Brooklyn, NY.  Andrew graduated from Emerson College with a BFA in Acting.  Since graduating Andrew has participated in many New York City theatre and film festivals. Currently Andrew works at The Alchemical Theatre Laboratory. Andrew is also writing his first YA Novel, Dragon Slayers Genesis, which will be released in the fall of 2013.  Visit his website: TheTroupeTheatre.com
Jared Silver is an animator, VFX artist, and web designer who also dabbles in the dark arts of the theater. He can be visited online at jaredmsilver.com.
Louie Tremblay was born in the hills of Maine where he climbed trees and caught turtles. When he moved to Brooklyn he didn't know what to do with himself anymore, so he co-founded Infinity Ball Productions with some of his chums.  
Robbie Yulfo is a Brooklyn-born artist, animator and filmmaker.  Robbie also works for the Audio/Visual department at Brooklyn Borough Hall.
________________________________________________________________________________
Saturday August 24th - 7:30pm
THE MOTIVATION - EAST COAST PREMIERE
Presented by Adam Schartoff  (Filmwax)
Running Time: 88 min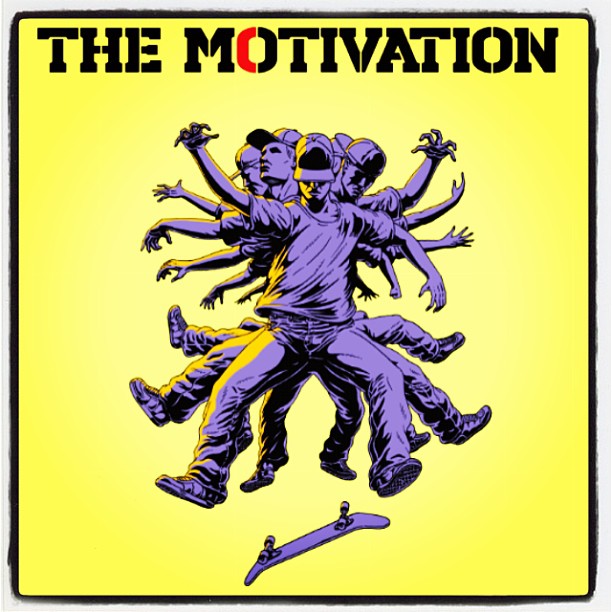 Synopsis:
Eight of the world's best pro-skateboarders prepare for the upcoming Street League Championship in NYC. Each equally talented, they all must overcome unique challenges - family pressures, injuries, money, fame and their own internal struggles - for a chance to win $200,000 and the title of best street-skateboarder in the world. The Motivation is a non-fiction sports film from internationally acclaimed filmmaker Adam Bhala Lough (The Carter, Bomb the System) featuring the biggest names in professional skateboarding today.
Filmmaker Bio:
Adam Bhala Lough is an American film director, screenwriter, and documentary filmmaker from Fairfax, Virginia. Specializing in independent films, several of Lough's films have been selected as part of the Sundance Film Festival, and he holds the distinction of being the only filmmaker to have a feature film and a documentary in the film festival, as well as a screenplay selected for the annual Sundance Screenwriter's Lab. 
_

________________________________________________________________________________
Sunday, August 25th -  6PM
i'm not me
Presented by Heather Freudenthal (Sunday Film Series)  
Running Time: 120 min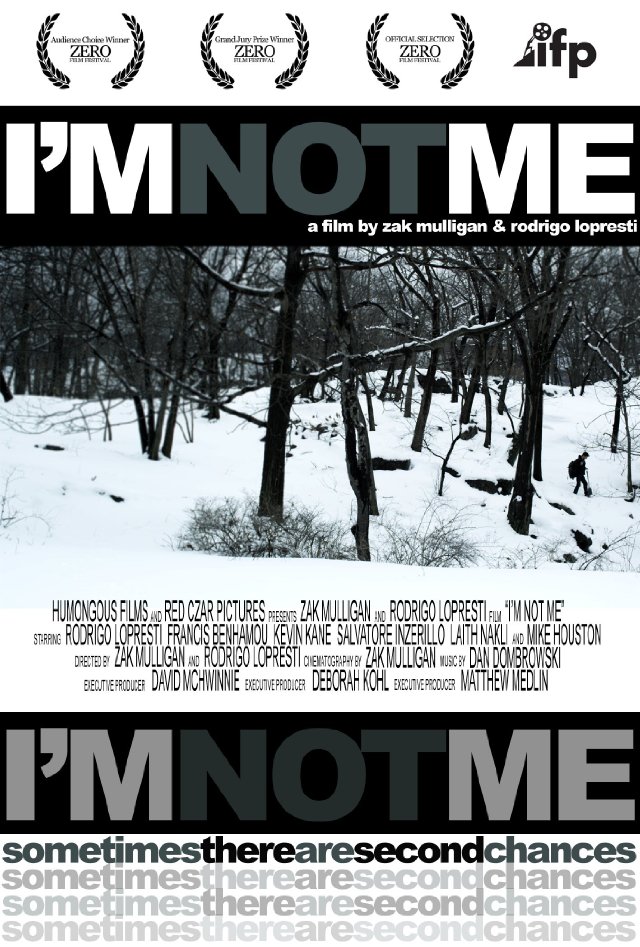 Synopsis:
As Josh struggles with the death of his wife Sam, his grief begins to manifest itself in haunting and strange ways. When Josh comes face to face with his dead wife who is somehow alive and well, he slowly realizes that his world consists of two divergent realities. As he journeys between the two realms, hopeful of recreating the life he shared with Sam, tragedy ensues.
Filmmaker Bios:
Rodrigo Lopresti (i'm not me's Co-Director, Co-Writer, Lead Actor) is an actor, director, producer, musician, and New York based filmmaker. His credits include the award winning short "Lucia" in which he starred in and directed, his second short "You're Gonna Feel Funny After" written by Noah Buschel, Gus Van Sant's "Last Days", "The Imperialists Are Still Alive" (Sundance official selection 2010), Tom DiCillo's "Delirious" (Winner San Sebastian Film Festival – Best Director), and "The Missing Person" amongst others. Currently Rodrigo is finishing production on Gregory Collins "A Song Still Inside".

Zak Mulligan (i'm not me's Co-Director, Co-Writer, Cinematographer), an Ohio native, started his career in New York after studying photography at Arizona State University. He is known for his naturalistic lighting style, seamlessly blending subtext with realism. The cinematographer's latest narrative feature Obselidia will premiere at the 2010 Sundance Film Festival in the Dramatic Film Competition. Other film work includes A Piece of America (Clermont-Ferrand International Short Film Festival) and the Noah Buschel-scribed You're Gonna Feel Funny After (Charlotte Film Festival, Zero Film Festival). Mulligan's extensive commercial client list includes Bravo TV, Kraft, Sony Ericsson, and American Express. Recently, he shot a first-of-it's-kind live in-cinema ad for Daffy's at the Ziegfeld theater in New York. The commercial-turned-live-event caused a huge buzz in the advertising world and was featured in Boards Magazine and the New York Times. Mulligan has shot music videos for musical artists such as Mute Math, Flying Lotus, and Woodhands (his video for "I Wasn't Made For Fighting" was an official selection of Slamdance 2009 and The 49th Annual Krakow Film Festival).
When & Where

Founders Hall and Maroney Theaters at St. Francis College
180 Remsen Street
New York, NY 11201


Sunday, August 4, 2013 at 6:00 PM

-

Sunday, August 25, 2013 at 9:00 PM (EDT)
Add to my calendar
Organizer
The Art of Brooklyn Film Festival
"AN INDIE GEM THAT SHOWCASES THE BEST OF THE BOROUGH"
— INDUSTRY MAGAZINE
Founded in 2011, the Art of Brooklyn Film Festival (AoBFF) is the only independent, international festival to focus entirely on films and filmmakers that are Brooklyn-born, Brooklyn-based and Brooklyn-centric. We are as diverse, vital and international as the borough itself. And everyone is invited to our party. AoBFF produces Brooklyn On Demand, the only streaming platform dedicated to showcasing Brooklyn-centric indie film and media to a worldwide audience. BKOD features AoBFF alumni and much more — online and on Roku.
For full screening info including trailers and more go to aobff.org
The Art of Brooklyn Film Festival Presents THE BIG SCREEN