The Art of Being: Write Your Narrative, Paint Your Story [Workshop]
Description
The Art of Being experience is a space for you to slow things down, reflect, and foster your creativity. Through hands-on activities, including creating your own painting, we guide you through the process of connecting to your core BEing. We often define ourselves based on what we do rather than who we are, but how you do anything is how you do everything. Life is messy, and art gives you permission to be messy. Both are better when you give yourself space and time to try, experiment, fail, and play.
The Art of Being experience was created as a space for you to start, or continue, this important life practice. With hands-on activities, we guide you through the process of connecting to your BEing through creativity. In this workshop, certified brain-based success coach and Chapter BE founder, Kïrsten Blake, and Denver artist, Angela Craven, will give you the opportunity to:
Connect to your own personal values and "why."

Play and feel the joy of your inner child.

Get your hands dirty with painting.

Learn tangible techniques you can use on your own.

Practice being present in the immediate moment, which fosters creativity.

Find empowerment in creating through expressive art and writing.

Learn about abstract expressionist art.
Receive a unique method for self care.

Make connections to others and learn from their stories and creativity.
Connecting to and developing your creative BEing allows you to better connect with others and the world around you. You have the power to make the change you want for yourself by defining how you want to BE, and then living intentionally from the inside-out. We are all creative beings. Tap into yours!

PLEASE NOTE:
*Light food and refreshments will be served, but you might want to plan to eat dinner before coming to the workshop.
*The price included all supplies, but you are welcome to bring anything that might make you extra comfortable during the workshop.
*We are piloting this workshop and offering it at a reduced price! Ticket prices will increase for future events.
*We will be asking for written and video feedback/testimonials for future events and a photographer will be joining us to document the evening.
*We welcome and appreciate you sharing this event and your experience with your own online and offline communities, too! Please follow us on Instagram (@artofbeingexperience, @angelacravenart, @chapter_be) to help us spread the word.
OUR PROCESS:
Kïrsten will guide you to uncover your internal narratives, decipher between what is serving you and what isn't, and surface more empowering narratives that will help you focus on how you want to BE. You will receive actionable tools that you can use every day to recenter you on your BEing.
Then, Angela will share the "empathy painting" process she uses to create custom paintings based on her client's stories and lived experiences and will help you create your own abstract expressionist painting that captures your unique story and strengths. 


You'll walk away from the evening with more clarity and an artful reminder of how you want to BE this summer and beyond.
Organizer of The Art of Being: Write Your Narrative, Paint Your Story [Workshop]
Learn more about The Art of Being Experience, Angela and Kïrsten on our new Art of Being website here.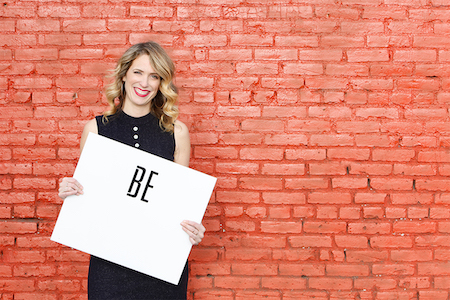 Kïrsten Blake is the creator and founder of Chapter BE. A passionate educator and mentor, Kïrsten works as a chief facilitator helping individuals reframe their personal narratives and (re)connect with their internal BEing and ultimately, a greater humanity.
Kïrsten's work and curiosities have inspired her dedication to education, human connection, and issues of equity. Since 2011, she has interviewed nearly 600 people highlighting and sharing their stories of BEing in hopes to inspire and help others (re)connect with their own BEing and find connections to our common humanity. These stories have been highlighted in The Huffington Post, Ignite Denver and TEDxCherryCreek. Kïrsten has a B.A. from The College of Wooster, an M.A. in Education from Columbia University, and is a Certified Brain-Based Success Coach. Learn more about Kïrsten and Chapter BE here. 
Angela Craven is an abstract expressionist painter based in Denver's RiNo Art District. She studied in Siena, Italy with abstract painter and video artist Franca Marina and holds a BFA in Painting from Colorado State University. After school, Angela moved to New York, where she continued to exhibit while pursuing a career in User Experience (UX) design and research. Since returning to her home state, Colorado, she has made the jump to pursue painting full time and has shown her work with Manhattan Arts International, the Globeville Riverfront (GRACe) Gallery, RiNo TAXI and has been a featured artist at the RiNo Made store inside of Zeppelin Station. 
Angela's paintings function as tools for communication and reflection. Words and language inspire her paintings, informing the shapes, textures, and colors on her canvases. Combining art with her love of learning about people, she also creates custom abstract paintings that capture her subjects' stories, and their unique challenges and triumphs. She has honed this process in her twelve years of UX and human-centered design, which puts people at the center of the design process. Learn more about Angela here.