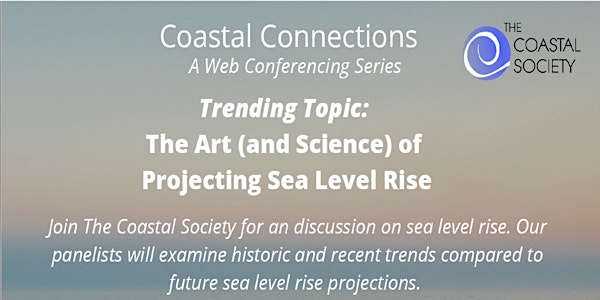 The Art (and Science) of Projecting Sea Level Rise
Join The Coastal Society for a Trending Topic session on sea level rise.
About this event
There is substantial variability in the near-term and long-term predictions for sea level rise depending on the data sets and models that are evaluated. During this Coastal Connections Trending Topics session, internationally renowned oceanographer, John Englander, and marine scientist, Dr. Molly Mitchell, will discuss trends in sea level rise considering recently measured data in comparison to the geological record. Dr. Mitchell will touch on general regional effects in the U.S.and impacts on coastal resources, including wetlands. Mr. Englander will relay a more global and longer-term perspective. General concepts to mitigating for sea level rise impacts over the next several decades will also be considered.
Following presentations, attendees will have the opportunity to ask questions and share their own expertise in a moderated discussion. Whitney Gray, Florida Program Manager -Resilience with Michael Baker International, will moderate the session. The event is free and geared towards TCS members, but all are welcome. The Zoom meeting link will be provided to registrants prior to the event.
Questions? Contact TCSConnections@thecoastalsociety.org
About the Speakers
John Englander
John Englander is an oceanographer, multi-book author, and international speaker on climate change and Sea Level Rise (SLR). Located in Boca Raton, FL, John frequently travels for both science and business. Multiple expeditions to Greenland and Antarctica have showed John, first hand, the devastating effects of melting ice on land reaching the sea. These expeditions, coupled with his broad science background in both oceanography and geology give him a unique perspective on planet ecology.
John's best-selling first book, High Tide on Main Street (2012), established John as a leading authority on rising sea level. His second book, Moving to Higher Ground, Rising Sea Level and the Path Forward (2021), is a major new book on the forces driving climate change and sea level rise, and a must read for concerned people of all ages. John is a Research Fellow at the Institute of Marine Sciences – UC Santa Cruz; a Fellow of the Institute of Marine Engineering, Science and Technology (IMarEST); a Fellow of the Explorers Club (he carried their flag on a diving expedition under the High Arctic Ice Cap in 1985); and a member of several professional societies.
Molly Mitchell, Ph.D.
Molly Mitchell is a Research Assistant Professor at the Virginia Institute of Marine Science (VIMS). Molly's research interests focus on shifts in coastal resources due to the interaction of sea level rise and human-driven changes. Although primarily an ecologist, she works on projects involving physical dynamics (sea level rise trend analysis, shoreline geology) and human decision making (social vulnerability, sea level rise adaptation, adaptive management application). Molly's recent projects include developing Sea-Level Rise Report Cards that provide trends and projections to aid coastal planning.
Molly's research is meant to be applied by planners on all levels (local, state, federal, etc.) and across resources (marshes, roads, buildings, etc.). She works with representatives from many different groups to help translate research and current scientific understanding into practical recommendations. She received her Ph.D. and M.S. in Marine Science from VIMS, and her B.S. in Biology and Environmental Science from the College of William & Mary.