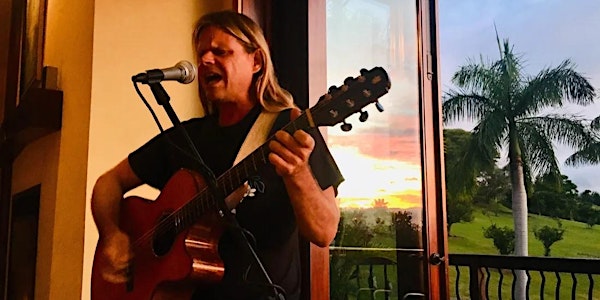 The Aromas Grange Hall Presents: In Concert: Dayan Kai
Dayan Kai is returning to the Aromas Grange Hall for a special November Sunday afternoon concert. Get your tickets now! SUNDAY Nov 13 $25
When and where
Location
Aromas Grange 400 Rose Avenue Aromas, CA 95004
Refund Policy
Contact the organizer to request a refund.
Eventbrite's fee is nonrefundable.
About this event
Dayan Kai
Singer-songwriter & multi-instrumentalist
Dayan ("DAY-uhn") Kai is a true force of musical nature. An artist whose musical abilities and style know few bounds, Dayan is known for his soulful voice, powerful songwriting, and multi-instrumental prowess. Dayan's deep insight into the human condition, innovative spirit, and infectious sense of humor enchant audiences around the world.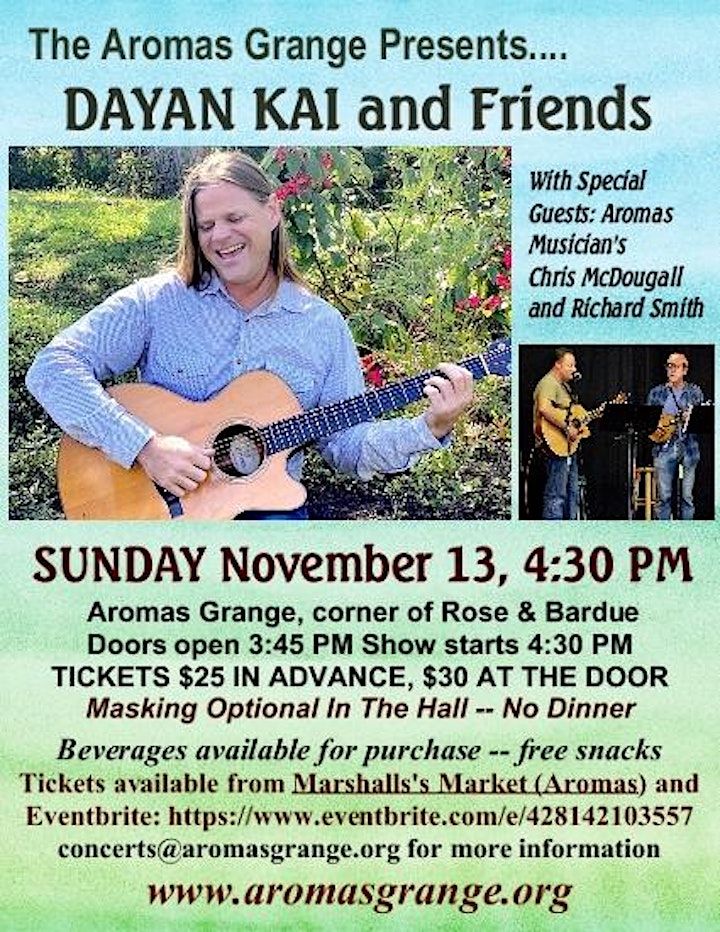 DAYAN KAI BIO:
Born on the island of Maui, Dayan Kai's family moved to California when he was a small child so he could attend public school (from Maui he would have been sent a special "school for the blind" on the island of Oahu). Dayan spent most of his childhood in the San Juan Bautista area of Central California, with regular trips back to Hawaii to be with his grandmother Paulina, who got him started with piano and figured out he had perfect pitch. She also taught him how to ride waves.
In California, his family supported his classical and Suzuki musical education, starting with piano lessons at the age of two. Candace Fozzio taught him music in his most formative years, spending hours upon hours to learn braille so she could teach him to read music. His school music teacher, Mr. Miatta, gave him private sessions once a week and turned him onto America's most precious gift to the world: jazz.
Paralleling his study of jazz came his education in the world of Latino music and theatrical production with Teatro Campesino under the direction of Luis Valdez. Here he learned much more about the history of native people in the Americas and the plight of the farm worker. Here he was able to deepen his understanding of racial inequality and the true meaning of solidarity. He even got to shake the hand of United Farm Workers leader César Chavez.
Graduating from high school early, Dayan moved to the Santa Cruz area to attend Cabrillo College where he would study with jazz trumpeter/arranger Ray Brown, World Music Composer Lou Harrison, and Latin Percussionist Michael Strunk. Dayan also had the opportunity to study with mandolin master David Grisman at the local Mandolin Symposium.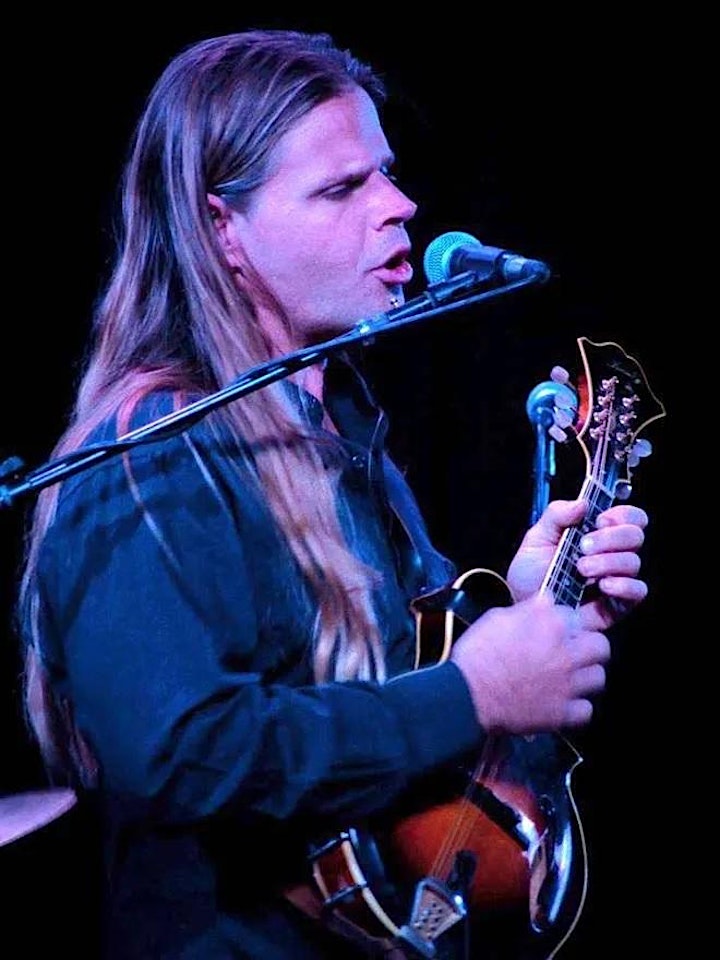 At age 17, Dayan Kai began to sing and play with the Blues Houndz, the house blues band at Moe's Alley in Santa Cruz, CA. Around 19 Dayan formed the band Water with Art Alm and Steve Uccello, an eclectic jazz-soul-Americana group that would continue to play for the next decade. Water played solo shows and also backed up various artists including Keith Greeninger and Russell Brutsche.
Over the next decades he would come to play with a significant range of individuals, bands and ensembles, including award-winning singer/songwriter Keith Greeninger, Joe Craven, Martin Simpson, Chuck Brodsky, Alice DiMicele, David Jacobs-Strain, Nina Gerber, Freebo, Doug Pettybone, the Juan Sanchez ensemble, Hot Club of Spokane, Rockabilly Space Force, Bakra Bata, iDrive, Clan Dyken, Achilles Wheel, the Uccello Project, the Naked Bootleggers, Aaron Ford, Right Means Left, Nancy Cassidy, Melissa Crabtree, Steven Graves, Michael Gaither, John Smith, Dennis McGregor, Soplavientos, Harmony Grits, Bluegrass Jihad, and many others. He has recorded and performed with Cookie Marenco at Blue Coast Records solo and in collaboration with Keith Greeninger.
He also co-wrote, produced, arranged, and performed on "The Tractor Song" with Aromas's own Chris McDougall. The tune appears in the movie Animal Crackers.
Upon his return to Maui in 2013 Dayan Kai performed music for Ulalena and served as the Musical Director and multi-instrumentalist for "Burnin' Love," an Elvis Presley tribute show and top tourist attraction. Since the show ended in 2018 he has toured regularly as a solo artist and also in collaboration with Keith Greeninger. He also toured Australia with Melissa Crabtree.
In June 2019, Dayan released solo album "To Be Free" (engineered by Keith Greeninger) that highlights his rich vocals and sublime acoustic guitar. Since then he has released three singles as a solo artist: "Losing Our Way," "Can You Give It Back,' and "Think It Under Again" and one, "That's the Train I'm On," with Jimmy Dillon.
He currently plays on Maui as a solo artist, in collaboration with singer/songwriter and blues guitarist Jimmy Dillon, in collaboration with kumu Wilmont Kahaiali'i, and with a many other local artists and tours regularly on the mainland of the USA.
Dayan Kai's golden spirit and deep insight into the human condition combined with his virtuous musicality and soulful voice make him a beloved singer/songwriter and top-notch band member. His words, wisdom, humor and talent deeply touch crowds across the world.
Multi-Instrumentalist
A partial list of instruments Dayan plays includes keyboards (piano, organ, accordion), guitars (Spanish classical, six- and 12-string acoustic, electric, and resophonic), other strings (charango, ukulele, bass, 4- and 5-string banjo, mandolin, and fiddle), the single-reed woodwind family and flutes from around the world, trumpet and trombone, conchas, and percussion (trap kit and hand drums [cajon, pandero, doumbec, tabla, and congas]).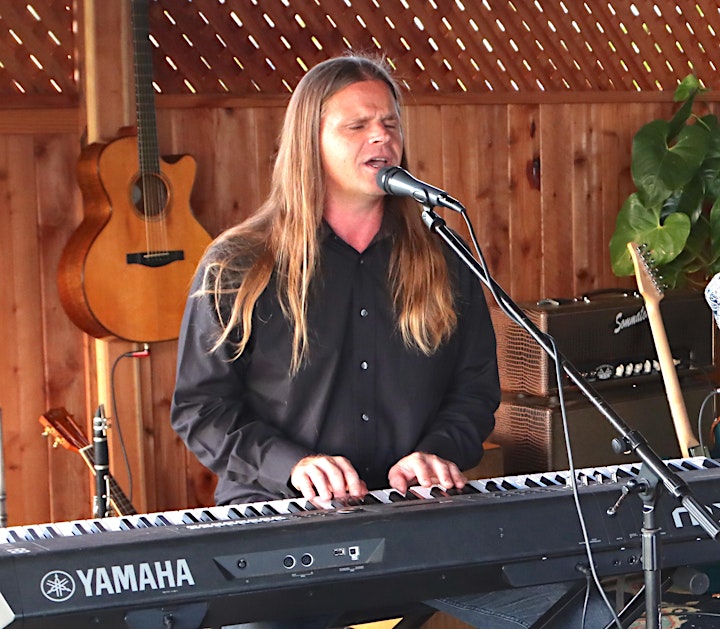 Ticket prices are $25 in advance and $30 at the door. Concert starts at 4:30 PM -- doors open at 3:45 PM. LIMITED SEATING AVAILABLE FOR SAFETY -- only 150 Tickets will be sold. Beverages will be available for sale. Pre-packaged snack foods will be available. Face masks will be optional indoors.
PLEASE NOTE: COVID-19 PROTOCOL MAY APPLY AT THE TIME OF THE SHOW -- ticket buyers will be notified if purchasing tickets online. This is for the safety of our wonderful audience. MASKING WILL BE OPTIONAL INDOORS AT THIS POINT IN TIME.