Description
The Blair Concert Chorale, under the direction of Dr. Ryan Beeken, is proud to present one of the most significant and most often-performed works of music by a living composer ... Karl Jenkins' THE ARMED MAN: A MASS FOR PEACE.
A compelling account of the conesequences of war set within extracts from the Christian Mass, THE ARMED MAN incorporates a variety of musical influences, including the 14th Century French folksong "L'homme Arme," a Muslim call to prayers, text from the Mahabharata and settings of poetry by Rudyard Kipling, Alfred Lord Tennyson and Japanese poet Sankichi Toge. Jenkins uses familiar forms like military music, Gregorian Chant, polphony intricacy and hymn-like simplicity to create a musical pageant that shows the horrors of war and ends with the hope for peace in a new millenniu "when sorrow, pain and death can be overcome."
The BCC's performance of "The Armed Man," with live orchestral accompaniment, will be enhanced by a special video commissioned by Jenkins several years ago to provide a sobering and emotional visual backdrop to his work. Created by eminent filmmaker and director Hefin Owen it incorporates historical, newsreel and documentary footage of wartime and terroristic conflicts over the decades, and has been paired with performances of "The Armed Man" innumerable times globally from New York's Carnegie Hall to venues in Johannesburg and Shanghai.
Prior to the performance, Dr. Patricia J. Wesley, Associate Professor of English at Penn State Altoona, will give a presentation on her experience during the Liberian civil war and share poetry based on her time in Liberia. The author of four books of poetry, she has won several awards and grants, including the 2011 President Barak Obama Award from the Blair County NAACP, and has been published in many U.S. and international journals and anthologies.
"The Armed Man: A Prayer for Peace" will be presented by the BCC at 7:30 p.m. Saturday, April 23, in the Hollidaysburg First United Methodist Church, 801 Allegheny Street, Hollidaysburg. Tickets are $15 for Adults, $12 for Students and are available in advance at Thompson's Pharmacies (Green Avenue and Duncansville) and at the door.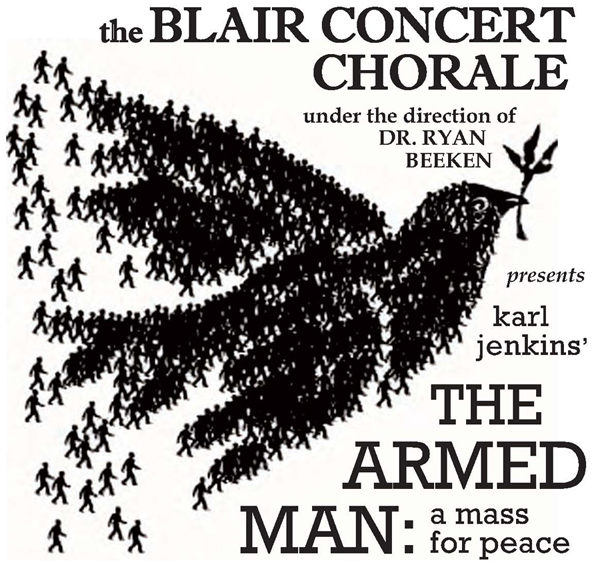 Date and Time
Location
FIRST UNITED METHODIST CHURCH OFHOLLIDAYSBURG
801 Allegheny Street
Hollidaysburg, PA 16648